11 January 2007 Edition
Fifth Column
Sun-blind justice
The Sun is renowned for its no-nonsense law and order stance so it was interesting to hear its former Dublin "bureau chief", Paddy Clancy, admit at the weekend that he's recently turned a blind eye to the suspected smuggling of contraband to a handcuffed prisoner in a court of law.
Sun man Paddy made his confession on RTÉ Radio 1's Marion Finucane Show on Sunday. A newsman of many years' standing, the well-seasoned hack told of what he had witnessed himself in a local court room way outside Dublin. Things down the country are a bit more informal than with the big wigs up in the Four Courts.
Anyway, down in Idyllstown, the prisoner and his escort sat on a bench. The con's girlfriend promptly slid in beside her beau and slyly passed him a small package, unseen by all and sundry save the eagle-eyed sleuth. "And he got away with it," Clancy exclaimed, not disputing my assumption that it was more than a bit of Christmas cake to perk up the con's twilight hours.
One RTÉ panelist suggested that someone in authority may have "turned a blind eye" to the illicit transaction and this blatant flouting of justice, even in a court of law. But there was no mention of Mr Clancy's turning a blind eye.
Let's hope we hear no more high-minded lectures from Clancy & Co to citizens about their civic duty to report wrong-doing to the police.
Trouble in Toytown
Eamonn McCann's Socialist Workers' Party is upset at Sinn Féin (so what's new?), this time for even thinking about taking power (a totally alien concept to Trotskyists) and considering taking responsibility (another alien concept to Trotskyists), this time on the issue of policing.
Yes, policing has the Toytown revolutionaries of the SWP up in arms (metaphorically speaking that is, of course – we don't want to hurt ourselves now).
"Like all police forces," Simon Basketter writes in Socialist Worker about the PSNI, "its main activities are directed at working-class people."
The logic of that argument, you would think, would be all the more reason to take it out of the hands of the reactionary, privileged classes, make it more accountable to the people it has previously been abusing, and try and reverse its anti-working-class bias.
Or maybe we should, like the coffee shop heroes of the SWP, sniff at taking power, order another hot chocolate and dream up one more paper campaign front to boost sales of Socialist Worker.
Just how the SWP would catch the fraudulent bankers, tax dodgers, drug dealers and the counter-revolutionaries without a police force when they rule Never Never Land is beyond me.
So Solid crew
Over in Bonnie Scotland, the split in the Trotskyist ranks has given the media a bit of a headache over how to help readers distinguish between them in the run-up to the Scottish Parliament elections.
After one-time Scottish Socialist Party idol Tommy Sheridan was shafted by his erstwhile comrades in the SSP leadership, who gave evidence against him to back up Rupert Murdoch's lurid News of the World tales of sex romps in swingers' clubs, the hot Trot packed his trunks and said goodbye to the SSP circus.
He then set up the breakaway Solidarity party.
Now political journos have dubbed the warring parties "The Trots" and "The Solids".
Politics build the radio star
Tommy Sheridan now has a weekend radio show, Sunday Morning with Citizen Tommy, on Edinburgh-based Talk 107. Its theme tune is a compilation of I'm the King of the Swingers and Working-Class Hero.
George Galloway is another radical radio star with three weekend phone-in programmes – The Mother of All Talk Shows – on the UTV-owned TalkSport.
Revelling in the huge publicity after his unforgettable Celebrity Big Brother appearance when his task was to impersonate a cat, Gorgeous George's theme tune is Top Cat.
SDLP leading from behind
SDLP Councillor Tim Attwood has joined his party's pathetic attempts to try to hang on to the coat tails of history by writing to the Irish Times to claim that Sinn Féin constantly follows the SDLP's lead on everything.
As one E. F. Fanning of Dublin 14 replied:
"A quick glance at the last Westminster elections in 2005 shows that Sinn Féin gained 24.3 per cent of the vote compared with the SDLP's 17.5 per cent.
"I think we can all see who is leading and who is following."
Labour in for Bertie
Bertie Ahern told Gerry Barry on RTÉ Radio 1's This Week that he won't consider coalition government with Sinn Féin purely because of their economic policies.
Sinn Féin wants the super rich to pay their fair share and use the public wealth for the public health.
So Bertie won't entertain Sinn Féin because their economic policies are too radical. But he'll happily have the Labour Party because they're not so radical and more to Fianna Fáil's liking.
The socialists still left in Labour should think about that.
Ryanair's quackpot boss
Being quite partial to the odd metaphor ourselves, us scribes in the Paris Hilton Suite of the Crossmaglen Hilton were taken by cheap airline boss Michael O'Leary's riposte to being described as "the unacceptable face of capitalism". British Labour Party Environment Minister Ian Pearson accused Ryanair of refusing to take climate change seriously.
The Ryanair chief dredged up former British Labour Party minister Denis Healey's famous remark about being criticised by then Tory minister Geoffrey (now Lord) Howe was like "being savaged by a dead sheep".
O'Leary couldn't resist adding his own flourish to an already classic quote by telling RTÉ that "being savaged by a dead sheep... is like water off a duck's back"!
Quack!
An Phoblacht Magazine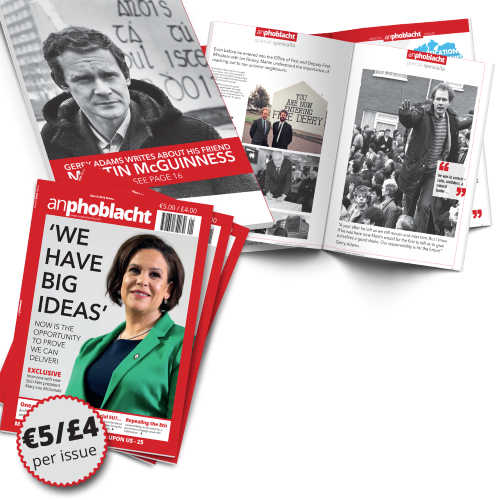 AN PHOBLACHT MAGAZINE:
The first edition of this new magazine will feature a 10 page special on the life and legacy of our leader Martin McGuinness to mark the first anniversary of his untimely passing.
It will include a personal reminiscence by Gerry Adams and contributions from the McGuinness family.
There will also be an exclusive interview with our new Uachtarán Mary Lou McDonald.
test