11 January 2007 Edition
The Matt Treacy Column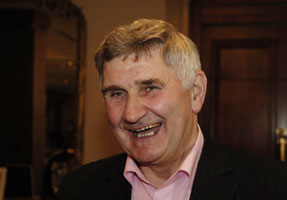 Wicklow for the All-Ireland?
You heard it here first. Myself and Larry O'Toole are investing some of our vast earnings from politics and journalism in a huge plunge on Wicklow to win the All Ireland.
Surprisingly the major bookmakers have not yet responded to this major gamble and Wicklow are still freely available at 1,000/1. The fools, the fools. They will be rueing this when we come in to collect our 50 cent plunge next September. And that doubled up with Bohs to win the European Cup in Larry's case.
Our supreme confidence is partly based on Wicklow's win over Carlow in the O'Byrne Cup last Saturday to mark the arrival of Mick O'Dwyer as their new manager. Those of you who recall my reference to Micko's sad departure from Laois last Summer may have noted that I qualified my statement that it might have been his last chance to torment us poor Dubs, as he has been doing since he caused me countless sleepless nights as a child.
I hope those words do not come back to haunt me! As the draw stands the only possible way that could happen this year is if Wicklow and Dublin make it to the Leinster final. Unlikely – for Wicklow at least! – but not impossible. Besides, Dwyer will not even be thinking about that. Yet. A reasonable run in the O'Byrne Cup, which would consist of no more than beating Wexford next week, and the League would be sufficient to be going on with this year. If they were then to beat Louth in the championship, it would be more than anyone could reasonably expect at the first time of asking.
Wicklow are in Division 2B where they are 20/1 to win it and that is not overly generous. Myself and Larry are keeping our powder dry on that one. They have to play Meath, Cavan, Antrim, Tipperary, Sligo, Waterford and Wexford. It is a tough enough grade and they would probably be content with winning two or three of their matches and maybe claiming a big scalp like Meath or Cavan. Okay, Meath. If it was 1947, then maybe Cavan would also be a big scalp!
Their match against Carlow was in Aughrim, a venue where they have a bit of a reputation, perhaps based unfairly on a couple of matches in the '70s and 80s, most memorably of all, the famous 'Battle of Aughrim' against Laois in 1986. That was the subject of much condemnation at the time but in truth most people thought it was great craic. Wicklow's three most important league games, against Wexford, Sligo and Meath are for there and that will be an advantage. On the evidence of last weekend, it is also likely that they will attract far bigger crowds than they have had for many years.
Aughrim has bad memories for me for the reason that when my uncle was a Dublin hurling selector years back it was the site of one of the great disasters of Dublin hurling. They were beaten by Kildare who if I recall got three goals in the first minute, or something of a similarly catastrophic nature. And that after a year in which Dublin had claimed some notable scalps in Division One and were actually looking forward to meeting Kilkenny. To add insult to injury it was possibly the last year that Kildare even entered the senior championship! Ah yes. The shattered dreams of the Dublin hurling supporter.
And this is the time of the year to dream as the senior football inter-county scene begins to revive with the O'Byrne, McKenna and McGrath Cups and the Connacht League. Not too much can be read into any if it other than coming teams can sometimes be spotted by virtue of surprise wins over the big guns. It can also be obvious which counties have been doing the Winter training and have that bit of an edge in fitness.
That was certainly the case in Celtic Park where Cavan comfortably overcame a Derry side that didn't seem to be that interested in it all and were a bit sluggish. The other notable events in Ulster were the heavy defeat of Fermanagh by Monaghan and the sending off of Stephen O'Neill in Tyrone's match against Queens University. He who now misses the big floodlit match in Croke Park on February 3 with the Dubs. So that's his excuse sorted anyway!
Elsewhere, there was a bit of an upset when Sligo Institute of Technology beat Roscommon. Other college teams to overcome county opposition were UCC over Waterford and perhaps more surprisingly Dublin Institute of Technology who beat Longford in Longford.
Apart from the inter-county competitions, coming attractions over the next few weeks include the resumption of the club championships. Ardfert won the Munster Intermediate title when beating Mullinahone just before Christmas and now face Confey of Kildare in the All Ireland semi-final.
This is surely only a matter of Confey turning up on the day although "sources close to Ardfert" assure me that they will probably send up a team anyway. Even if it means cancelling the bingo.
An Phoblacht Magazine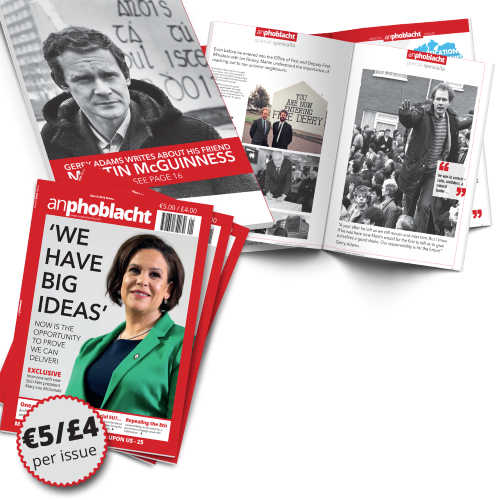 AN PHOBLACHT MAGAZINE:
The first edition of this new magazine will feature a 10 page special on the life and legacy of our leader Martin McGuinness to mark the first anniversary of his untimely passing.
It will include a personal reminiscence by Gerry Adams and contributions from the McGuinness family.
There will also be an exclusive interview with our new Uachtarán Mary Lou McDonald.
test