11 January 2007 Edition
Remembering the Past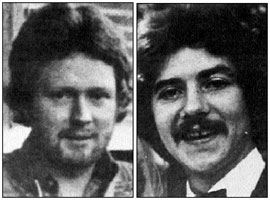 Ardoyne Volunteers killed in premature explosion
 BY SEÁN Mac BRÁDAIGH
Shortly after 7.30am on Friday, 5 January 1979, two IRA Volunteers – 24-year-old Lawrence Montgomery, a married man with two children, and 24-year-old Frankie Donnelly, also married – were killed when a bomb they were transporting exploded prematurely in the Ardoyne area of Belfast.
It was the second time in seven months that Ardoyne had lost local men on active service with the IRA. The previous June, three unarmed Volunteers had been captured and summarily executed by undercover operatives of the British SAS.
Frankie Donnelly and Lawrence Montgomery were very active in the Belfast Brigade's 3rd Battalion area. Donnelly had been active in the IRA since he was a teenager. He was interned on two occasions: the first time for six weeks, from March to April 1973, and then from February 1974 until internment ended in December 1975. He continued his involvement in the Republican Movement after his release.
Lawrence Montgomery was also deeply involved in the republican struggle for many years, although he was virtually unknown in republican circles, preferring to keep a low profile to better pursue his activities on behalf of Óglaigh na hÉireann.
His secrecy successfully kept him out of British Army/RUC hands and while the ranks of the IRA's Belfast Brigade were depleted of men and women through internment in the early 1970s, young men like Lawrence Montgomery carried on the war against British occupation.
The esteem in which both men were held by the local community was evident in the massive turnout at their funerals. In Ardoyne, the cortege came to a halt as their IRA comrades fired a three-volley salute.
Leaving North Belfast, the cortege was stopped by the RUC, who demanded the removal of the Tricolours. After some argument – and unnecessary anguish caused to the relatives – wreaths were put around the Tricolours, which were not removed, and the funeral proceeded.
In the Falls Road area 60 uniformed Volunteers, representing contingents from Óglaigh na hÉireann, Cumann na mBan, Cumann na gCailíní, Fianna Éireann and Auxiliaries, marched behind the funeral car, which was led by two pipers.
At the Republican Plot in Milltown cemetery, the graveside oration was given by veteran Belfast republican Charlie McGlade. During the course of his address, he said: "When these troubles began, Lawrence Montgomery and Frankie Donnelly were only boys at school. They saw what the people had to go through, the burnings and shootings under the RUC and B-Specials, and they said 'Enough is enough....we shall not stand for this any longer!'
"They are two brave examples, and by their self-sacrifice, by their example, others will come forward into this – the generation of victory.
"How can we lose with young men like these, who would risk everything, go through hardships and risk and suffer death for the freedom of the people. The republican people of Belfast are proud of them; the people of Ireland will be grateful to them.
"They died for the same cause of freedom which our people struck for in '98, in 1848, '67 and 1916. They died for the people of Ireland in this – the final chapter of the war of independence."
IRA Volunteers Frankie Donnelly and Lawrence Montgomery were killed while on active service on 5 January 1979, 28 years ago.
An Phoblacht Magazine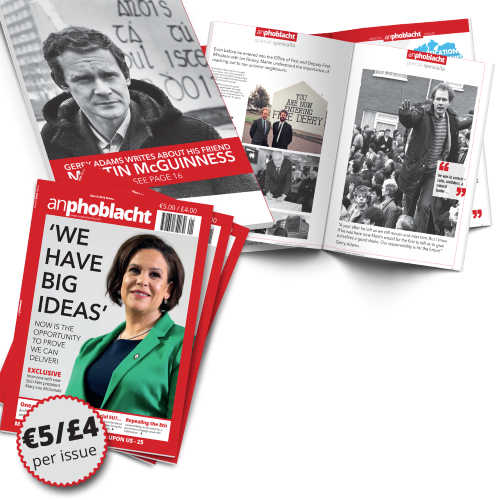 AN PHOBLACHT MAGAZINE:
The first edition of this new magazine will feature a 10 page special on the life and legacy of our leader Martin McGuinness to mark the first anniversary of his untimely passing.
It will include a personal reminiscence by Gerry Adams and contributions from the McGuinness family.
There will also be an exclusive interview with our new Uachtarán Mary Lou McDonald.
test