4 January 2007 Edition
Fifth Column
Tunnel vision
When Bertie Ahern ambled along 'coincidentally' to RTÉ agony uncle Joe Duffy's traditional Christmas show outside broadcast near the Dáil, Duffer asked the man who used to literally give Charlie Haughey blank cheques what his favourite book of the year was. "The Moriarty Tribunal Report," one wag in the crowd piped up. You can be sure that Bertie had read it; it wasn't his favourite though. Nor would it have been a feast of festive fun for those Fianna Fáil councillors who wanted the newly-opened Dublin Port Tunnel named after their light-fingered and late leader, Charles J Haughey.
And lest we forget, Dublin North-East Councillor Tom Brabazon and Fingal Councillor Michael Kennedy led the ignoble few who wanted Ireland's greatest engineering feat named forever more after one of the biggest chisellers in history.
Monumental controversy
One blogger (ms-ann-thrope.blogspot.com) has weighed in with their backing for the Fianna Fáil councillors' honour for Charles J. Haughey on the grounds that the Port Tunnel as a monument in itself would be fitting as a monument to the life of Mr Haughey:–
It has been the subject of controversy for ages;
It's worth a lot more than it was expected to be;
It has suffered from bad publicity as a result of leaks;
It will speed up the rate at which people leave the country;
It was bored by ordinary people who just want to earn a decent wage and feed their families.
First lady, not first choice
Whatever you can accuse the DUP of it can't be nepotism, not when it comes to women, at least – even Protestant women.
Ian Paisley's daughter, Rhonda, had taken a sex discrimination case against the DUP – effectively her Daddy, Mammy and brother, who are all at the helm of the DUP – claiming that she was denied a party position as a policy officer in 2004 because she was a woman (she still is, of course).
Not only had Rhonda been a councillor for the DUP but she had been Mayor of Belfast, the party's First Lady on Belfast City Council.
Two years later, and in the busy week before Christmas, the DUP settled out of court. Part of the deal is that Rhonda finally squeezed an apology out of them after getting the party apparatchiks to admit they had "deficiencies" in their staff recruitment procedures (i.e. how can we keep women out of serious issues like policy development when they should be making buns for DUP garden fetes).
"The DUP regrets the way in which these issues have been handled and is sorry for any distress caused," a statement begrudgingly conceded.
Yes, having the leader's daughter drag you through the courts for discrimination was regrettable, wasn't it?
"Furthermore, the party wishes Rhonda every success in her future pursuits."
And she still hasn't got the job.
Begrudging Bono's bauble
Bono's honorary knighthood from the British queen was, according to Tony Blair, for his services to the music industry and his humanitarian work.
If it's truly for music, then why didn't the rest of the boys in the band get a gong? If Bono is worthy of a KCB, surely a couple of other shiny relics of the British Empire could have been dug up from the royal vaults for poor old Edge, Larry and Adam?
Taxing Eilish O'Hanlon's brain
Sunday Independent scribbler Eilish O'Hanlon thinks Sinn Féin shouldn't complain about Bono's accepting baubles of the British Empire because Sinn Féin MPs accept allowances from the British exchequer.
First of all, Eilish, even Sinn Féin voters working in the Six Counties have to pay taxes to the British exchequer so why shouldn't their taxes be used by their MPs to represent them?
And, secondly, when the Sunday Independent starts backing the all-Ireland aspirations of the founders of the 26-County state and insists on Dáil representation for Irish elected representatives in the Six Counties, we might start taking you seriously.
Stormont storm trouper
Michael Stone told a Belfast High Court bail hearing in Christmas week that his storming of Stormont on November 24 was "a piece of performance art".
And no doubt the IRA's bombing of Brighton's Grand Hotel was during their deconstruction period as an imaginative, post-structuralist criticism of Thatcherism.
An Phoblacht Magazine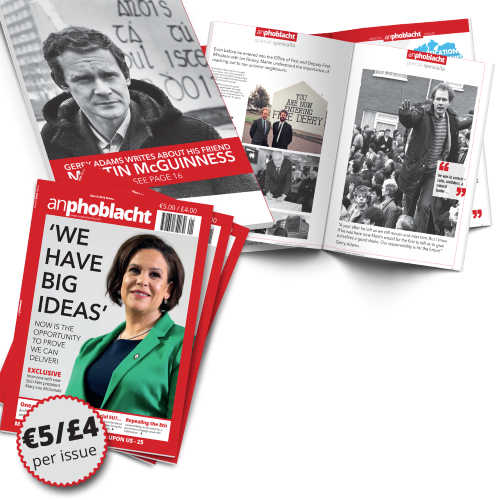 AN PHOBLACHT MAGAZINE:
The first edition of this new magazine will feature a 10 page special on the life and legacy of our leader Martin McGuinness to mark the first anniversary of his untimely passing.
It will include a personal reminiscence by Gerry Adams and contributions from the McGuinness family.
There will also be an exclusive interview with our new Uachtarán Mary Lou McDonald.
test