4 January 2007 Edition
Interview: Sinn Féin Councillor Pádraigín Uí Mhurchadha, sister of Fergal O'Hanlon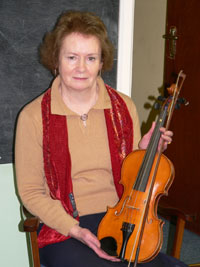 A sister remembers
Sinn Féin Councillor Pádraigín Uí Mhurchadha is a sister of IRA Volunteer Fergal O'Hanlon who, with his comrade Seán Sabhat was killed during an attack on Brookeborough RUC barracks  on New Year's Day 1957 – the first republican casualties during the IRA's Operation Harvest. Fifty years after that event Uí Mhurchadha talks to ELLA O'DWYER.
Pádraigín Uí Mhurchadha, born in 1943 is the youngest of five children. "I had three brothers – Éineachán, Maoliosa, Fergal, my late sister Máire and myself. We grew up in a very republican household in Monaghan town and the frequent conversation was about the unification of our country and British occupation", she explains.
"Being from Monaghan the border was a very real influence – it had a huge impact on our thinking.  Even at a very young age I was very aware of the influence of the border and its implications for our country.
"Fergal was seven years older than me. He was a lovely brother and a great son to his father and his mother. In my view he was a very mature lad for his age. He was very outgoing and had a lovely personality, though he never sought the limelight. He had lots of friends between young and old and I've heard so many reports on that part of his life since.
"He had a great love of sport – he was a brilliant Gaelic footballer and he played handball too. He was a fluent Irish speaker like all of us and he spoke it whenever he could. He was just a lovely person. My memories of Fergal are just fantastic."
 "I never had the honour of meeting Seán Sabhat. I'd the privilege of having his violin here for a while for an exhibition."
Uí Mhurchadha remarked on the similarity in personality between the two young men – one from Limerick and the other from Monaghan. They both spoke Irish fluently. Fergal played Gaelic football while Sabhat was interested in the violin.
Both men also knew Latin. In his personal diary Fergal had written a comment in Latin to the effect that "It is sweet and becoming to die for one's country', a sentiment repeated in a similar quote written by Seán Sabhat on a separate occasion.
 "The Christmas before he died Fergal had been to confession and he'd written into his diary that a clear conscience was a continual Christmas."
That was probably Fergal O'Hanlon's last entry in his diary.  In Ireland at the time when Fergal was growing up it would have been common for priests to visit schools throughout the country recruiting for the priesthood. O'Hanlon had shown some interest so a priest from the De La Salle order, Fr Breen, visited the house to talk with the teenager's parents. Fergal announced – "I'm going with Father Breen", to which his mother replied – "you're too young and if you're in the same mind in a couple of years you can go".
Pádrigín recalls a letter sent from the same priest when  her brother was killed: "When Fergal died the priest wrote a beautiful letter to say that Fergal had been called for great things."
Fergal O'Hanlon was about about 18 years old when he joined the Movement and just a month off his 21st birthday when he was killed. His birthday would have been the last day of January.
"I remember the lads leaving the house to go to the North. The late Dáithí Ó Conaill was there. Dáithí was one of the senior ones on the operation.  He was there when we were all saying goodbye to Fergal that night."
Asked if she knew what was going on at the time, Uí Mhurchadha says: "Yes. Operation Harvest was going on all that year and I'd have noticed things, but I said nothing and nobody would have said anything to me. I was just aware. Fergal was very busy."
On life in Ireland in the 1950s Páidrigín says: "People were penny pinching – there wasn't much money around at the time, and very little work. There weren't many facilities around then,  except the boys and girls had sport.
"Fergal was lucky enough. He got work in the County Council, starting first as a clerk and then went on to become a trainee draughtsman."
As for Pádraigín's own working career, she was offered a job in the civil service but chose instead to become a telephonist in Wexford where she met her husband. Uí Mhurchadha was steeped in Irish republicanism from a very early age and joined the Movement at 18.
"I was very influenced by everything going on around me. Fergal too had been involved in Sinn Féin in Monaghan. He and others formed a cumann called The McMahon Cumann. The name is still retained in our cumann  – the McMahon/O'Hanlon/ Lynagh Cumann. I remember Jim Lynagh too. He was a great man  and great fun."
Lynagh, along with seven IRA comrades, was killed in an ambush by the SAS during an attack on Loughgall RUC barracks in 1987, 30 years after the Brookborough attack.
Asked how her family found out that something had gone wrong for the Pearse Column in Brookeburough on that fateful New Year's day 50 years ago, Pádraigín says: "Fergal left the house that night and we knew why he'd gone. We'd all said goodbye to him. The lads were away a number of days when I was visiting in my aunt's house. It was the night they were killed. The news came on the radio that two men were dead. My mother had had a sort of a premonition in the summer of that year. 'There's something going to happen here', my mother had said. But then Christmas came and went and we thought nothing of it.
"When the news came over the radio as we were sitting in my aunt's house my mother jumped up and went down to the kitchen. She said nothing to anyone but when my aunt asked about the deaths announced on the radio my mother said 'Fergal is one of those.' It wasn't widely known that the lads were gone out at all."
On the personal difficulty and pain endured by the family on Fergal's death, Pádraigín said: "It was very hard but the support we got was unbelievable. The first person to come into the house was Fergal's godfather saying: 'I'm the proud godfather' and we had nuns from the St Louise's Covent coming into the house extending condolences. I remember coming through the border outside Clones with my mother and my aunt to bring the bodies through, and it was very, very touching."
The funerals of the O'Hanlon and Sabhat men were huge. People came from all over Ireland and in those days there weren't many cars. Reflecting on the funeral Pádraigín says: "The bodies of the two Volunteers were taken home through the border outside Clones. They were first taken to the Enniskillen barracks and then transferred to the morgue in Enniskillen. There was a huge turnout for the lads coming home through Clones. Then we came to the Cathedral in Monaghan where Seán and Fergal lay and of course Seán Sabhat's funeral was the biggest ever seen in Limerick.
"The struggle lived on through the deaths of Seán and Fergal. They brought it to the fore. They seemed to stand out on their own. It was a continuation to the struggle we're still going through. I was consumed by the republicanism and I always felt we should never lose hope. The 1950s wasn't a success but it still wasn't a failure in that the deaths of Seán and Fergal carried it into the '60s. The struggle was fresh in us all  –  it wasn't over and then the '69 events began."
On electoralism Pádraigín,  herself a Sinn Féin councillor said: "I always felt we should contest the electoral field - the two forms of struggle working together – all my life I felt that.
"In 1957 Sinn Féin contested the Dáil election and my bother Éineachán, Ruairí Ó Brádaigh, John Joe Mc Girl and John Joe Rice stood on an abstentionist ticket and won. It showed the political impact of the two Volunteers' deaths. Cavan/ Monaghan is a  border area and Fergal's death brought back all those feelings of wanting to break the connection with England."
Páidrigín has held a Monaghan Town Council seat for Sinn Féin since 1985 – the year when Owen Smith, Pat Treanor, herself and Caoimhghín Ó Caoláin achieved huge success for Sinn Féin. "We had great leadership. Caoimghín was a very good leader - out on his own", she says.
"Before the 1981 Hunger Strike we lived in Wexford. There were raids on the house and when we moved to Monaghan around the time of Kieran Doherty's campaign there were a lot more raids. But we got used to it. As I said once to the guards - 'As long as you don't get anything or anyone I don't care how often you come.' We were privileged to have Kieran Doherty as our candidate in 1981."
On her work as a Sinn Féin councillor she says: "I love my work. I feel I'm there for the people – on the ground. You don't get everything for them but you do all you possibly can for people. I really enjoy my work.
"I've three grown up children, Seán who is a member of Sinn Féin, Eimer who works with Sinn Féin Councillor Larry O'Toole, and Eilish who joined Sinn Féin in Drogheda."
While O'Hanlon and Sabhat became republican icons, Pádraigín Uí Mhurchadha says: "I think about those who did the same as Fergal and who never got remembered. To remember is so important. The people of Fermanagh couldn't have done  more in the build up to this New Year's 50th anniversary.  They left no stone unturned."
Asked if she found these commemorations emotionally draining or empowering. She says: "Yes I do feel emotional when I look back.  I was down at a commemoration with the Sabhats and I felt that Sean's family felt the same. But it's also great that people remember the two men. It gives you strength."
On her own impressions of how things have developed in Irish republicanism over the past decades she says: "I never lose hope or optimism. The struggle will always be there until there is a final, just resolution. It will never go away until then. The political course is a difficult one because we're fighting on so many fronts but we have great leadership."
Above all else , Pádraigín Uí Mhurchadha stresses the importance of unity: "We must all stand together, stay united and not let our enemies divide us."
Fergal O'Hanlon Memorial Lecture
3pm Sunday 7 January
Teach na nDaoine, Cortolvin,
Monaghan Town
Speaker: Dr Ruán O'Donnell
Theme: Operation harvest
50th Anniversary
Vol Seán Sabhat Commemoration
2.30pm Sun 7 Jan 2007
Assemble: Bedford Row, Limerick
Main speaker: Martin McGuinness
Fáilte Roimh Cach
An Phoblacht Magazine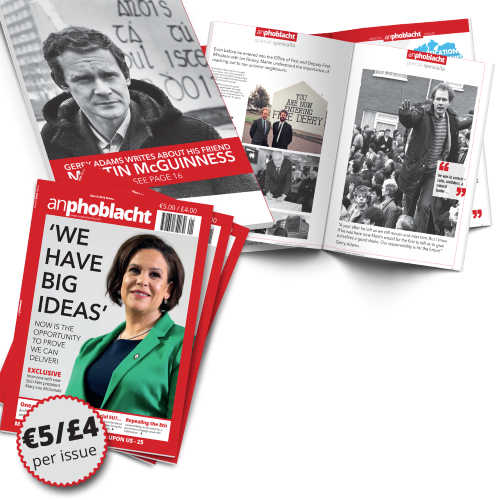 AN PHOBLACHT MAGAZINE:
The first edition of this new magazine will feature a 10 page special on the life and legacy of our leader Martin McGuinness to mark the first anniversary of his untimely passing.
It will include a personal reminiscence by Gerry Adams and contributions from the McGuinness family.
There will also be an exclusive interview with our new Uachtarán Mary Lou McDonald.
test