14 December 2006 Edition
Interview - Republican veteran, Marian Steenson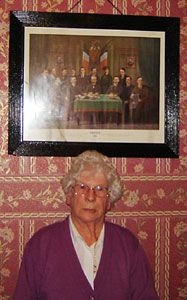 Eight decades of republicanism
Dublin woman Marian Steenson (neé Murphy) is a lifelong republican and next February marks her 80th birthday. Here she talks to ELLA O'DWYER about her life, the republican home into which she was born and growing up in the 1930s and '40s.
Marian Steenson (neé Murphy) was born in 1927. She has a vibrancy that defies her years and a determination that comes with experience. Her parents took part in the 1916 Rising, the Tan War and Civil War and are said to have met while both were prisoners Kilmainham Jail.
Her father was Capt Michael Murphy, C Company, 3rd Battalion. He was the O/C of A Company 2nd  Batt at Boland's Mill in 1916. Her mother was Martha Kelly of the Irish Citizen Army, F Company 2nd Battalion.
The couple later married and moved to the house at Leinster Avenue, North Strand where Marian still lives today. She was part of a large family, some of whom she helped raise herself.
"My parents came to this house in 1918 and I was born here in 1927. I was one of 17 children, one of whom died at birth. My father went with the Free Staters and my mother with the republicans.
"My Mammy was in the Irish Citizen Army with James Connolly in 1916 – the Imperial Hotel which is Cleary's shop now, and in Croke Park on Bloody Sunday. She encouraged us to join the Movement. My mother remained republican till the last. Her parents threw her out because she wouldn't have anything to do with a British soldier. Her name then was Martha O' Kelly but she dropped the 'O' when Sean T O Kelly/Ceallaigh was made president. This was because he had gone with the Free State. She was very bitter against the Free Staters. That was at the time when the '40s men were interned in the Curragh – Tin Town they called it then. My mother was very good to all the lads in the '40s. They used to use the front room in this house for their drilling.
"Maggie Doyle who was over Cumann na mBan and her husband used to come to the house. I remember my mother going to Bodenstown when De Valera banned it. They went down in a lorry.
On growing up in Dublin at the time she says: "It was a very hard life but we had fun too. We used to play among ourselves. We'd play a game called 'buttons', we'd do skipping and we'd another game called 'kick the can'. And of course we were in the Republican Movement.
"There was Clan na Gael, Cumann na gCaílini, Cumann na mBan and the Fianna. Clann and Fianna were more or less amalgamated. Basically the girls went with Clan na Gael.
"At that time Sinn Féin headquarters was at number 9 Parnell Square. We used to go upstairs there and do our drilling or marching, preparing for parades and after that we'd go to the Ceilidh.
 "My mother insisted we understood Irish culture. They all spoke Irish. I'm a fluent speaker myself. I was active in Conradh na Gaeilge and in the Irish dancing circle." Marian got her fáinne after being taught by Mairtín Ó Cadhain.
 "I love traditional Irish music. We had Ceilidhs and the like. The Fianna boys used to go camping at the weekend and the girls would go with the Clan. We always had sing-songs, dance classes and Irish classes. We had outings on Sundays. There's nothing like that for young people now. Young people should be taught Irish history too.
"The Headquarters of the Gaelic League was in 14 Parnell Square at that time. Easter Sunday was a big event and we'd cycle to Bodenstown for the Wolf Tone commemoration."
Most of the eight boys in the Murphy family – all now deceased – were involved in the struggle as volunteers and her brother Eamon Murphy was one of the last to be released from Crumlin Road jail after the IRA's 1950s Border Campaign and another brother Bertie was interned during the campaign.
The house in North Strand where Marian lives has always been known as a republican house. It was a stop-off for many republicans including Sean Sabhat who stayed there on the Christmas Day in 1956 before he was killed along with Fergal O'Hanlon in a raid at Brookeborough in the New Year.
"There were about ten men staying in the house that night. I remember Seán Sabhat playing a violin up in the room and teaching the children to play cards through the Irish language. I remember the lads leaving by degrees in order not to draw attention to themselves."
Marian Murphy was of the Sean Russell Cumann, Sinn Féin.  The Russells were her neighbours. She was also involved in organising the unveiling of the Sean Russell statue in Fairview and  still attends commemorations at the monument.
Marian met her husband Leo, another dedicated republican, at a public meeting. A Belfastman, Leo was involved in the IRA campaign of the 1950s and eventually settled in Dublin where he met Marian through her brothers.
Marian Steenson's children are all republicans and one son, Pádraig went to prison for his republican beliefs in the late  1990s: "Naturally I worried about him when he was imprisoned but at least I knew where he was", she says.
For Marian Steenson, republican unity is very important, even if in the context of differing opinions:"We're all –  as republicans – entitled to our views but whatever about splits in the past, the families knew each other and were friends and should always remain so. We should always talk to each other."
The house has often been the target of Garda raids: "We only learned we had an attic after one of the raids when the Guards found it. I remember another raid when they dug out all the coal in the shed. They found nothing and my sister made them put it all back in again. They must have thought we were eejits. There was never, ever, anything found in this house"
She also remembers men on the run escaping out of the house. She remembers that her "neighbours were great."
During several raids the house also received a visit from the clergy.  On one occasion the priest came to the house to tell the family to excommunicate themselves for their republicanism.
"I told him he was a servant of God and he should remember that", she says. Marian believes that the nationalist community in the North have a greater awareness of their Irishness and points to the growth in the Irish language and culture there.
She remembers the  1981 Hunger Strike as a particularly sad period: "It was very sad. DeValera and the rest should have finished what they started. If they had dealt with it then those ten young men wouldn't have had to die. Them that started it all should have finished it and it's not finished yet."
Marian says that being a republican makes her happy. Her favourite song is The Patriot Game. She  remains an unrepentant republican and says that her policy was always to 'burn everything British except their coal'.
"I never changed my principles for anyone.  I enjoyed my life", she says. And long may it last.
An Phoblacht Magazine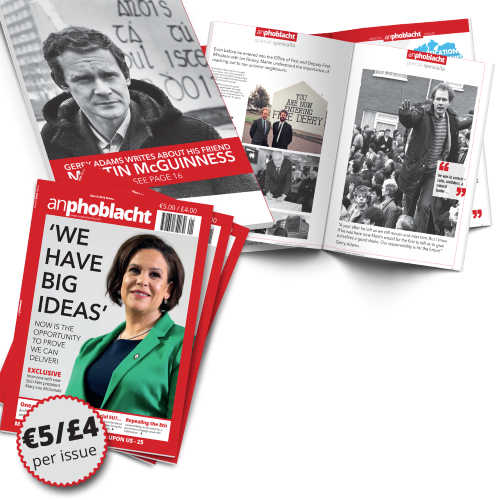 AN PHOBLACHT MAGAZINE:
The first edition of this new magazine will feature a 10 page special on the life and legacy of our leader Martin McGuinness to mark the first anniversary of his untimely passing.
It will include a personal reminiscence by Gerry Adams and contributions from the McGuinness family.
There will also be an exclusive interview with our new Uachtarán Mary Lou McDonald.
test