14 December 2006 Edition
Fógraí bháis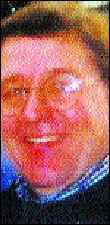 Ballybunion was shocked and saddened last July to hear the unexpected news that one of the town's adopted sons and well known local republican Ger Hitchen, had passed away in the course of a visit to his native Belfast.
Ger lived in Ballybunion for the past 15 years and had become a well loved character in the town, often to be found at the centre of  'craic and caint' in the town's Irish American Bar.
Ger was born in the Turf Lodge in September 1953, part of a large family of seven brothers and one sister. The family were prematurely bereaved by the death of Ger's father, but their mother, nurtured the family through difficult times. With the intensification of political struggle in the Six Counties Ger became committed to the republican cause.  
On leaving school, Ger went to work in the construction industry. This took Ger to a wide variety of destinations and Ger could draw upon a rich repository of personal experience from his years of travelling working  throughout most of Europe. St Petersburg was a city for which he retained a lasting affection throughout his life. Profoundly patriotic, in the best traditions of Irish republicanism, Ger espoused an essentially tolerant view of humanity.
Ger was neither dogmatic nor austere in expressing his political views. This was of great use in his political work.
On settling in Ballybunion, Ger became actively involved in Sinn Féin, and contributed greatly to the work that ensured the return of his close friend Robert Beasley as a Sinn Féin County Councillor, and the election of Martin Ferris as a Sinn Féin TD for North Kerry.
Ger was positive and pro-active in his political activities, he rejected negativity and defeatism, and as well as reminding others to "catch yerself on". He lead by example. Like so many who had a direct and realistic experience of the political realities of the Six Counties, he fully supported the Good Friday Agreement and the Peace Process, characteristically referring to these developments as "the only game in town".
Ger will, as much be remembered for his sense of fun, as his firmly held political convictions. He was renowned for his sense of humour, and took a great delight in "hopping the ball". One of his particular enjoyments was to deliberately set himself up as a vocal supporter of whichever County was facing Kerry in any GAA match, and taking with good humour the token financial losses and derision incurred through almost invariably backing the underdog. In the many bantering debates arising from this, and other unorthodox stances, he would engage in many an "argument", whilst peering, amused over the glasses perched on the end of his nose, giving as good as he got.
After oft-times observing that the Irish-American bar had very little obviously American about it, he set about constructing a large 10,000 piece jig-saw puzzle of the New York skyline replete with the ill fated Twin-Towers still aloft. The completion of the puzzle took Ger 18 months, and it is now framed and permanently displayed in the bar, arousing particular  interest and admiration from American visitors.
A lover of golf, Ger was in his element in Ballybunion, enjoying the occasional round on the famous local greens and conversations with visitors attracted to the town for the sport.
Ger departed this life in his native city of Belfast and was fittingly laid to rest in Miltown Cemetery. Despite the long distances involved, a very large contingent of friends and comrades travelled up from Kerry for his funeral. A large funeral procession, was followed by a graveside ceremony at which the former Mayor of Belfast Alex Maskey officiated, whilst a powerful valedictory graveside tribute was given by Martin Ferris the Sinn Féin TD for North Kerry, who paid tribute to Ger's unstinting commitment to the Republican Movement.
The large presence of people from his adoptive home and the tributes paid by his comrades, were simple but eloquent testimony to the high esteem in which Ger Hitchen was held.
Ger is survived by his two daughters Gráinne and Bronagh, and his son Fintan.