14 December 2006 Edition
Interview - Sinn Féin TD for Louth, Arthur Morgan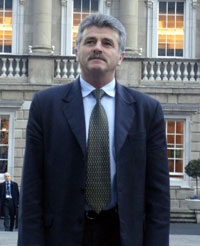 From Long Kesh to Leinster House
Arthur Morgan is the Sinn Féin TD for Louth and party Spokesperson on Enterprise and Employment. A republican activist from the age of 17, he participated in the IRA's armed struggle against the crown forces in the Louth/South Armagh area in the 1970s. Following his arrest by the British Army aboard a boat in Carlingford Lough, he served seven years as a political prisoner in the H-Blocks of Long Kesh and was there during the historic 1981 Hunger Strike. Twenty-five years after that momentous event, Morgan speaks to ELLA O'DWYER about his experiences of struggle and his fascinating journey from Long Kesh to Leinster House.
Arthur Morgan believes that comradeship within republicanism is an important aspect of the struggle. "We may differ and argue in our analyses at times, but we're all going the one direction." On the way into Leinster House to do this interview an usher asked if I was family, at which Arthur chirps: "Yes, in a manner of speaking!"
Arthur was born in 1954. The Morgan family have been in the Cooley Peninsula in North Louth for five generations. Arthur's grandfather on his mother's side was republican.
"He and his brother, Michael and John McCann, were excommunicated by the Church in 1921 for republican activities. The house would have been raided by the Black and Tans and the two lads were on the run."
But such family connections were not the only influences that led to a direct involvement in the republican struggle.
"I always liked Irish history. It was my favourite subject. I would have read some of Connolly's work in particular and then of course with the late '60s and early '70s you had the Civil Rights protests in the North – baton charges and the like. I was looking at it on the TV screen and that heightened my awareness of what was going on."
Morgan became actively involved in the republican struggle at the age of 17.
"I joined the Movement in Christmas week 1971. I was in secondary school. At the time there were a group of us young republicans between Louth and South Armagh and we felt almost invincible despite all the armoury, tanks and everything the British Army had.
"Around the 1975-76 period was very difficult because we lost a significant number of comrades. Sean Campbell, Jim Loughrie and Francie Jordan all died aged 20 to 21 years of age. Francie Jordan was shot and left to bleed to death on the road. He was my O/C at the time. The other two lads were blown up in a premature explosion." Soon after Francis Jordan's death, Arthur and others formed the first-ever Sinn Féin cumann in Cooley, named in honour of their comrade.
"We did all sorts of work – from writing to newspapers, to the likes of Conor Cruise O'Brien looking for RTÉ to be made available in the area, to pushing on issues like road drainage and the like."
In March 1977 Morgan, along with five other comrades including another future TD, Paddy Agnew, were arrested on a boat in Carlingford Lough during an IRA operation. "I spent 22 months on remand, some months in the Crum and the rest in the Blocks. I remember Cardinal Ó Fiaich coming to visit us on remand and asking us about conditions. We'd seen the blanket men's gaunt and worn-out faces when they'd be on visits. So in answer to Ó Fiaich's query about conditions, I said it was nothing like what we'd be facing when we'd be on the protesting wings. It occurred to me afterwards how we'd always known that if and when we were sentenced we'd be on the protest too."
Sentenced to terms of imprisonment of up to 14 years, Morgan and his comrades were taken to the H-Blocks.
"We got a hell of a battering when we arrived."
Morgan went on the blanket and then the no-wash protest which, he says, he "managed with great difficulty".
There was the inevitable brutality. Asked what effect all this had on him as a young man, he says: "At the time we regularly debated our situation as POWs – the way forward and the war outside. We'd be talking out the cell windows to each other. Sometimes anger would be expressed – but I remember one fella expressing anger on the border of hatred and another man calling back, 'We shouldn't hate. Hate is not an enduring emotion and it will never sustain you in the long-term,' he said."
Morgan met some of the Hunger Strikers and described Martin Hurson in particular as a "quiet, sincere, unassuming countryman. I never smoked in my life but I'd take a puff of a smuggled cigarette in the Blocks just for the hell of it – after all, we were breaking all the rules.
"We'd recite books. I recall one day telling a story I'd once read in a book. I couldn't remember it all so I'd make up the missing bits. Nobody cared. I remember Bobby Sands telling the story of Spartacus. There was something distinct about the very way Bobby wrote. Looking at how he wrote made me think that this man thought in a very unique and deep way. The only other person I remember to have had a writing skill like that was Pat McGeown."
Asked about his happiest and saddest memories during imprisonment, Morgan says: "The Hunger Strike had us all in bits. It was hard to eat. Then my father died on 30 December 1983. I got out on compassionate parole from 9.30am to 8pm that evening. I remember being driven to Louth for the funeral and looking out the window of the car. I hadn't seen nature in so many years. I was looking out at the trees and the grass – the evergreens and all – and I said to my friend who was driving me, 'If somebody made a painting of this, I'd say they'd painted too rich.'"
Morgan was released in 1984. He met his wife Marian a couple years later and their honeymoon was in Dublin. "My first real holiday was when I got compensation for the beating I got after the lads escaped from the Blocks. The screws were livid when the lads got away."
Morgan had only a year left of his sentence at the time of the Great Escape so was obviously not a candidate for that venture. He was, however, to become a candidate for other challenges. On release from prison, Morgan rejoined the Francis Jordan Cumann and in 1985 stood as a Sinn Féin candidate in council elections in Louth. Although he topped the poll in first preferences, the PR system meant that he lost the seat by eleven votes.
In 1987 and again in 1989 he stood for the general elections and significantly increased the Sinn Féin vote in Louth. In 1991 he again stood for the local elections but it wasn't until he stood for the third time, in 1999, that he won the County Council seat.
In 2002, on his third outing as a general election candidate, he took a Dáil seat for Sinn Féin.
"It was special winning back the seat that Paddy Agnew had won in 1981. We had done a huge amount of work leading up to all these contests. I'd left my job to go full-time. In fact, many people thought I was already an elected rep even before I won any seat because we'd built up such a profile in the area."
On working as part of a relatively small team in Leinster House, Morgan says that republicans are accustomed to working against the odds in adverse conditions.
"I get extra strength when it's the rest against us. But I'll talk with representatives of any political party here. I'll discuss mine and their politics and maybe in some small way you might erode their prejudices."
On his advice to anyone considering standing as a candidate for the general election, he says: "Sit back and think about your family life for instance – that's very important. Be measured about it all. The work is hard and the hours are long but be steeled and tempered by the fact that it's all been one struggle. It's the same fight as was undertaken by the likes of Tom Barry, Bobby Sands and the IRA."
When asked about his life ambitions as a young man, he confesses that he thought there was always a chance that he could die at a young age. But he didn't. He's interested in sport, particularly Gaelic football, and enjoys listening to music.
Morgan believes republicanism is winning: "What said it all for me was when a woman in a fur coat came into our constituency office to ask for help sorting out a problem in the middle class area of the town," he remarks.
Morgan continuously speaks of the huge support and back-up he's received from comrades in the Movement and in particular refers to his constituency manager Olive Sharkey, his parliamentary assistant Stephanie Lord, his former parliamentary assistant Caoilfhionn Ní Dhonnabháin and his wife Marian – "The comradeship in the Republican Movement is huge," he says.
An Phoblacht Magazine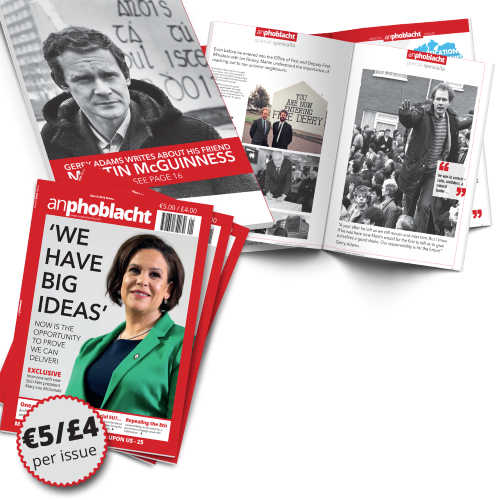 AN PHOBLACHT MAGAZINE:
The first edition of this new magazine will feature a 10 page special on the life and legacy of our leader Martin McGuinness to mark the first anniversary of his untimely passing.
It will include a personal reminiscence by Gerry Adams and contributions from the McGuinness family.
There will also be an exclusive interview with our new Uachtarán Mary Lou McDonald.
test