14 December 2006 Edition
Prisoners should have been released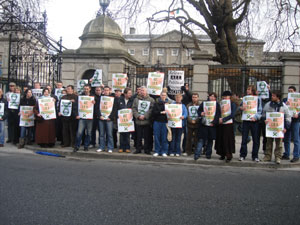 Sinn Féin TDs joined a large group of republicans in a vigil at the gates of Leinster House on Wednesday, 13 December to call for the release of republican prisoners.
For republicans, December is traditionally prisoners' month. This year there are republican political prisoners in three jails across Ireland.
Speaking to An Phoblacht Ann O'Sullivan, of the Sinn Féin POW department said: "Following the IRA's declaration of an end to its armed campaign all IRA prisoners should have been released.  "Instead of this, eight years after the Good Friday Agreement and over a year after the IRA formally ended its campaign, IRA prisoners remain in prison.  This is due to a lack of political will, especially by the Dublin government, and must be challenged", she said.