14 December 2006 Edition
Bik McFarlane forced to go to trial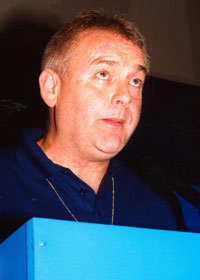 Belfast republican Brendan 'Bik' McFarlane lost a legal challenge last Friday, 8 December, to his trial for charges connected with the 1983 kidnapping of supermarket boss Don Tidey. McFarlane may appeal the Dublin High Court decision to the Supreme Court.
McFarlane was charged in January 1998 with falsely imprisoning Don Tidey and with possession of a firearm with 'intent to endanger life' at Derrada Wood, Ballinamore, County Leitrim, in November and December 1983.
McFarlane's trial was due to go ahead in the non-jury Special Criminal Court last month, after the Supreme Court overturned an earlier High Court decision prohibiting the trial on grounds of missing evidence.
McFarlane then instituted a fresh High Court challenge, seeking an order prohibiting the 26 County Director of Public Prosecutions from taking any further steps in the proceedings against him.
Delay
He claimed that the delay in the court process – the original offences were allegedly committed 23 years ago – had prejudiced his right to a fair trial. His trial was adjourned pending the outcome of this challenge.
In his reserved judgment on Friday, Justice John Quirke said that McFarlane had failed to establish that culpable or blameworthy delay within the state's court process had affected or interfered with any constitutional or other right enjoyed by him.
The judge said that any increased levels of stress, anxiety and inconvenience caused by the court's delay could not outweigh the requirement to have the offences prosecuted to a conclusion.
The Supreme Court had held that McFarlane's constitutional right to a trial with reasonable expedition had not been violated by any state delay in prosecuting him up to and including 1 November 1999, the judge noted.
Bik McFarlane escaped in the mass break-out of republican prisoners from Long Kesh in September 1983. He was rearrested in Amsterdam in January 1986, extradited to the Six Counties and released in 1997. He was arrested outside Dundalk in 1998 and later secured bail pending the outcome of the challenges to his prosecution.
Judicial farce
Sinn Féin Spokesperson on Justice Aengus Ó Snodaigh TD described last week's court decision as 'deeply flawed and nonsensical'.
"During earlier hearings into this case, the Gardaí had to admit to losing all of the alleged evidence against Brendan McFarlane. That should have been the end of the matter. However, in a vindictive move, the DPP sought to go down the road of a trial.
"The decision to allow a trial to proceed in a case where the Guards have lost the supposed evidence is deeply flawed and nonsensical.
"Republicans will be angered by this turn of events. Brendan McFarlane is a solid supporter of the Peace Process and Sinn Féin will continue to demand the end of this judicial farce," he said.