14 December 2006 Edition
Nollaig Shona
Everyone at An Phoblacht would like to take this opportunity to wish all our readers and sellers a Happy Christmas and  best wishes for 2007.
The past year has been an important one for the republican struggle. Over the course of the year republicans throughout Ireland took part in events to commemorate the Hunger Strikers who died in Long Kesh 25 years ago. As they did do so, they also remembered the sacrifices of Michael Gaughan in 1974 and Frank Stagg in 1976.
A new generation has paid tribute to the heroism and self sacrifice of the Hunger Strikers and has been inspired by their idealism. Bobby Sands, Francis Hughes, Raymond McCreesh, Patsy O'Hara, Joe McDonnell, Martin Hurson, Kieran Doherty, Kevin Lynch, Thomas McElwee and Michael Devine remain as guiding stars in our struggle for freedom, justice and peace in Ireland.
The past year also witnessed political developments which provide both challenges and opportunities for Irish republicans. These include the proposals set out by the Irish and British Governments at St Andrews. These should be seen by republicans in the wider context of the peace process and our overall objectives.
A major development was Ian Paisley's clarification that he will take up the post of First Minister and share power with republicans in a Six County Executive. Bringing the DUP leader across the line of accepting the necessity of a new political dispensation, including the all-Ireland architecture of the Good Friday Agreement has been a key strategic objective of republicans.
There are several issues remaining to be resolved for the full restoration of the institutions of the Good Friday Agreement. Sinn Féin remains focussed on achieving a democratically accountable, impartial, civic policing system in the North. For this to happen a date for the transfer of policing and justice powers and agreement on a departmental model are urgently required.
The British government needs to deal with the role of its secret intelligence agencies in Ireland. There has never been and never will be any acceptable role for MI5 here.
Sinn Féin wants all outstanding issues dealt with as quickly as possible.
In 2007, republicans must meet the political challenges and opportunities that present themselves in a decisive and unified way. As always, An Phoblacht will report and record developments and provide a forum to discuss the political issues.


An Phoblacht Magazine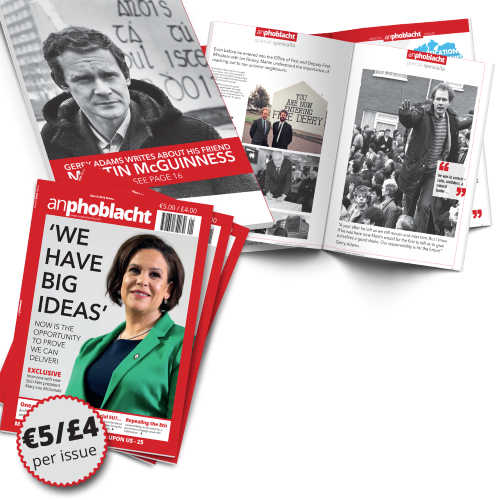 AN PHOBLACHT MAGAZINE:
The first edition of this new magazine will feature a 10 page special on the life and legacy of our leader Martin McGuinness to mark the first anniversary of his untimely passing.
It will include a personal reminiscence by Gerry Adams and contributions from the McGuinness family.
There will also be an exclusive interview with our new Uachtarán Mary Lou McDonald.
test