23 November 2006 Edition
Fógraí bháis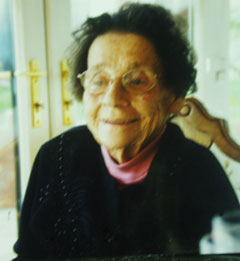 Tribute to Minnie Lenahan
It was with great sadness that the Republican community in South Armagh learned of the death of Minnie Lenahan. Minnie, who was a great republican all her life, passed away peacefully on Friday, 13 October in Daisy Hill Hospital. There was a large attendance of family, friends and comrades from all over Ireland at the removal of her remains from her home at Coolderry, Crossmaglen, where Minnie had lived all her life and raised her family, to St Patrick's Church in Crossmaglen for burial.
Minnie remained devoted to the republican cause throughout her life and on many occasions she looked after other republicans during their times of need without hesitation.
Minnie herself suffered greatly at the hands of the crown forces during the past 30 years. Time and time again she and her family were subjected to harassment when British forces would ransack the family home and attempt to degrade and terrorise them.
Minnie sadly lost her husband Petie in 1974 and was left to raise the family in very difficult circumstances. The Republican Movement in South Armagh and beyond extends its most sincere sympathies to Minnie's sons, John, Pete, Pat, Eamon and Michael, to her daughter Rosemary, sisters Lily and Maggie and to her entire circle of family and friends. Minnie is a role model for this, and coming generations of republicans. She will be sadly missed and always remembered by the entire republican family.