23 November 2006 Edition
Nuacht na nOibrithe BY STEPHANIE LORD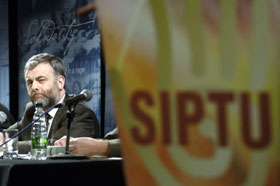 Siptu makes links with Polish trade union
This week saw SIPTU and Polish trade union Solidarnosc -- the largest trade union in Poland -- sign up to an agreement of co-operation. There has been a history of co-operation between the two unions with Solidarnosc encouraging Polish workers in Ireland to join SIPTU and secure protection against exploitation. It is well established that migrant workers are among the most vulnerable to exploitation in Ireland. In December 2005 SIPTU entered into a partnership with Solidarnosc to establish a project to inform Polish workers of their rights when working in Ireland or other EU states.
SIPTU General President Jack O'Connor said: "We both recognise that the most effective way for migrant workers to achieve the same pay and benefits as their Irish colleagues is by being represented by a trade union". It is currently estimated that there are 200,000 Poles living in Ireland.
Mayo refuse collectors to strike
Refuse Collectors who are employees of Mayo County Council, the three local town councils and who are SIPTU members will take industrial action and cease to collect refuse in the New Year, after they unanimously voted to reject the Labour Court's recommendation to outsource their jobs.
The Court previously accepted the council was acting appropriately in selling the service due to financial constraints but added that they should enter into talks with the union to discuss the implications of stopping the service for workers. Despite this, management of the council decided to outsource the employment without the workers' agreement. As a consequence SIPTU served notice on behalf of the workers to the council of their intent to enter official industrial action on 8 January.
Unions demand wage increase for voluntary SECTOR staff
The largest trade unions in Ireland SIPTU, IMPACT and ICTU joined forces on 21 November to demand wage increases for the 64,000 workers employed in the voluntary sector. They are seeking to pressurise the Irish Government into boosting the earnings of community activists working in the areas of homelessness and with people who have alcohol and drug dependencies, stating that many are living "hand to mouth" because of poor wages.