23 November 2006 Edition
General election: Opportunity to present alternative vision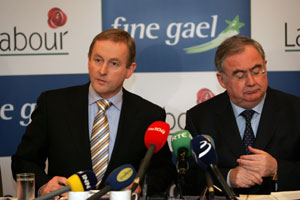 Vive la difference!
By Vincent Wood
In a recent opinion piece in the Irish Times, journalist and broadcaster Vincent Browne pointed out that not one of the mainstream media, would be championing the radical restructuring of Irish society to achieve greater equality.
Of course he is right. Neither will any of the establishment political parties depart from what is essentially a script following what passes for political and economic discourse. Mostly, this is because these parties have bought into centrist economic governance. But there is also the fear of what the media and the 'great and good' will do to them if they dare depart from the script and introduce any notion of radical change into the equation.
People can see all of this of course, which is why we often hear the charge that it doesn't matter who you vote for, they're all the same. The fact that electoral campaigns are fought increasingly in a presidential style, pitting one leader's so-called attributes against another also reflects the reality that the essence of the policies of Fianna Fáil. Fine Gael, Labour and the PD's are 'acceptable' in so far as they do not look to radically change Irish society.
All of this presents opportunities for us. We should have little difficulty illustrating that it does not matter which of the two blocs offering themselves as alternate governments get in. By their own admission and certainly by their actions, Fine Gael and Labour accept that the substance of what is on offer would not change. In pointing out this self-evident fact, we would of course attract the wrath of the establishment media and both the Fianna Fáil/PD and Fine Gael/Labour blocs will work together to dismiss us. Bertie Ahern has been at this lately with his patronising comments in the Sunday Independent on being able to work with us on the peace process, but not with our 'anti-European' and socialist policies. But far from being worried by all of that, this presents exactly the opportunity to clearly spell out a vision of a better, more equal, all-Ireland society. Thanks Bertie!
This is much the same as Michael McDowell attacking us for siding with the Shell to Sea campaign. Martin Ferris, Caoimhghín Ó Caoláin and other of our spokespeople spent the rest of the day spelling out our position on the sovereignty of our natural resources and the government's use of the Gardaí to lay siege to the community at Rossport and Bellanaboy.
The forcing of an ideological debate is crucial if we want to set the conditions for changing Irish society. Many people have been conditioned, brow-beaten even, into believing that there is no real alternative to the increasingly privatised, consumer-driven system that has prevailed in recent years.
The Labour Party squandered an opportunity to open up such an ideological debate when they dumped on Michael D Higgin's attempt to run against Mary McAleese in the Presidential election. Labour have also embraced the 'we won't raise taxes' mantra, putting them firmly in the same political and economic mode as Fine Gael and Fianna Fáil. Their lack of difference, let alone principle, which is cowardice in the face of the current media/political consensus, is costing them dearly in terms of support. They also have problems internally, with the more traditional and visionary of their membership looking for a change in direction. The recent call by Labour Youth to overturn the pact with Fine Gael is indicative of all of this.
There is a clear space on the political spectrum for a party who are prepared to challenge the current consensus. We are still seen as willing to combat authority when it is clearly failing the people. We have yet to be accused of cynicism or political opportunism and there is a significant section of the Irish electorate open to radically changing the political system. It may yet not be a big enough percentage of the people to effect the amount of change that is required, but the more educational a political campaign, the better the chances of growing the number. We are in a position to play the lead role in shifting the political paradigm and convincing a greater number of people that there is an alternative to lazy, non-interventionist government and untrammeled consumerist economics. What an opportunity we have in the coming election to put ideas out there -- to be idealistic and visionary. Vive la Difference!
Vincent Wood is Cathaoirleach of Sinn Féin Cúige Chonnacht
An Phoblacht Magazine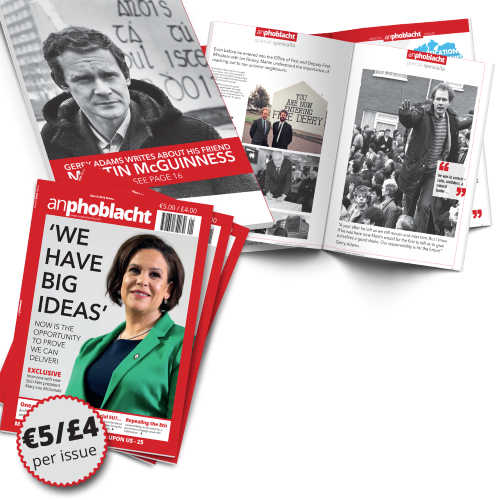 AN PHOBLACHT MAGAZINE:
The first edition of this new magazine will feature a 10 page special on the life and legacy of our leader Martin McGuinness to mark the first anniversary of his untimely passing.
It will include a personal reminiscence by Gerry Adams and contributions from the McGuinness family.
There will also be an exclusive interview with our new Uachtarán Mary Lou McDonald.
test