2 November 2006 Edition
Taxpayer facing multi-million euro Kyoto fines
BY ROBBIE SMYTH
The full scale of the 26 County Government's failure to meet the Kyoto Protocol on greenhouse gas emissions was revealed this week, after European Environment Agency projections forecast a 16% overshoot by 2010 of the original 1998 CO2 agreement.
The EEA projections showed that only Spain, Portugal and Greece will be more off target than the 26 Counties. 26 County greenhouse gas emissions are set to rise by 29% above the Kyoto target by 2010. The government had agreed to a target of 13% above the Kyoto goal but will not even meet this emission level.
Despite the EEA findings, the Irish Government and its Environment Minister Dick Roche were still in denial and are the last people this week to accept that we have a climate change problem in Ireland.
Roche took the unusual position of saying that the 26 Counties would meet its Kyoto target while criticising the EU Commission's failure to recognise the State's participation in the EU's emission trading scheme, whereby Irish firms can buy the right to release CO2 emissions from other EU states. At the same time, Roche said that "it was no secret" that additional measures would have to be taken to meet the Greenhouse gas targets.
Roche was short on details of how the Government would act; however, with a record number of cars on Irish roads, and huge growth especially in the high-end gas-guzzling SUVs and luxury cars market, it is clear he has a problem.
Current government strategies include an increase in the amount of energy derived from renewable energy and tax relief for biofuels, but much more needs to be done. Roche and the coalition government have failed to invest adequately in public transport; they have given mostly lip service to the issue of renewable energy and - perhaps most telling - in the midst of a construction boom, there is only the bare minimum of environmentally-sustainable development. The boom has built employment and wealth, but careless government stewardship of the environmental consequences has left the Irish taxpayer facing fines running to hundreds of millions of euro.
An Phoblacht Magazine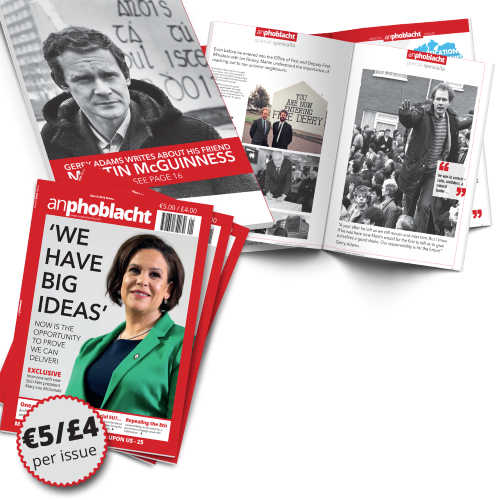 AN PHOBLACHT MAGAZINE:
The first edition of this new magazine will feature a 10 page special on the life and legacy of our leader Martin McGuinness to mark the first anniversary of his untimely passing.
It will include a personal reminiscence by Gerry Adams and contributions from the McGuinness family.
There will also be an exclusive interview with our new Uachtarán Mary Lou McDonald.
test