2 November 2006 Edition
The case for GM freeEurope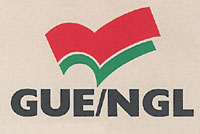 STEVE McGIFFEN 
From 1999 until 2004, when I worked as an environmental adviser to the United Left Group - known as the GUE from its French initials - in the European Parliament, I participated in the battle to establish the most stringent laws possible to control the cultivation and marketing of genetically modified organisms (GMOs) and products in the manufacture of which they had been used.
What we really wanted was a GM-free Europe, but that was not on the cards politically. Expediency meant that we had to go for laws which would offer the best possible protection for the environment, the consumer and conventional and organic farmers. We won some, we lost some.
Although a coalition of the GUE, the Greens, some liberals and almost the whole of the centre-left - the British Labour Party being the major exception --succeeded in ensuring that the European Union had the strictest code of laws governing GMOs in the world, loopholes remained.
The likes of Monsanto complained that the obligatory labelling of GM products would be tantamount to putting a skull-and-crossbones on the packaging. We agreed, though we were surprised that they admitted it. They were right - you will be hard-pushed to find such a label in any supermarket in Britain or most other EU countries. Food retailers don't want to know and, as we hoped that they would, they have preferred to source non-GM alternatives.
The loopholes come in four major forms.
First, products may contain up to 0.9% GM material before they have to be labelled, provided its presence is "adventitious" - meaning, in plain English, that the producer or distributor has taken every precaution to keep the stuff out.
Second, although very few GMOs are approved for commercial cultivation within the EU and only one member state, Spain, actually grows any, experimental plantings of other crops have been allowed, leading to contamination of conventional and organic crops.
Third, because products from animals fed on GMOs do not have to be labelled and because Europe suffers from a shortage of high-protein animal feed, GM soya continues to flood in from the United States.
Finally, because the EU authorities do not inspect shipments before they leave port, products coming from countries where GM crops are widespread are highly likely to suffer contamination at source.
During the summer, traces of a strain of GM rice which is not authorised for import into the EU were discovered in rice shipped into Rotterdam from the US. In a separate incident, GM maize was detected in Slovenia, where it had apparently originated in an experimental site. These are only the most recent of a number of incidents and are likely to represent the tip of a very big iceberg.
The only way to prevent a recurrence is to suspend both experimental trials and commercial imports until further research has shown conclusively that GMOs can feasibly be kept out of conventional products.
Since the legislative package governing the cultivation and marketing of GMOs in the EU was finalised, evidence has accumulated that they represent a serious danger not only to the environment but to public health.
You don't need to take my word for this. Astonishingly, the very body that is in the service of the multinationals whose bidding it is invariably inclined to do is as aware as I am that legitimate fears exist that GM products may pose a variety of dangers to the health of those eating them. I am speaking, of course, of the European Commission. The unelected EU executive continues to assure the public that GMOs are safe, but was caught out telling a completely different story to the World Trade Organisation disputes panel when it was required to defend its controls on importing them.
In connection with this duplicity, the Commission was found guilty by the EU Ombudsman of wrongly concealing documents which Friends of the Earth and others had asked to see. As FoE campaigner Andrew Bebb said, "What we now know is that, while the European Commission has been telling us for years that biotech foods are safe, they were arguing behind closed doors that there are legitimate scientific concerns that warrant a more precautionary approach."
The papers at issue were official studies which Brussels presented in defence of import controls. The documents outlined scientific concerns about the long-term safety of GM foods and crops. Further papers, which were also later released to Friends of the Earth Europe, described these concerns in more detail, warning that cancer and allergies caused by eating GM foods cannot be ruled out and recommending that GM crops should not be grown until their long-term effects are known.
In view of these concerns, the import of foodstuffs that might contain elements of GMOs should be subjected to inspection and control in any exporting country where GM crops are grown. At the same time, experimental trials should be suspended. Only if and when an answer has been found to the seemingly intractable problem of contamination and growing concerns over health have been addressed through serious and sustained research, should any consideration be given to relaxing such measures.
o Steve McGiffen is editor of spectrezine. He is the author of Biotechnology: Corporate Power versus the Public Interest, published by Pluto Press
No to a two tier EU
Mary Lou McDonald MEP expressed her concerns regarding the Irish government's attitudes
to the free movement of migrant workers across the European Union. McDonald said that a two tier system was in operation where 'some countries have given free access to migrant workers while others had firmly closed the doors shut'. The comments come after both the British and Irish Governments announced restrictions on workers coming to Ireland and Britain from both Bulgaria and Romania when they join the EU in January 2007.
Speaking earlier in the week McDonald said: "The Sinn Féin delegation is in favour of the free movement of people across the European Union. We recognised that Ireland was amongst just three states to open up their labour markets to workers from the new member states in 2004 - and we welcomed that, whilst the other 12 states decided to apply certain restrictions to the recently joined countries.
"However, a two tier system is now firmly in operation where some countries have given free access to migrant workers while others have firmly slammed the doors shut. The European Union has to decide whether or not it is an area of free movement for migrant workers or not. We cannot have an EU where some new states are admitted on the basis of a second class membership.
"Those who continue to place restrictions on the free movement of workers, make it extremely difficult for those countries that have not placed similar restrictions on workers, to sustain their present policy - and this is regrettable. What is required is for the European Union to collectively demonstrate its support for migrant workers, work to end exploitation and free movement across borders.
"We would vigorously oppose any attempts by the government to treat Bulgarian and Romanian workers in a similar manner to non EU workers where they would be tied to specific employers through a permit system. Instances of abuse by unscrupulous employers, who can effectively hold employees to ransom, are not a new phenomenon.
"I want to take this opportunity to call upon the Government to continue to advocate the free movement of people at European level, whilst at the same time protecting the rights and conditions of Irish workers
Meanwhile SIPTU General Secretary Jack O'Connor called for agreed new labour standards to be implemented in order to prevent the exploitation of vulnerable migrant labour in order to drive down pay levels and dismantle pensions. Speaking at the Union's Regional Conferences, he told delegates : "we must insist that open border status is not extended to Romania or Bulgaria until all these measures are implemented and seen to be effective
"We must lead the campaign for greater investment in training, education and greater skills enhancement generally. If we do not do so, we will allow the laziest, greediest, the most short-sighted and socially irresponsible elements in management to determine the direction of our economy by default.
"Instead of investing in personnel, research and equipment they will take short cuts to bigger profits by dismantling pension funds and replacing staff by outsourcing work to disreputable employment agencies."
European Parliament Debates Basque/Spanish peace process
The European Parliament has backed a resolution proposed by Spanish MEPs on the emerging peace process between Madrid and the Basque separatist group ETA.
After two days of heated debate, MEPs voted on Wednesday 25 October for a resolution that "supports the fight against terrorism and the peace initiative in the Basque Country undertaken by the Spanish democratic institutions."
The resolution was put forward by four political groups - the socialists, liberals, greens and the GUE/NGL - and was adopted with a small majority of 321 votes in favour, 311 against and 24 abstentions.
Answering questions from journalists in Strasbourg after the vote, parliament president Josep Borrell said he did not think the discussion was irrelevant at an EU level.
"They are issues that affect the political life of a country and these issues have consequences on others because terrorism knows no borders," he said.
Borrell added that the parliament had in 1993 backed a resolution supporting the peace process in Ireland.
An alternative resolution by the conservatives and the centre-right UEN groups - stating that ETA had not met pre-conditions for peace talks - was rejected with 302 votes in favour, 322 against and 31 abstentions.
The conservative counter reaction came after four of the seven European Parliament groups had publicly stated that they backed the Spanish peace deal efforts.
"The road towards dialogue is the only way we can bring an end to this spiral of violence," said German socialist MEP Martin Schulz. "What is the alternative?" he asked at the parliament debate, which had a tense atmosphere and was packed with emotional speeches.
But Schulz's fellow countryman, conservative MEP Hans-Gert Poettering, demanded that ETA should first apologise to the victims of their terrorist actions before the parliament would lend its support to the peace process.
"We owe it to the victims," Poettering said.
However Bairbre de Brún MEP, who opposed the conservative resolution described the joint resolution as 'a missed opportunity'. The Irish MEP welcomed the fact that the Parliament debated the issue but insisted that many important issues were left out of the resolution finally adopted by the parliament and she called on the European Union to do more to support the emerging peace process in the Basque Country. Speaking after the debate de Brun said: "Since the announcement of the ETA ceasefire in March of this year we have argued that there exists a unique opportunity for resolving the conflict in the Basque Country. This remains the case today. All those political forces that believe this to be an important political objective, including the European Union, should do all in their power to ensure that this opportunity is grasped.
"Our party has met with all of the principle political protagonists in the process, and continues to remain engaged, offering whatever assistance is deemed appropriate.
"It is our firm belief that in order for this process to be advanced, there must be dialogue between all parties, dealing with all issues, and within an agreed timeframe. Our own experience of conflict resolution in Ireland has demonstrated that progress requires momentum.
"Equally, we believe that the ongoing political trials against Basque left nationalist political organisations and activists and the continued banning of Batasuna is unhelpful and runs contrary to the logic of conflict resolution.
"In light of this we are calling on the European Union to do everything in its power to ensure that such dialogue takes place and is supported by concrete measures which would help build confidence in the peace process in that country.
"We strongly believe that ultimately it is the people of the Basque Country who must themselves, freely and democratically, decide their own future. However all of us who share their objective for peace and democracy have an obligation to do everything in our power to assist in achieving these ends."
An Phoblacht Magazine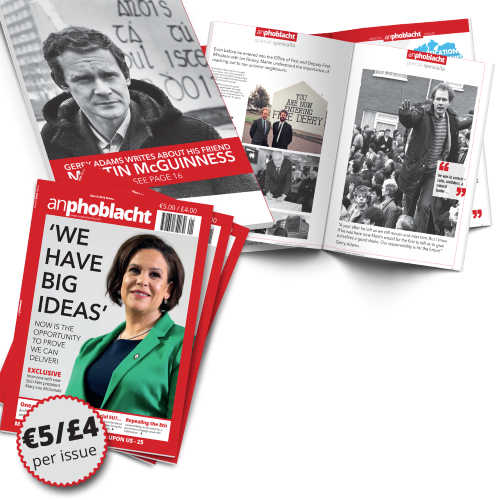 AN PHOBLACHT MAGAZINE:
The first edition of this new magazine will feature a 10 page special on the life and legacy of our leader Martin McGuinness to mark the first anniversary of his untimely passing.
It will include a personal reminiscence by Gerry Adams and contributions from the McGuinness family.
There will also be an exclusive interview with our new Uachtarán Mary Lou McDonald.
test