2 November 2006 Edition
Interview - PANA Chairperson Roger Cole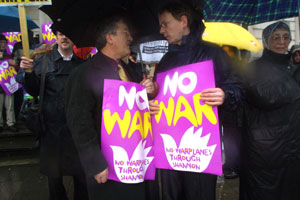 Ireland's choice - The Republic or Imperialism
The Peace and Neutrality Alliance (PANA) holds its Annual general meeting in Dublin this weekend. The organisation is determined to make the Iraq war, and Irish complicity through the use of Shannon airport, an issue in the next 26 County general election. Here, ELLA O'DWYER speaks to PANA chairperson Roger Cole about PANA, its objectives and Cole's own political background.
Established in December 1996 the objectives of the Peace & Neutrality Alliance (PANA) revolve around Irish neutrality with an emphasis on an independent Irish foreign policy, the promotion of European and international security through a policy of disarmament and demilitarisation and opposition to the militarisation of the EU. PANA also opposes nuclear weapons and weapons of mass destruction.
Cole is in no doubt but that the 26 County state has already forfeited its neutrality and with the active support of the media.
"The decision of the Irish Government to have Irish soldiers join the EU Battle Groups is just another step in the process of the destruction of Irish independence, Irish democracy and Irish neutrality", he says.
About ten years ago Cole and others identified the need to establish an umbrella organisation to align various pro-neutrality groups in Ireland and a meeting was held to bring this about.
"About 50 or 60 people turned up and now PANA consist of a broad alliance of 30 groups, along with representatives of political parties - Sinn Féin and the Green Party and some independents."
A long-time member the 26 County Labour Party Cole held strong views about the absurdity of Section 31 of the Broadcasting Act which for many years banned Sinn Féin members and spokespersons from the airwaves.
With a deep commitment to a neutral united Ireland, Cole holds firm republican views.
"Our objective in PANA is to ensure the establishment of an all-Ireland republic, with a government implementing its own foreign policy, outside any military alliances, and pursuing that policy through a reformed United Nations."
At the outset Roger Cole and other founding members of PANA were clear about the size of the challenge facing them.
"I remember a colleague of mine saying we couldn't expect to win - rather it would be a case of our being witnesses - just putting our case."
This they have managed to do with considerable success. Cole was one of the organisers of the mass anti-war rally in March 2003 which had an attendance of 100,000 people. The young Cole joined the campaign for Nuclear Disarmament (CND) in his 20s and to this day maintains a straightforward attitude to the whole issue: "I'm not an idealist, I'm a realist. We either get rid of nuclear weapons or we all die."
Cole sites the use of Shannon airport as a landing base for US military aircraft over recent years as evidence for his case that "the war in Iraq should be an election issue."
Cole refers to the Hague Treaty of 1907 when a number of smaller states foresaw the possibility of war at that time, and neutrality became enshrined in international law.
"The fact that the government allows those planes to land in Shannon is a breach of international law."
Cole believes that the concerns shared by him and his colleagues ten years ago were justified in view of the current government's stance. He supports the option of creating a protocol where the 26 Counties, like Denmark could opt-out of military participation in international conflicts.
Roger Cole is a firm believer in Irish unity and independence and advocates a united, independent, Irish republic as part of a democratic Europe and a reformed United Nations.
One of his concerns is about the Irish government's willingness to allow troops from the 26 Counties to be used in international conflicts, and believes that this is an indication that the state is starting to lose its anti-imperialist identity.
"The choice for the Irish people is clear, and it is the same as it has been for generation after generation. The choice is either the Republic or imperialism."
PANA meets on a monthly basis and holds an annual general meeting each year. This year's AGM will be held on 4 November in the Royal Dublin Hotel. The event is open to the public.
An Phoblacht Magazine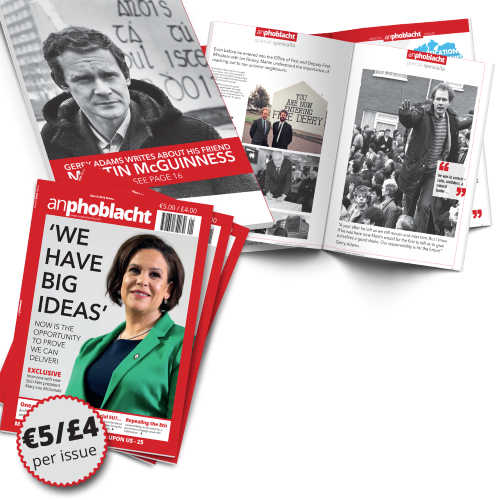 AN PHOBLACHT MAGAZINE:
The first edition of this new magazine will feature a 10 page special on the life and legacy of our leader Martin McGuinness to mark the first anniversary of his untimely passing.
It will include a personal reminiscence by Gerry Adams and contributions from the McGuinness family.
There will also be an exclusive interview with our new Uachtarán Mary Lou McDonald.
test