26 October 2006 Edition
Remembering the Past
Máire Drumm
BY 
CAOILFHIONN 
Ní DHONNABHÁIN
In October 1976, Sinn Féin Vice President Máire Drumm was assassinated by unionist paramilitaries. A charismatic and inspirational public speaker, Drumm was admired for the leadership she gave to the nationalist people in the Six Counties, particularly Belfast, when it was badly needed and for her decisive role in events such as the Falls curfew in 1970.
During the 1970s both Máire Drumm and her husband Jimmy, also a prominent republican, were involved in talks with loyalist organisations aimed at putting an end to the sectarian murder of Catholics in the Six Counties.
Máire Drumm (née McAteer) was born in the townland of Killeen in South Armagh on 22 October 1919 and was reared within a local tradition of militant republicanism. She came from a family with a strong republican background, her mother having been active in the Tan War and the Civil War.
After completing school, Máire moved to Liverpool to seek employment and while there became active in Conradh na Gaeilge, which she joined in 1939. In 1940 she moved to Dublin to seek employment and for a short time worked as a shop assistant. It was during this period in Dublin that she joined Sinn Féin.
Máire moved to Belfast in 1942. Interested in Gaelic games, especially camogie, she served as the Antrim Secretary of the Camogie Board and later Chairperson of the Ulster Council of the Camogie Association and All Ireland Vice Chairperson.
During the 1940s, Máire was involved with republican prisoners' aid organisation the Green Cross and worked tirelessly on behalf of republican POWs and their families. She also began what was to be a lifelong association with the National Graves Association.
Máire met Belfast IRA Volunteer Jimmy Drumm on a visit to her former camogie teacher, then a republican prisoner in Crumlin Road Jail.
Máire and Jimmy were married in 1946 after Jimmy's release and eventually settled in Andersonstown in West Belfast. Jimmy was again interned without trial between 1957 and 1961. The Drumms had five children: Séamus, Margaret, Seán, Catherine and Máire óg.
In March 1959, following the discovery of an escape tunnel in the making, the republican prisoners at Crumlin Road Jail were denied all letters, parcels and contact with the outside world. Regardless of threats or consequences, a protest led by Máire Drumm and Tess O'Hanlon marched to the jail pushing their babies in prams. The protestors - all women - charged at the gates of the jail. Batoned by prison staff, the women eventually got inside and delivered the prisoners' parcels.
Leadership
Following pogroms against the nationalist community in 1969, Máire Drumm emerged as a gifted leader and organiser. Her home became an open house for refugees from beleaguered areas of the city. She was actively involved in re-housing families forced to leave their homes as a result of loyalist intimidation.
Máire was among the first to warn that the 'peacekeeping' British troops were an occupation force. When the Lower Falls was curfewed in July 1970 it was Máire who led the 'pram invasion' of women, pushing prams laden with supplies into the besieged area, in defiance of the British Army.
Máire's leadership qualities were evident when Sinn Féin was reorganised and she was elected as the party's Vice President. Refusing to be silenced in spite of constant harassment, Máire was to serve several periods of imprisonment in Armagh and Mountjoy prisons.
Máire was particularly active in the campaign against internment. On 7 January 1973 she led a march of 500 women and girls from Beechmount to the Busy Bee in Andersonstown against the internment of Liz McKee, the first woman internee.
Refused a visa to travel to the USA for eye treatment, Máire underwent surgery in Belfast's Mater hospital. It was while recovering from her operation that she was murdered in October 1976. Loyalist gunmen, dressed as doctors, entered the ward and shot Máire, wounding another patient in the attack. At the time of her assassination, her youngest daughter was serving a sentence in Armagh women's prison.
Máire was buried in the family plot in Milltown cemetery, Belfast, close to the Republican Plot.
Máire Drumm, Sinn Féin Vice President, was assassinated on 28 October 1976, 30 years ago this week.
A commemorative evening of song and remembrance to mark the 30th anniversary of the death of Máire Drumm will be held in the Teachers' Club, Parnell Square, Dublin on Thursday evening, 26 October. Main speaker: Sinn Féin Ard Chomhairle member Rita O'Hare and Aengus Ó Snodaigh TD. A commemorative booklet - Máire Drumm: Voice of a Risen People - will be launched at this event.
There will also be a Máire Drumm tribute night on Saturday, 28 October at Trinity Lodge, West Belfast. Main speaker: Sinn Féin Chairperson Mary Lou McDonald MEP.
An Phoblacht Magazine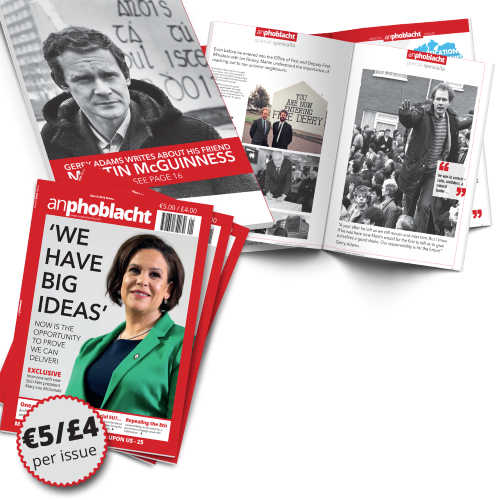 AN PHOBLACHT MAGAZINE:
The first edition of this new magazine will feature a 10 page special on the life and legacy of our leader Martin McGuinness to mark the first anniversary of his untimely passing.
It will include a personal reminiscence by Gerry Adams and contributions from the McGuinness family.
There will also be an exclusive interview with our new Uachtarán Mary Lou McDonald.
test