19 October 2006 Edition
Fifth Column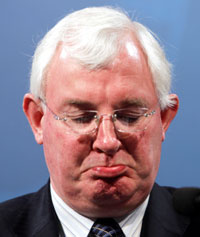 The Noel Treacy Defence
Criminals the world over will be forever grateful to the Fianna Fáil Junior Minister for European Affairs for pioneering what will undoubtedly go down in the annals of legal history as 'The Noel Treacy Defence'.
Asked about the leak that led to the Bertiegate affair - whip-rounds by builders and business bods for the then Minister for Finance, etc - Treacy blustered on Newstalk radio's morning news show that the Mahon Tribunal into planning and corruption was constantly leaking information for political purposes.
The legal eagles at the Mahon Tribunal were furious. They immediately summoned the Galway TD to Dublin Castle, demanding that he produce the evidence behind his foul accusation. Er, the he had none.
So why did a minister in the government (albeit a junior minister) come to make such an unsubstantiated allegation?
It was early in the morning, he pleaded, and he wasn't expecting to be asked the question.
So any villain who hasn't taken the Fifth Amendment and ends up in court having made a false statement can now simply cite 'The Noel Treacy Defence' - I was just out of me bed and I wasn't ready for the question.
It's one worthy of Rumpole of the Bailey.
The incredible Creighton
In the Fine Gael/Labour camp, things aren't very clever either - or rather Dáil candidate Councillor Lucinda Creighton isn't very clever.
The lovely Lucinda, a Blueshirt babe if ever there was one, may be one of Enda Kenny's finest but she sure ain't one of his brightest.
Lucy got a severe grilling last week in the court of the radio nation's chief inquisitor, Vincent Browne.
Lucinda made the mistake of thinking she was clever enough to joust with the withch-finder general on his RTÉ Radio 1 show, Tonight With Vincent Browne. But she was left reeling when Vinnie fired a barrage at the self-righteous missy over where her Fine Gael party got her funding from in years gone by, before Bertiegate.
Vinnie left Lucinda reeling when he raised PD Senator Tim O'Malley's retaliatory attack on the Fine Gael in government for taking very large donations from supermarket tycoon Ben Dunne.
And what about the Telenor contribution accepted by Fine Gael, 'parked' and then sent back when the combined geniuses of the FG money men couldn't find any way whatsoever of pocketing it for the party without getting into hot water?
And then how about the money from Denis O'Brien, when he was competing for a second mobile phone licence, which he subsequently got?
"But it didn't influence any decision in government," Lucinda protested.
"How do you know?" was Vinnie's riposte.
"But do you know that it did?"
What was all that guff from Fine Gael/Labour about appearances and needing to be seen above question?
Washed out Blueshirt
Despairing of getting any sense from Fine Gael's standard bearer on specifics, Vinnie tried another tack.
Did the FG babe think it particularly odd that Fine Gael was deep in debt before being into government and then, less than a year after the Blueshirts got their bums on ministerial seats and their hands on the machinery of state, Enda Kenny's crew were "awash with money"?
"I don't see anything wrong with it," Lucinda.
Her own website proclaims her to be "Fine Gael's most exciting candidate". Hmmm.
Labour's lunchtime fix
Over in the Blueshirts' slightly red corner on the show, Labour Party candidate and barrister Alex White fared little better when he made the mistake of pronouncing: "The idea that you have to be able to show a favour having been done in order to say that there is a problem with a donation... I would disagree with that."
White's arguably more learned friend leapt upon the Labour lawyer's argument by presenting another suspect in 'The Mysterious Cases of Cash for Ministerial Access.'
Vinnie posited:
"How about people being invited to lunch with ministers, particularly a minister who says that he is not going to entertain delegations with regard to the budget... And then, suddenly, a minister for state sends round a letter to rich people saying, 'Oh, by the way, you can, after all, meet the Minister for Finance before he formulates the Budget but you have to pay £100, £200, £300 to sit at the same table as him.'
"What do you think of that?"
Wannabe TD White had no option but to say in his client's defence, "I don't agree with it - I don't think it should be done," even though he knew that the incontrovertible evidence is that the culprit is none other than the former Labour Party leader, then Minister for Finance, now the Labour Dáil candidate for Dublin South-East, Ruairí Quinn.
Right, said Fred
Ulster Unionist Party press officer Alex Benjamin launched his own web-blog from within the walls of the St Andrew's Summit.
All in all, it was pretty dreary stuff, the only mildly interesting nugget being the news that North Belfast MLA Fred Cobain was boasting after England's dismal 2-0 defeat at the hands of Croatia in the Euro 2008 soccer qualifiers.
"I took great delight in informing Minister [Paul] Goggins of the England match after our meeting on policing," the unionist trumpeted.
Now if Martin McGuinness had done that, he'd be accused by Kevin Myers of mindless Anglophobia.
Naked camera
The mayor of Buenos Aires has set up a web-cam in his office so that voters can watch him doing his job every day.
Mayor Jorge Telerman's website has proven very popular with the Argentinian public.
Wonder if Tony Blair would put one in the office of John Prescott?
An Phoblacht Magazine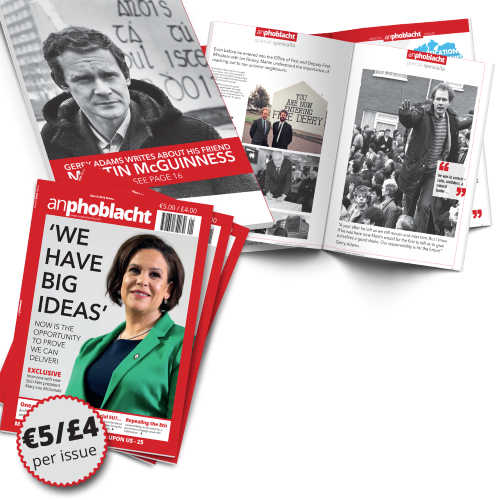 AN PHOBLACHT MAGAZINE:
The first edition of this new magazine will feature a 10 page special on the life and legacy of our leader Martin McGuinness to mark the first anniversary of his untimely passing.
It will include a personal reminiscence by Gerry Adams and contributions from the McGuinness family.
There will also be an exclusive interview with our new Uachtarán Mary Lou McDonald.
test