19 October 2006 Edition
Opinion polls - 57% of voters think next election doesn't matter
BY ROBBIE SMYTH
Poll Exclusion
BY
 ROBBIE SMYTH
Everyone knows there will not be an election tomorrow, or in the coming months, but we do know that the public will be subjected to a growing barrage of opinion polls in newspapers and TV media, but to what end who is benefiting?
In the last week two opinion polls in the Irish Times and the Sunday Tribune have given a possible snapshot of the 26-County political landscape or have they?
The Irish Times poll was conducted by TNS mrbi, while Millward Brown IMS conducted the Tribune survey. Both companies surveyed just over 1,000 people at 100 locations across the 42 constituencies which means that they interviewed approximately 24 people in each constituency and visited less than three locations per constituency.
This methodology is widely used around the world and has many advocates and can no doubt be quite accurate, there are though the polling car wrecks, the most recent one being the prediction by IMS in 2002 and published in the Irish Independent, with a week to polling day, that with a possible 50% of first preferences for Fianna Fáil, it was "all over bar the voting". Fianna Fáil actually won 41.5% of the vote.
So here we are again in a growing poll frenzy, this week's hype is that despite the revelations of Bertie Ahern's cash from friends and the €8,000 plus from his Manchester meeting that Fianna Fáil have bounced back to their best poll showing since the surge in support that gave them 81 seats in 2002. The 2004 local and EU elections are a distant memory and the slump in voter support that saw Fianna Fáil vote support slump to 29.5%.
What was more surprising about last week's poll was the slump in support for Fine Gael and Labour who despite the growing scandal surrounding Fianna Fáil and the dithering of the Progressive Democrats failed to boost their own standing. How could this be?
Sinn Féin's vote has almost stood still at 8% though it is down 1% since the previous TNS mrbi poll in May 2006, or the 12% high it had reached in October 2004, there is though a 3% margin of error in all the poll results, so the accuracy of the smaller parties support is open to serious statistical error.
So what is actually happening in the Irish political landscape? The only honest answer is that we don't know. We do know that the news media have distorted the polls into a false race between two alternative coalitions that the majority of voters don't actually support.
There are now 14 independents and one single TD party alongside the six other parties in Leinster House. Opinion polls have in the last year focused on just four of these parties, formed into two groups the Fianna Fáil/Progressive Democrat coalition and the Labour/Fine Gael coalition. Ever since Fine Gael and Labour announced their electoral pact last year, the media have bought into their agenda that next year's election is a two option race.
Yet if we look at last week's TNS mrbi poll and count in the 19% of don't knows, it is clear that a majority of voters do not favour either coalition. The Fianna Fáil PD coalition is at 39%, of voters and when TNS mrbi asked voters about which coalition they favoured 33% were neither or didn't know.
The other information coming from the polls is that the voters are nonplussed about the larger political parties. In last week's TNS mrbi poll and in a previous survey in May voters were asked which issue was their top priority in next year's election, the economy was at 10%, crime at 12%, public spending at 9%, taxation at 7% and the public services came in at a massive 60% as the clear top priority.
Last week's TNS poll repeated these questions with much the same percentages and 56% of those polled want public services such as health transport and education to be improved.
In the response to Bertiegate it was Sinn Féin and some independents who highlighted the real government failures, while Fine Gael and Labour babbled about standards and unanswered questions. This week's polls have shown that when faced with two very similar options the voters are being trapped in a scenario where it doesn't matter who is in government.
This was summed up best in a successive polls where when asked which possible coalition was better at managing the economy, controlling consumer prices, keeping taxes low, improving the health service, managing the peace process and dealing with childcare the Fine Gael/Labour coalition only polled higher on one issue, 31% thought they would improve the health service compared to 27% for the FF/PD coalition.
The polls have consistently shown that neither coalition has widespread public support and that a massive amount of voters don't see any real change coming though that is what they clearly want. The May TNS poll showed that only 16% of the electorate thought that the coming election will make a major difference in how the country is run.
Why do the Irish Times, Tribune, Business Post, Mail and Sunday Independent give so much time and column space to discussing options that voters don't want and don't think actually matter rather than discussing the issues voters are clearly interested in.
38% of voters stayed at home in 2002, at the current trends of the larger parties ignoring the issues and the mainstream media letting them expect the same again and possibly worse in 2007.
16% - Share of voters who think the next general election will make a major difference in how the 26 Counties is run
56% - of voters who think improving public services is a top priority in the coming election
6% - of voters who think that taxation is top priority
42% - of voters who think that the next general election will make no difference to how the 26 Counties is run
57% - of voters who think that the next election will make no difference to their life
An Phoblacht Magazine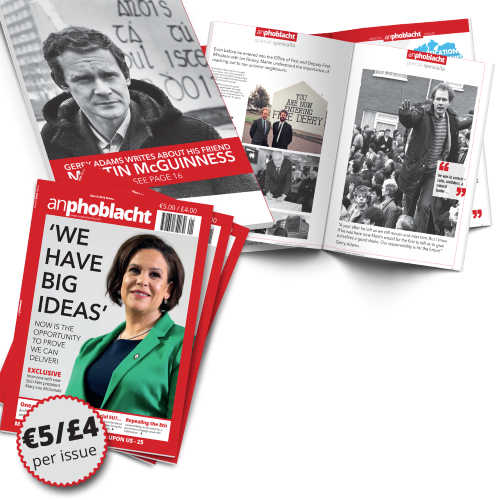 AN PHOBLACHT MAGAZINE:
The first edition of this new magazine will feature a 10 page special on the life and legacy of our leader Martin McGuinness to mark the first anniversary of his untimely passing.
It will include a personal reminiscence by Gerry Adams and contributions from the McGuinness family.
There will also be an exclusive interview with our new Uachtarán Mary Lou McDonald.
test