12 October 2006 Edition
The Mitchel McLaughlin
Challenge of Leadership faces Paisley
The period leading up to 24 November will present challenges to the leadership of all the political parties but none more so than Ian Paisley. He has arrived at the pivotal stage of his long political career. He now faces a similar challenge to that which has confronted every Unionist leader from Terence O'Neill to David Trimble, as each of them too were forced to look over their shoulders at the irreconcilables in their own party as they nudged unionism tentatively along the road of reform. Unfortunately when it came to the moment of decision in the journey of change each of them in turn capitulated to the rejectionists of change within their own constituency.
The issues will be no different even for one as formidable as Ian Paisley, but will the outcome be the same? Will Ian Paisley show real leadership and lead unionists into a new era of partnership? Was his meeting with Archbishop, Sean Brady this week a precursor to him accepting the inevitability of change? Is a shared future where relationships can be built based on equality, justice and peace not a 'win win' for all? Does Ian Paisley have the courage to face down the fundamentalist wing of the DUP so as to serve the greater good of a better future for all? Will Ian Paisley display greater political determination than previous unionist leaders and accept the equality of the mandates of the representatives of the nationalist electorate? Will his own words and deeds over many years come back to haunt him as he faces the charge of being a 'Lundy' who 'betrayed the unionist cause'? Will he join the long list of failed Unionist leaders who succumbed to internal pressure from those unionists whose philosophy is "No Surrender" and "Not an Inch"?
Paisley can go down in history as the unionist leader who liberated his people from their siege mentality or he can be remembered as just one more unionist leader who failed to come to terms with the changing political landscape. He has until 24 November to decide how he wishes to be remembered.
Political leadership is about delivering that, which is best for all of the people and not just those who support your political view. Were all of the social and economic promises contained in the DUP election manifesto just so much hot air? If not then can the DUP explain how they intended to deliver on them without establishing an Executive and the political institutions?
Ian Paisley can act as a leader and lead the DUP into government with Sinn Féin and the other parties or he can open the way for Dublin and London to implement all other aspects of the Agreement without any local influence. All eyes will be on St. Andrews this week.
It is time for a new leadership for unionism to step forward. It is time to leave conflict behind.
An Phoblacht Magazine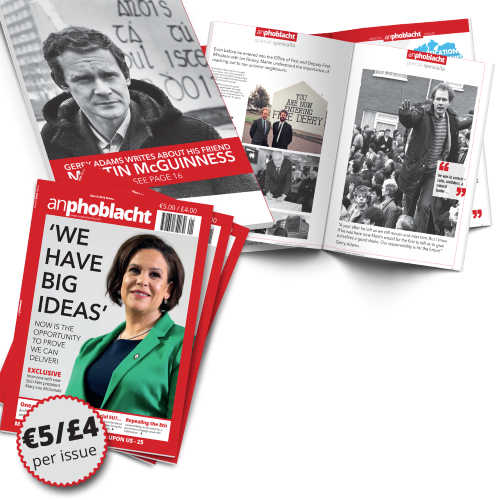 AN PHOBLACHT MAGAZINE:
The first edition of this new magazine will feature a 10 page special on the life and legacy of our leader Martin McGuinness to mark the first anniversary of his untimely passing.
It will include a personal reminiscence by Gerry Adams and contributions from the McGuinness family.
There will also be an exclusive interview with our new Uachtarán Mary Lou McDonald.
test