12 October 2006 Edition
Truth and conflict Seeking the best way forward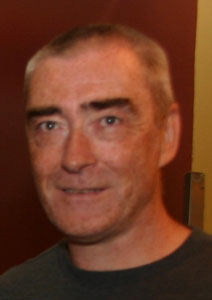 Facing the Truth, Facing the Future
Sinn Féin organised a seminar in Belfast recently around the theme - Should there be a Truth Process? to deal with the legacy of the conflict. Well over 100 activists attended and many contributed from the floor after hearing the arguments for and against the motion. Amongst those present were people who had lost loved ones, people who had been combatants, ex-prisoners and people who had just recently joined the party, including a number of young people. Here, JACKIE McMULLAN gives his impressions.
For many people the Good Friday Agreement represents the formal ending of armed conflict and the beginning of a new peaceful era. The actual written agreement however, contains very little about victims' issues or how the legacy of the conflict might be handled. In fact, there is a view that achieving an agreement depended on the negotiating parties not dealing with the past in any substantial way. All that was agreed was that it is 'essential to acknowledge and address the suffering of the victims of violence as a necessary element of reconciliation'. Eight years on and I don't think anyone would claim that this has happened.
Over 3,700 families were bereaved during our war, tens of thousands of others were injured and, for most of them, there are still many burning unresolved questions as to what happened and why. Because the issues around Truth Recovery and dealing with the past are complex and challenging, our instinct is to 'leave it till another day'. This was reflected by some people at the seminar when they asked, 'why open old wounds?' The reply that came back from many others was 'because the wounds are badly closed and if you don't treat the infection they will reopen themselves'.
Some suggested that Sinn Féin should campaign for an independent truth process while others felt that this would be making a rod to beat ourselves with. Much was said about 'truth' being a 'site of struggle' and our opponents cynically using some victims in their efforts to halt the political march of Sinn Féin. This is fair enough, but it's not enough. We shouldn't allow ourselves to become entranced by this notion of 'site of struggle' or to use the cynicism of others as justification for doing nothing ourselves.
If we are to do justice to the past and to the future we need to separate out our responsibilities towards the victims of the conflict from the political struggle against British rule in Ireland. When we hear the name Jean McConville, for example, we should think less about Michael McDowell and more about Michael McConville, one of her ten children whose lives have been blighted by the horrific manner of her killing. If our opponents want to make political capital out of it then let's deal with that as a separate issue. It's too easy to lash out at others when we need to be taking a hard look at ourselves.
The British Government has a strategy - of course it does. It is to minimise media coverage of its corporate responsibility for the conflict and to maximise allegations against republicans. It goes without saying that we need to counter this. But working to expose Britain's dirty war doesn't absolve us from our own responsibilities. And, twelve years on from the first cessation the question facing us is, do we have the moral courage to confront the ghosts from our own past?
For me, the most memorable contribution of the day came from a young woman activist who dismissed all talk of strategy and politics with the simple point that "we should do the right thing." If we are a party of the people, if we are about justice and about what's best for the people then that is what should guide us - whatever negative consequences we think there might be for the party.
As far back as 1999 Gerry Adams said "In war all sides do terrible things. The IRA has done terrible things. That is the nature of war but it does not excuse the awfulness of some incident. The running sores of this conflict have to be addressed in an honest and forthright fashion." When are we going to address them? Do we have the courage to do what the ANC did when they acknowledged that even just causes can lead to abuses of power? I believe that we do and that we should.
When I was in jail I met a young man whose twin brother had been taken away and shot dead as an informer by the IRA when he was 15 years old. Their father had been shot dead by the British army two years before that. In 2004 the IRA apologised to his family and I was delighted that they did. There have been other apologies from the IRA and each time they've offered one I've been glad and proud of the fact that they did. It requires courage to be self critical and in my eyes the IRA have enhanced the integrity of the republican struggle each time they have done so.
I've been a republican all my life. I've had the privilege to know many people who, time after time, put their lives on the line for what they believed in. Like others I've had many good friends and comrades killed in the course of the struggle. I've attended a number of events recently to commemorate the 1981 Hunger Strike when ten men died in an act of bravery which won admiration throughout the world. If the mourners who chased the loyalist gunman Michael Stone while he shot at them and threw hand grenades at them had been in any other country they would have been given medals. There are countless examples of republicans stepping up to the mark when courage was required. We have a different situation now, a different struggle, but courage is still needed.
Republicans have to set the standard in acknowledging and addressing the suffering of all those we hurt during the conflict. We cannot undo the past or bring an end to their suffering, but by demonstrating courage and moral leadership we can engender hope for the future.
When the IRA issued its apology for the deaths of all non-combatants in 2002 it had a powerful cathartic effect on some victims. It was dismissed by some others, but it was still the right thing to do. If you genuinely believe in the integrity of the republican struggle then truth can only enhance it. There are personal and political challenges for us in this but progress only ever comes about by taking on challenges. And, because republicans are seeking maximum change, we are the ones who have to take the biggest and boldest steps.
If we bring courage and honesty to how we deal with victims and Truth Recovery it might cut through some of the bitterness and anger which infects the politics on this island and transform the way that the past is accepted and understood. It might also help build bridges between the unionist community and ourselves. And it might help some people achieve some healing. None of those outcomes are guaranteed but we should not be seeking to reap political advantage. As republicans we should do it because it is the right thing to do.
An Phoblacht Magazine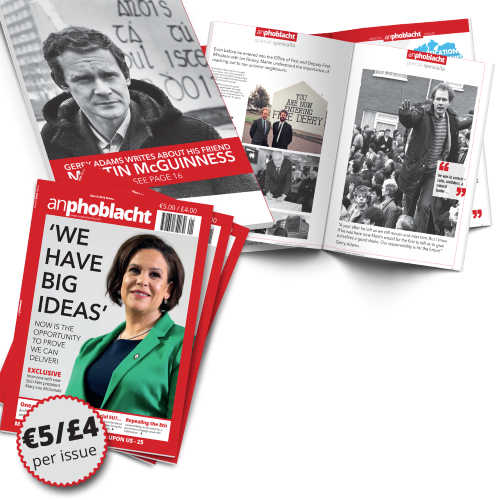 AN PHOBLACHT MAGAZINE:
The first edition of this new magazine will feature a 10 page special on the life and legacy of our leader Martin McGuinness to mark the first anniversary of his untimely passing.
It will include a personal reminiscence by Gerry Adams and contributions from the McGuinness family.
There will also be an exclusive interview with our new Uachtarán Mary Lou McDonald.
test