5 October 2006 Edition
Big Letterkenny crowd recalls Hunger Strike period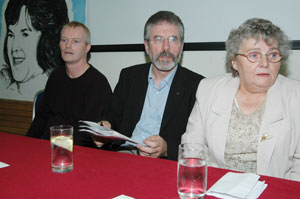 Six hundred and fifty republicans gathered at the Radisson Hotel, Letterkenny for a 1981 Hunger Strike event which saw those attending enjoy a mixture of music, poetry, and talks. The guest speakers were Sinn Féin President Gerry Adams, Former MLA and member of the 1981 Relatives Action Committees Mary Nelis and former Long Kesh POW Tony Kelly.
Tony Kelly, one of the 38 men who famously escaped from the H Blocks in 1983, delivered a very moving personal testimony of what it was like on the blanket protest in the H Blocks of Long Kesh that preceded the Hunger strikes. Then Mary Nelis from Derry delivered an inspirational talk on her experience as a mother of two blanket men and her memories of the time.
Delivering the main address Gerry Adams talked of his memories of the time. He said: "Any one of you could have made the same sacrifice. The Hunger Strikers were ordinary people doing extraordinary things in extraordinary times". Jumping forward to the present he said: " Today we are not asking you to do extraordinary things to achieve equality and reunification on this island. We are asking you to do the ordinary things, to go in to your communities and build support for republican ideals. The more people who do the little things, the less who will have to sacrifice the big things, as was the case in the past".
He told those present that the future belonged to them. "Every one here today has a dream of a better Ireland. It is time to turn those dreams in to reality. Every successful achievement begins with a plan. We must strategise for Irish Unity and Equality amongst our people. More of us must become doers as well as dreamers. There is nothing that we cannot achieve if we have a plan and get active to make it happen".