5 October 2006 Edition
Health Crisis - Sinn Féin activists mobilise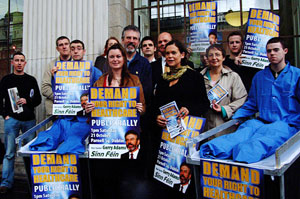 Rally will demand healthcare rights
Speaking with Sinn Féin elected representatives and members in Dublin, Sinn Féin President Gerry Adams MP said it was crucial that there is a big turn out for the party's "Demand your healthcare rights" rally on 21 October.
Outlining the success of the party's health campaign, Gerry Adams encouraged Dubliners "to take personal ownership of this issue and to demand their healthcare rights -- a health system properly funded as a public service that provides care at the point of delivery for all on the basis of need alone and funded from general taxation".
Adams said: "Over the next couple of weeks Sinn Féin activists across Dublin will be mobilising across the city and county for our health rally on 21 October.
"This rally is the culmination of our campaign on the health issue that began with the launch of our policy document, Healthcare in an Ireland of Equals in April.
"A Day of Action in May involved dozens of pickets and stalls right around the state while during the summer we distributed over half a million four page newsletters outlining Sinn Féin's analysis of the health crisis and our proposals for solution.
'We have also highlighted the deeply flawed proposal from Minister Harney to transfer public land to private hospitals, and efforts to close Tallaght's Children's Hospital.
"During a recent series of visits to hospitals and health care professionals in Dublin, Wexford, Dundalk, Drogheda, Navan, Waterford, Cork, and Castlebar I have discussed Sinn Féin's health proposals. These were well received and it is our intention to incorporate suggestions which I and our Health spokesperson Caoimhghín Ó Caoláin TD received from health care professionals. I am delighted at the overwhelmingly positive reaction.
"I am encouraging Dubliners from every walk of life to turn out on 21 October.
A big turnout on October 21st will demonstrate the widespread dissatisfaction there is with the poor state of our health service. It can also help lay the ground work for ensuring that health is at the centre of the public debate in the upcoming general election campaign.
"Our health service can be better. Sinn Féin is proposing a viable, realistic alternative approach which can end the current inefficient and unequal two tier health system."