28 September 2006 Edition
McNeela and Darcy remembered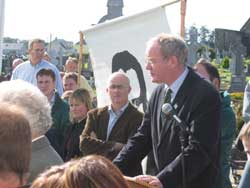 Republican Hunger Strikers Seán 'Jack' McNeela and Tony Darcy were commemorated on 24 September at Caherlistrane, County Galway.
Both men, imprisoned by the Free State government, died whilst on hunger strike for POW status in April 1940.
Tony Darcy was from Headford, County Galway while McNeela was from Ballycroy, County Mayo.
Representatives of both the McNeela and Darcy families attended the commemoration which was chaired by Sinn Féin Galway East Councillor Chair Jason Devlin and addressed by Mayo Sinn Féin general election candidate Gerry Murray. The main speaker was Sinn Féin Chief Negotiator Martin McGuinness who made the connection between the sacrifices of McNeela and Darcy with the Hunger Strikers of 1981.