28 September 2006 Edition
Limerick rally calls for action on anti-social crime and violence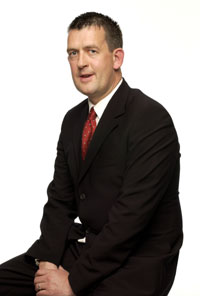 A rally was held in Limerick City last Saturday to call for an end to anti-social crime and violence in some of the city's housing estates.
The rally remembered in particular six-year-old Millie Murray and her four-year-old brother Gavin who received extensive burn injuries when their mother's car was set on fire two weeks ago in Moyross.
There were also calls for an increase in Garda patrols in the city and for estates like Moyross to have a 24-hour round the clock visible Garda presence to help communities tackle anti-social activity.
Meanwhile, gardaí investigating the murder of 21-year-old Frankie Ryan, who was shot dead near his home in Moyross last Sunday night, have arrested a man.
Sinn Féin representative for Limerick East Maurice Quinlivan addressed the rally. He thanked Sharon Clancy for inviting him to speak and for her courage in organising this rally and taking the initiative to address issues which are convulsing parts of Limerick city and which had people people living in fear.
"We all have a responsibility to work to tackle this. It is important that this is not seen as a solely Moyross problem. Unfortunately this week I have had calls from around the city in Moyross, Southill, and Thomondgate.
"Thomondgate the proud, desirable area where I live has in the last few years through bad planning and poor policing allowed to develop significant anti-social behaviour problems where a lot of people, especially the elderly live in fear. We need to establish a safe environment. People need to feel safe in their own homes and their own areas", Quinlivan said.
He went on to say that the 26 County Minister for Justice Michael McDowell's proposals for Anti-Social behaviour Orders were "politically popular but essentially cosmetic gimmicks" that do not work to address the complex problem of anti-social behaviour. "In pushing ASBOs the government is trying to legislate away complex problems that, by contrast, Sinn Féin recognises require the resourcing and implementation of existing laws and investment in communities", he said.
Sinn Féin proposals
Sinn Fein proposes the prosecution of crimes under existing law in particular the Public Order Acts; community policing for more consistent enforcement and deterrence; the full application of the Children Act 2001 which is intended to deal constructively with and prevent juvenile offending behaviour - significant parts of which the government have refused to operationalise; more resources to the Probation and Welfare Service for enhanced community supervision; Community Restorative Justice alternatives to imprisonment or fines for petty crime; community mediation services; better mental healthcare services and drug treatment; adequate investment in social services and; investment in community, social and recreational infrastructure in disadvantaged areas.
"We don't need to be told we need new laws. The laws that exist need to be implemented", Quinlivan said, adding: "Gardaí need the resources to tackle this - I am calling here again for bike and foot patrols as a given in our city estates. We will support any person or community in confronting anti-social behaviour in our city. Lets hope this is the start of a campaign that will force those who hold the resources to release them to tackle this behaviour in our city and county towns", he said.