14 September 2006 Edition
Fifth Column
The Road to Morocco
Ireland on Sunday (aka Little Britain on Sunday) exposed seven members of the Oireachtas sunbathing their milky white torsos in their trunks by a luxury hotel poolside on a four-day mission to Morocco "to strengthen relations" between the North African state's politicos and some of Ireland's finest political figures.
In between basting themselves by the pool, the magnificent seven - TDs Tony Gregory and James Breen (Independent), Jack Wall (Labour), Padraic McCormack and Paul McGrath (Fine Gael), Ceann Comhairle Dr Rory O'Hanlon (Fianna Fáil), and Senator Tom Morrissey (Progressive Democrats) - did work: meeting the Moroccan foreign affairs minister and the head of the Moroccan Organisation for Human Rights. But this wasn't enough for IoS.
The IoS was highly indignant that some of the seven Paddies actually went out in the sun during a 36 degree heat wave while they stayed at their five-star hotel in Rabat, took a dip in the pool and then had lunch and "sipped ice-cold premium lager" served by waiters ("liveried flunkies") "at taxpayers' expense". (Hotel waiters in Dublin serving IoS executives and hacks hot drinks should note how they are viewed as "liveried flunkies" by the high and mighty men from the Daily Mail.)
Dr Rory O'Hanlon flopped in "a spectacular suite with an official rate of €766 a night", IoS hack Tom Worden boiled. "Hollywood superstar Tom Hanks stayed in a similar suite in the same hotel when filming in Morocco last year."
The real scandal, though, went totally unremarked by Ireland on Sunday - just where did Trendy Gregory get those bloody awful purple and green chequered shorts he wore by the swimming pool?
Harney's good day to bury bad news
Ireland on Sunday also ran a story with a bit more substance to it, reporting the accusation of the family of farmer Pat Joe Walsh, who bled to death at Monaghan General Hospital, that Health Minister Mary Harney "callously stage-managed her resignation as PD leader to divert attention from the damning report into the scandal" published the very same day.
The headline was, "Harney buried Pat Joe's death, say family."
The story appeared on Page 23.
SAS princess
The next time Britain's snooty Princess Anne sneaks into Dublin to put her snout in the trough with the West Brit horsey set, perhaps one of those intrepid reporters always lecturing students about "tough questioning" of interviewees might ask her about her glowing praise last week for SAS operations, including their murky deeds on both sides of the Irish border.
Glorying in the title of HRH The Princess Royal, Anne Windsor presided at the 60th anniversary of the Special Forces Club in Hampshire.
Princess Snooty, patron of the SAS club, told the 200 guests at Palace House, the ancestral home of Lord Montagu of Beaulieu:
"You can be very proud of your successors, the work they're doing and the way they're doing it."
Special Branch agent's killer jailed
An ex-soldier who served with the British Army in the Six Counties and the Balkans has been jailed for seven years for stabbing to death UVF gun-runner Lindsay Robb in Scotland over a grubby little drug debt.
Brian Tollett (29) stabbed Robb 22 times on New Year's Eve 2005 because the UVF man owed a local Glasgow drug dealer £140.
Robb - from Lurgan, County Armagh, and once a member of David Ervine's Progressive Unionist Party negotiating team - was also a Special Branch agent (tasked with setting up republicans) and an MI5 informer who was sacrificed when his handlers' frame-ups unravelled.
He was jailed for 10 years in 1996 for gun-running to the UVF. He switched to the LVF and was released in 1999 under the Good Friday Agreement.
In Scotland, he became involved with neo-Nazis and Glasgow Rangers soccer hooligans and descended into drug abuse.
The judge said he took into account that Robb's killer suffers from post-traumatic stress after service in Bosnia with the Royal Fusiliers. He helped dig up mass graves of Muslim victims of Serb massacres and was badly injured by a landmine.
Lord Brailsford told the former soldier:
"These problems were caused by your service for queen and country."
The same could be said of Lindsay Robb.
Blueshirt's red light backing
Ever-controversial Fine Gael Councillor Bill Tormey has got his party colleagues in a lather by his sticking up for sex shops in Dublin against residents' protests.
Wild Bill told Joe Duffy on RTÉ Radio's Liveline afternoon show that sex shops are part and parcel of a changing Dublin.
Or should that be part and parcel in a brown paper wrapper?
Annual sick leave
Seven Peelers injured by the loyal sons of Ulster during rioting when a Whiterock Orange Order march was re-routed are still off work - 12 months after the event.
More than 100 PSNI officers were injured in operations reported to have cost some £3 million aimed at quelling violence instigated by Orange Order leaders calling for street protests after the Whiterock re-routing in September 2005.
Ulster Unionist Party Policing Board member Fred Cobain said his sympathies were with the injured officers.
"Police officers have been paying a high price for the last 35 years - this is nothing new. Some of them may be psychologically traumatised."
Sunni side up
Ulster Unionist MEP Jim Nicholson has attacked Gerry Adams's visit to Palestine as "a ploy ahead of the Irish elections next year".
Oh, yes, Jim - Sinn Féin is pulling out all the stops to win that big Hamas vote in Howth.
French kissing up
French President Jacques Chirac is schmoozing his way around the ice-cold Scandinavians this week by describing Finland's prime minister as sexy.
"Let me introduce you to the sexiest man in Finland," Chirac told Spanish premier José Luis Rodriguez Zapatero at an EU-Asia summit in Helsinki. "You can believe me: it's written everywhere in the papers here."
Not something Alliance leader David Ford will ever have to worry about.
An Phoblacht Magazine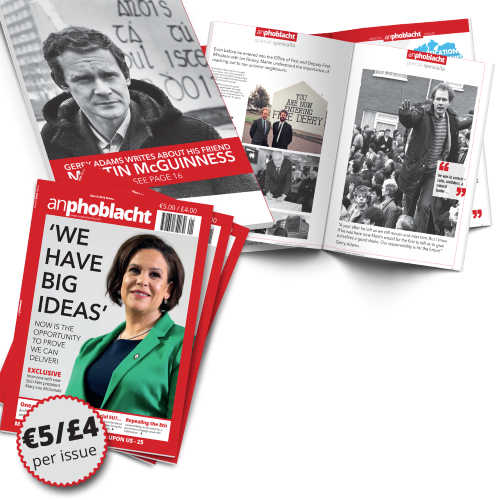 AN PHOBLACHT MAGAZINE:
The first edition of this new magazine will feature a 10 page special on the life and legacy of our leader Martin McGuinness to mark the first anniversary of his untimely passing.
It will include a personal reminiscence by Gerry Adams and contributions from the McGuinness family.
There will also be an exclusive interview with our new Uachtarán Mary Lou McDonald.
test