14 September 2006 Edition
Church paint bombed by loyalists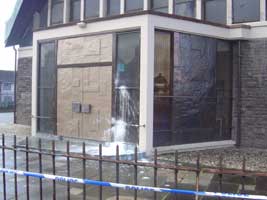 The Church of Our Lady, in the Harryville area of Ballymena, was targeted by loyalist paint bombers on Monday night 11 September.
This, the latest attack on the beleaguered chapel, saw at least two devices thrown at the chapel which has been targeted by loyalist thugs and unionist paramilitary gangs on many occasions over the years.
Last weekend also saw loyalist gangs target up to four Catholic owned homes in the North Ballymena area.
In one incident, in the early hours of Sunday 10 September, two petrol bombs were hurled at a house in the Rathmore Heights area of the North Antrim town.
One of the devices broke on the window of the dwelling while a second was tossed into the family car parked in the driveway.
Two days prior to this attack, on Friday 8 September, a house in the Dunvale area of the town was attacked while windows in a third house, close to All Saints chapel, were smashed.
A car, parked nearby and belonging to a Catholic family was also damaged.
Reacting to the latest attacks Sinn Féin North Antrim assembly member Philip McGuigan called on unionist politicians and community leaders, "to condemn such bigotry and to use their influence to get these attacks stopped".