14 September 2006 Edition
Feature interview: Sinn Féin Chief Negotiator Martin McGuinness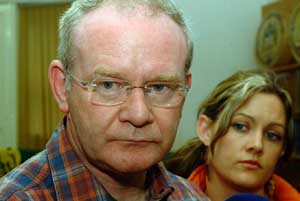 Putting people first
In the second of a two-part interview with An Phoblacht editor SEÁN Mac BRÁDAIGH, Sinn Féin's Chief Negotiator and Mid Ulster MP Martin McGuinness discusses the prospect of republicans holding ministerial responsibility for policing North and South, the legacy of the 1981 Hunger Strike, the intentions of unionist paramilitaries, Sinn Féin sharing its experience with those in conflict situations around the world, the 26 County general election and the question of Sinn Féin and coalition.
Reflecting on the legacy of the 25th anniversary of the ending of the 1981 Hunger Strike, Martin McGuinness points out that this year's commemorative events were hugely well-attended.
"I think there was a great sense of pride and a lot of emotion. The people who led the way in all of this were the families. They were very well-represented at commemorations that took place. The type of leadership that was given by the families had a massive impact on the people of Ireland and people came out in huge numbers to remember what undoubtedly was one of the saddest, most tragic and yet in many ways most inspiring periods of our history.
"People are now beginning again to write about the Hunger Strikers. I was very moved by Aidan Hegarty's book on Kevin Lynch which he asked me to launch in Dungiven some weeks ago. It was obvious that he put his heart and soul into trying to bring out the character of Kevin Lynch, the type of person that he was, and to portray him as an ordinary person who was involved in an extraordinary event which in its own way contributed to changing the course of Irish history.
"The launching of the Gaelic jersey had a massive impact because everywhere we went we could see young people wearing these jerseys in memory of the Hunger Strikers.
I think that the legacy of the Hunger Strikers will be to continue to inspire republicans to work harder, to make even greater commitments and contributions to the struggle and to try and ensure that the type of Ireland that the Hunger Strikers fought and died for actually comes to fruition.
"In many ways the massive turnout in Casement Park was a very clear indicator of where people were coming from. Here you had some 25,000 people inside Casement Park - that's an extraordinary turnout 25 years on from the Hunger Strike and there are few other events on the island of Ireland that would have turned out that number of people to remember anyone."
Regarding the recent interview in the Belfast Telegraph with a spokesperson for the UVF which led to a search for a bomb in Dublin's Mansion House, supposedly planted at the Sinn Féin Ard Fheis during that historic year of 1981, McGuinness said:
"I think sometimes people can be too fixated by these claims. I don't know if there is any truth in the story at all and nothing, we are told, has been found. So, I don't think that we should be in any way concerned about any of that some 25 years on. I think what we need to be more concerned about is the intentions of the UVF today, the intentions of the UDA today and whether or not they are going to accept the will of the people - and many people within their own community - that they need to be contributing in a meaningful way towards the ongoing success of the peace process.
"We watch with interest and with caution what is happening in these communities. We watch, for example, what is happening in Ballymena - and it would not be happening if people in the UVF, UDA, the DUP, Ulster Unionist side were involved in meaningful work to bring the sectarianism that exists in that town to an end. The fact that Ian Paisley is the MP for that constituency makes it all the more incumbent upon unionist leaders to do everything in their power to bring bitterness, sectarianism and bigotry to an end. A child lost his life there in the early part of this year. Are we going to continue until more children lose their lives while politicians sit back and do nothing?"
On Sinn Féin's recent involvement in efforts to find resolutions to conflicts in the Basque country and Sri Lanka, and Gerry Adams' visit to the Middle East, he said that while many republicans may be wondering why Sinn Féin leaders are involved in such activity the reason is simple:
"People make a request for us to come and as people who were part of a very bitter conflict on the island of Ireland and also very much involved in a peace process, very much involved in all of the tremendous changes that have taken place over the course of recent years - we do not believe that we have the right to refuse anyone the benefit of our experience. And so we don't seek out invitations to go to these places. What is happening is that people in Sri Lanka, for example, asked us to go to Sri Lanka to speak with all sides. My visit there saw me meet on several occasions with both the President of Sri Lanka and with the Tamil Tigers. Our experience in the Basque country is to support the efforts for peace in that part of Europe, and obviously we have a tremendous sympathy with people who are and have been involved in conflict and obviously, like our own situation, want to be part of processes which will make their lives better and bring conflict to an end, in a way that faces up to the issues that lie at the heart of the conflict.
"Gerry Adams' invitation to the Middle East came from President Abbas, someone who is a recognised leader of the Palestinian people, and his sole purpose in going there is to explain to all of the people in that part of the world what we did in Ireland and to give them the benefit of our experiences. What they do with that then is a matter for themselves. We don't have any delusions of grandeur. We're not proclaiming that Gerry Adams is going to sort out the Middle East. What we are doing is responding to a request from people who are involved in desperate conflicts and who obviously think that we have something to contribute, and we believe that we have a moral duty and a responsibility to support efforts for peace in any part of the world where our presence is requested."
On whether the prospect was realistic of republicans one day holding ministerial responsibility for policing North and South, as described by him during the summer, Martin McGuinness says:
"The fact is that the electorate has made Sinn Féin the second largest political party in the North, the largest nationalist/republican party in the North. We are on the threshold of a general election in the South where there is a realistic expectation that Sinn Féin will dramatically increase its representation. That certainly puts us in a position where Sinn Féin can, in terms of whatever negotiations to form governments take place North or South, be as entitled to hold any position in government as any of the other parties.
"If Sinn Féin is entitled to the position of Deputy First Minister in the North it is surely entitled to hold any other position in government.
"In terms of the South, obviously we're committed to holding an extraordinary Ard Fheis to decide our attitude towards participation in any government. We believe that we would be as entitled to hold any position in government, including the position of Minister for Justice, as any other party."
Asked about the expectations around Sinn Féin's performance in the upcoming 26 County general election, he said that a substantial increase in the party's elected representation in Leinster House was realistically achievable.
"Many people in the media are speculating about how significant that will be and many of them are talking about effectively the prospect that Sinn Féin would be in a position to decide the formation of the next government. That is an incredible position for Sinn Féin to be in and I think it should not be lost on republicans all over the island that finding ourselves in that position also imposes on us mighty responsibilities to take decisions which are in the best interests of the people of Ireland.
"Obviously as a very proud separatist movement, we in Sinn Féin go forward to the electorate with our record in the peace process but also our record in providing very effective elected representatives at local government level and in Leinster House - people who are not self-seekers, who are not career politicians. People who are prepared for example to give up huge chunks of their salaries to put in place advice centres and workers who will work in the interests of the people.
"People all over the island see Sinn Féin as not just a party looking to bring about independence, sovereignty and freedom but they see us also as a party very much involved in trying to bring about a better health service, a better education system, to ensure low-cost housing for people, to do as much as we can to bring about an end to criminality within our society. I think people think that we have a big contribution to make in the future and I think many people see us as a breath of fresh air.
"Many in the establishment parties would see us as opponents who have to be defeated. At grassroots level in all of our travels around the island - myself and Gerry Adams travel extensively - the amount of goodwill and support for Sinn Féin is palpable. It's tangible everywhere you go. People come up to you on the street, shake hands and they say 'keep up the good work'. So the people of Ireland think we're doing something right and they think that what we're doing is in their interest as opposed to our own interest and I think that they are going to give us dramatically increased support at the next general election. It is incumbent upon republicans and activists everywhere to ensure that we are doing everything in our power to present for the people the type of party that they would like to see."
On whether Sinn Féin could bring anything from its experience of the peace process and political negotiations to the task of tackling social and economic issues in the 26 Counties, he said:
"Establishment parties try to say things about Sinn Féin which they basically know to be untrue. For example, they say that Sinn Féin would not be fit for government. Well, the fact is that both Bairbre de Brún and myself were in government, a government in the North. I think the public there credit us with taking some of the most courageous decisions in government which benefited the people - not just that we represented but many people, for example, on the Shankill Road, an area where only 1% of children went to a grammar school education, who were delighted to see a decision to bring about the abolition of the 11+. Clearly people see Sinn Féin as a party that is not prepared to shirk from taking the difficult decisions.
"Even with the Celtic Tiger we have a situation where a huge percentage, possibly up to a third of children, are living on or below the poverty level. Such inequality is a damning indictment of any society. That makes it incumbent on all of us to ensure that the bringing about of an Ireland of Equals, cherishing all of the children of the nation equally isn't just a slogan, that we actually put in place economic measures which ensure that those children get the best possible start in life."
On what marks out Sinn Féin from other parties in the 26 Counties he said it was "the energy, commitment, dedication of our activists, members and elected representatives towards putting people first.
"Whenever Sinn Féin is involved in political debate it has to be always about not how we prosper as a party but how the political influence and power that we gain at elections can be used for the benefit of people who don't have influence or power. What also marks us out from other parties is that while the rest all say that they want to see a united Ireland, we are working to bring about a united Ireland."
And on the circumstances in which Sinn Féin would consider going into coalition?
"The first responsibility of Sinn Féin is to get people elected. Without electing the numbers required you are not even in the ball game of discussing how you influence the formation of the government.
"The probability is that we are going to dramatically increase our representation in Leinster House. People are speculating about Sinn Féin being 'kingmakers' in the aftermath of an election. Republicans, I think, have to face up to what now could be a probability - that Sinn Féin could be in a position to decide the formation of the next government. How we do that and how we process that has to come back to our membership all over the island. The membership will take these decisions at an extraordinary Ard Fheis. Until such time as that election is completed it would be very foolish of us to decide at this stage how we are going to use that increased influence. What we have to do is bend our efforts towards getting people elected and then depending on the way the figures fall we can then engage, not in an ethereal debate about all of this, but a real debate about how we should go forward."
An Phoblacht Magazine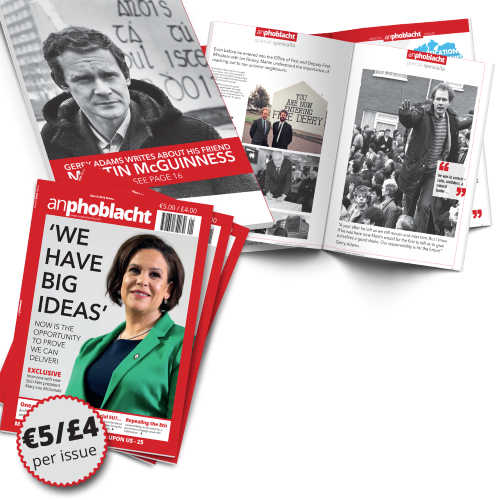 AN PHOBLACHT MAGAZINE:
The first edition of this new magazine will feature a 10 page special on the life and legacy of our leader Martin McGuinness to mark the first anniversary of his untimely passing.
It will include a personal reminiscence by Gerry Adams and contributions from the McGuinness family.
There will also be an exclusive interview with our new Uachtarán Mary Lou McDonald.
test