14 September 2006 Edition
Kelly accuses British of planned cover up over stolen files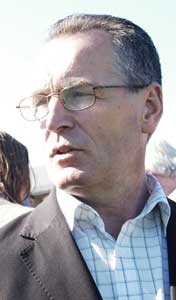 The revelation that up to 1,000 RUC files relating to killings in the North have disappeared is evidence of a planned, systematic cover up on the part of the British government says Sinn Féin's Gerry Kelly.
The Historical Enquiries Team, set up by the British government in January to investigate hundreds of conflict related killings, admitted in a letter to the human rights group Relatives for Justice (RFJ) that it's investigators could not locate RUC files relating to 939 killings.
RFJ spokesperson Mark Thompson said the disclosure raised questions about the HET's ability to investigate the killings: "That so many murder files are missing only confirms the view that the practice of destroying and concealing evidence was systematic", he said.
Thompson went on to say that recent history showed the British government would go to extraordinary lengths to protest agents involved in collusion and those who implemented the collusion and the shoot to kill policies.
Reacting to the news, disclosed on Wednesday 13 September, Sinn Féin Policing spokesperson Gerry Kelly said it is, "not enough for the British government to say that 'files are missing' we want to know who stole them, where they are now and what is being done to retrieve them".
Kelly went on to point the finger at Special Branch who he accused of being steeped in, "a culture of cover up", and highlighted an incident when former senior Special Branch officer Eric Anderson admitted during a television interview for the Ulster Television Insight programme that he took files from RUC barracks without authorisation.
Indeed Anderson claimed to still have the files in his possession at the time of the interview and offered to sell those relating to the abduction and murder of Castlederg teenager Arlene Arkinson.
"The latest revelation about the extent of the cover up and the amount of files stolen raises very serious issues for the British government and their attitude towards dealing with the past. Thousands of missing files is not the work of 'rogue' individuals, it is the outworking of a systematic and planned effort to cover up and conceal the involvement of British state agencies, including Special Branch in the murder of citizens".