7 September 2006 Edition
The Matt Treacy Column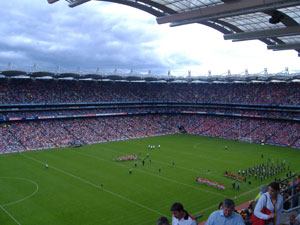 Hungry Cats go back to basics
The All Ireland hurling final saw Kilkenny win their 29th title in a curiously old-fangled way. While all the talk before the game was about how Kilkenny might attempt to tactically disrupt Cork's settled and battle-tested formation, and with all sorts of speculation about where key players might line out, the reality was far more basic.
Kilkenny simply took the game to Cork with the emphasis on ball winning. From the very beginning they set down their marker by pitting their main score-getter Henry Shefflin against Diarmuid 'The Rock' O'Sullivan. And it wasn't by accident either. Shefflin went in to full forward at the start, as if to say "Here I am. Do your best." He then proceeded to drift out into the centre and to compete for ball from McGarry's conventional long puck-outs. It was a brave move from Henry. The responsibility was always going to lie heaviest on his shoulders and he embraced his destiny.
The Cats were hungrier and claimed the majority of contested ball. Their backs decisively won the battle against the Cork forwards with only Ben O'Connor getting the better of his immediate marker. Joe Deane was restricted to just one point from play by Michael Kavanagh while by my reckoning Brian Corcoran, also scoreless, only won two clean possessions against Noel Hickey, who was outstanding at full back.
While Kilkenny sought and relished and thrived on the 'mano a mano' aspects of what was a tough, uncompromising match, Cork struggled to impose the precise, crisp pattern that has laid the basis for so many of their big victories. In the first half Donal Óg Cusack did have considerable success in picking out players, generally one of the two O'Connor brothers, with accurate passes, but he gradually abandoned this as the match wore on and Cork, for once, began to lose their shape.
Something approaching panic seemed to seep from the Cork supporters onto the field. The quiet confidence that survived through half time and up to the last 20 minutes, as Cork patiently chased the game, began to dissipate. The man with the Confederate flag in front of me abandoned his pretence of sanguine detachment. "For Christ's sake Cusack, hit it long. Hit it long." He did but it made little difference. Indeed the Kilkenny backs thrived on this sort of ball, in the manner in which the Rock and Murphy and Mulcahy have done on other better days, for the blood and bandages.
The Kilkenny half backs were brilliant and, right to the end, always money on to emerge from the rucks inside the Cats' '40' were the red helmets of Tennyson and Walsh. Cork's untypical lack of composure was illustrated by their five substitutions. None were effective with perhaps the exception of Wayne Sherlock, who did curb goal-scorer Aidan Fogarty when he replaced Pat Mulcahy.
Cathal Naughton, so effective when he came on against Waterford, created a buzz of anticipation but made little impression when introduced after 59 minutes. Indeed the desperation of the Cork switches was franked when with five minutes remaining Kieran Murphy, who had come on in place of Neil Ronan, was himself replaced by Cian O'Connor. When in doubt blame the right corner forward.
But if Henry was majestic, Kilkenny still needed the players to take on some of the burden of building a winning score. Shefflin's eight points, five from frees, was below his previous average of just over 0 - 11 per game and statistical anoraks will be intrigued to note that his contribution of 42.1% of Kilkenny's total was just below the 43.6% he had contributed in the earlier games.
That dependence might have been fatal had it not been for the emergence of a new star for the Cats. Aidan Fogarty, from the borderlands Emeralds club - home to those almost born in Tipp - became the old Henry to the new Henry's D.J. His goal, when he capitalised on an uncharacteristic handling error by the Rock, was the defining score of the game. He was also there to post further vital points that maintained the margin to the end.
The Cats needed him because their other forwards found little scoring room. That said, they contributed beyond their meagre three points - a case in point being Willie O'Dwyer from Mullinavat, who fought like a demon for the ball when he came on in place of Eoin Larkin.
And so the cycle between these two giants enters a new phase. Between them they have won seven of the last eight titles. Pessimists regard this as something of a counter-revolution following the 1990s, when six different counties claimed the highest honour. Hopefully new challengers will emerge but in the meantime we can only salute the class and power of Cork and Kilkenny. It is up to the rest to emulate them.
The most bizarre sight of the afternoon was the stream of Cork people, some of them in Munster and British Lions rugby jerseys, who were leaving with three or four minutes to go. Confederate Flag was not impressed. And it all added to his sense of foreboding and gloom but not to diminishing his fervour. On his behalf I felt like pursuing them and asking them why exactly they were leaving, but what was happening on the pitch was far too compelling to admit of even a moment's distraction.
You have to hand it to the Cork followers. They are a humorous, knowledgeable and gracious people. For the most part. And also good at winding up us poor Dubs. I had noticed some Cork fans wearing a tee-shirt that bore the legend 'Éire 31'. On inquiring I was informed that this was a reference to Cork's people's desire to have a united Ireland that would exclude Dublin.
Well, the bastards, I was thinking to myself. And there was me after sympathising with them on their loss. Subsequently I discovered of course that it had in fact to do with Cork's pursuit of a 31st All Ireland title. Doubt ya boy.
An Phoblacht Magazine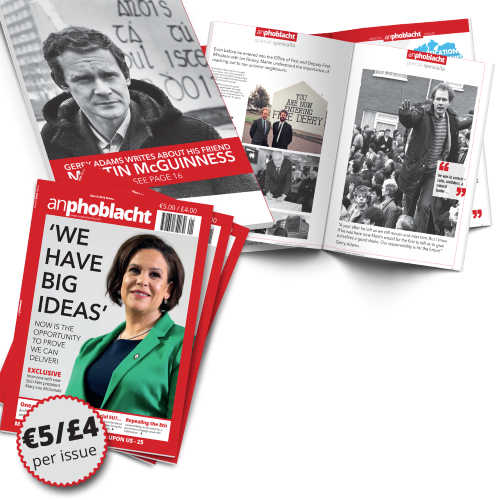 AN PHOBLACHT MAGAZINE:
The first edition of this new magazine will feature a 10 page special on the life and legacy of our leader Martin McGuinness to mark the first anniversary of his untimely passing.
It will include a personal reminiscence by Gerry Adams and contributions from the McGuinness family.
There will also be an exclusive interview with our new Uachtarán Mary Lou McDonald.
test