7 September 2006 Edition
The Mitchel Mclaughlin Column
Agreement could redefine political institutions
The adverse affects of partition, inequality and conflict on Irish social, political and economic life are well documented. The Good Friday Agreement holds the potential to redefine our political institutions and political environment. This explains the resistance to its implementation by those opposed to change. A central plank of this project, identified and endorsed by all parties to the Agreement including the two governments, is the development of All-Ireland political institutions and activity. This was also endorsed in referenda by the Irish people.
Strand Two of the Agreement sets out the political infrastructure to deliver integrated All-Ireland social/political institutions. These institutions must be developed to maximise the dynamic towards a new Ireland of Equals.
To date, the positive experience of the workings of All-Ireland structures has been acknowledged by representatives from all political perspectives and its potential for further development acknowledged by government and stakeholders in the agricultural, educational and business sectors.
The maintenance of segregated systems has been shown to be economically inefficient. Key areas such as health, transport and education are inadequately administered by two stressed systems. Such critical sectors as agriculture and the social economy are also mismanaged by parallel strategies which hinder developmental opportunities throughout the island. This duplication is neither economically nor socially beneficial.
Sinn Féin has set out realistic, deliverable proposals for the consolidation and expansion of All-Ireland activity that can bring tangible benefits to people of all political persuasions.
Our proposals include the following:
An enforceable All-Ireland Human Rights Charter must be developed, placing an imperative on government to uphold and implement human rights legislation.
GFA institutional arrangements must be fully implemented. The All-Ireland Parliamentary and All-Ireland Consultative Civic Forums should be convened without further delay.
Once established, the remit of the All-Ireland Consultative Civic Forum must genuinely reflect grass roots organisations throughout civic society, and have a dynamic partnership input to scrutinise and propose policy development in the All-Ireland Ministerial Council (AIMC).
Current areas of co-operation and Implementation Bodies must be built upon and their remits expanded. New areas of co-operation and further Implementation Bodies must be created.
The All-Ireland activity of the AIMC must be supplemented by the creation of areas for crosscutting policy development.
Sinn Féin proposes the development of an integrated Anti-Poverty and Social Inclusion Strategy.
New All-Ireland structures must be developed as a matter of urgency in the areas of policing, justice, energy and the social economy.
The Cross Border Corridor Groups (CBCGs) must be developed to deliver an integrated Anti-Poverty and Social Inclusion Strategy which addresses the historic human and spatial inequalities pertaining to border communities.
Fully implemented, the Good Friday Agreement provides a potential framework to address the needs of people in real and measurable ways. The All-Ireland institutions offer immense opportunities to develop island-wide politics capable of delivering on 'bread and butter' issues within the overall aim of achieving an Ireland of Equals. Regardless of the 24 November deadline, this work must be progressed.
An Phoblacht Magazine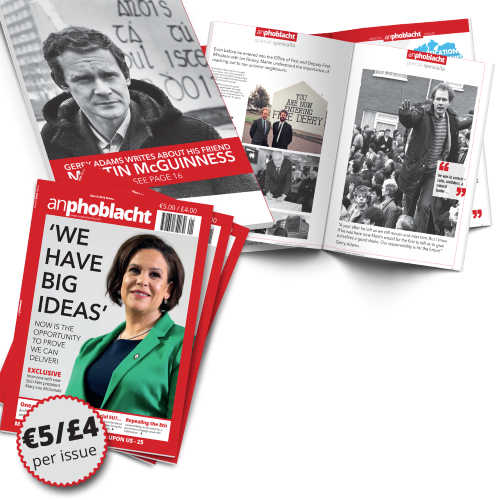 AN PHOBLACHT MAGAZINE:
The first edition of this new magazine will feature a 10 page special on the life and legacy of our leader Martin McGuinness to mark the first anniversary of his untimely passing.
It will include a personal reminiscence by Gerry Adams and contributions from the McGuinness family.
There will also be an exclusive interview with our new Uachtarán Mary Lou McDonald.
test