7 September 2006 Edition
Dwyer exposes shortchanging of tenant purchasers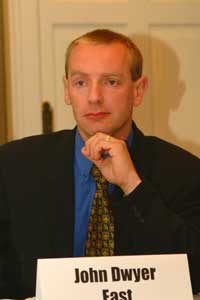 Sinn Féin Chairman of New Ross Town Council, John Dwyer, who three years ago exposed the overcharging of Local Authority tenants who had chosen to buy out their homes, has again discovered a similar anomaly between the policy and guidelines of the Department of Environment in relation to house sales to tenants and the actual implementation of the scheme by Local Authorities throughout the state.
Dwyer, a member of Wexford County Council has exposed the shortchanging of tenant purchasers to the tune of several thousand euro and is calling on the Minister for the Environment to immediately launch an investigation into the matter.
John Dwyer said: "For each year a tenant occupies a local authority house they receive a 3% discount up to a period ten years. If you have resided in a house for four years and 5 months, for example, the Department policy is that this period entitles you to a 5 year discount.
"The Department of Environment circular 6-95 says that when calculating the discount to which the purchaser is entitled, the Local Authority should use the date of Transfer Order as the actual date at which the cut-off ought to apply i.e. the date when the sales contract is signed and when the money is being handed over.
"However, I have discovered that local authorities are using different criteria for assessing the cut off period which shortchanges the purchaser. They are basing it on what's called the Date of Valuation, which is often more than six months earlier than when the tenant is actually handing over the money, due to paperwork etc. This is resulting in the purchaser losing one year of a discount. I have discovered that this shortchanging of tenant purchasers is happening with Wexford County Council and I believe that the practice is widespread throughout the state with the ever-increasing numbers of tenants who are now buying out their houses from their Local Authorities being shortchanged by 3%, which amounts to thousands of Euro per purchase."
The Sinn Féin Councillor called on the Minister for the Environment to instruct the Local Government Auditor to immediately carry out an investigation into all Local Authority House Purchases throughout the state.