7 September 2006 Edition
Make your voice heard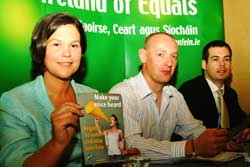 Sinn Féin has launched a voter registration drive ahead of next year's 26 County general election.
Speaking last week at Buswells Hotel within yards of Leinster House to launch the party's leaflet and poster campaign, Sinn Féin Dublin MEP Mary Lou McDonald, Wexford candidate Councillor John O'Dwyer and Donegal South West candidate Councillor Pearse Doherty said that there are serious shortcomings in the existing electoral register and the government's response of leaving it up to individual local authorities to put right, with no central direction, is not the answer.
Mary Lou McDonald said:
"The current situation could result in people being disfranchised with a significant impact on young people and new voters, especially in working-class communities."
The MEP and candidate for Dublin Central added:
"Traditionally, voter turnout has ranged from between 50% to 60% and the democratic deficit has tended to give those better off in society a stronger voice than other people."
McDonald, Dwyer and Doherty all made the point that, because of this failure by central government, it is all the more important for party and community activists to ensure that everyone entitled to be registered is registered and that they exercise their right to vote.
"Our message is simple," Mary Lou McDonald concluded. "Make your voice heard, register to vote, and vote Sinn Féin."