7 September 2006 Edition
Action plan needed to restore institutions
Last Saturday, Sinn Féin's Ard Chomhairle deliberated on the findings of a review into the party's participation in the Hain Assembly. It decided that Sinn Féin MLAs would participate in the upcoming session of that Assembly on the same basis as before the summer recess - with the sole purpose of restoring the Good Friday Agreement institutions, and only in work that genuinely contributes to this objective. Sinn Féin will not engage in any charade aimed at facilitating the DUP's demands for a shadow assembly.
The Irish and British Governments need to be equally determined and focussed. The Hain Assembly and the Preparation for Government Committee have been in operation for months now. However, the political parties have yet to receive any detail or plans for what is going to happen over the next 12 weeks leading to the 24 November deadline for the restoration of the political institutions.
If the Irish and British Governments are serious about restoring the institutions by the deadline they need to immediately set out a plan of action to achieve that. Sinn Féin this week called for a 12-week plan of work to this end and are seeking urgent meetings with the governments to expedite this.
Plenary meetings of the Hain Assembly are pointless if they are not part of a schedule for the restoration of the political institutions.
Those in the DUP who may harbour notions that they can breach the publicly stated deadline for their participation in restoring the instituions must be disabused of any such ideas.
Sinn Féin expects to receive indications from the two governments on their plan for the coming weeks before the Sinn Féin leadership and elected representatives meet in Howth this Friday.
Republicans are committed to being part of any genuine effort to see the institutions put back in place. But the one outstanding issue to be resolved remains the DUP attitude to power sharing. That needs to be the focus of both governments over the next 12 weeks.
An Phoblacht Magazine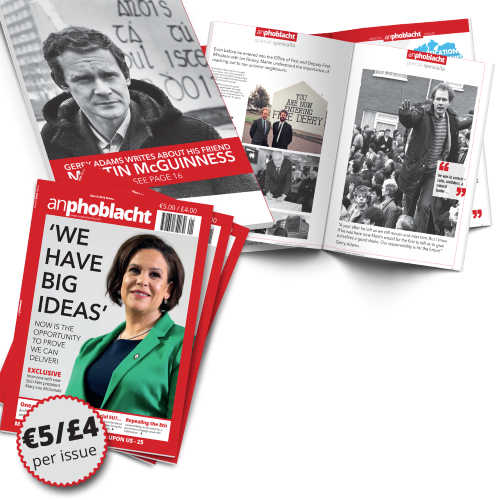 AN PHOBLACHT MAGAZINE:
The first edition of this new magazine will feature a 10 page special on the life and legacy of our leader Martin McGuinness to mark the first anniversary of his untimely passing.
It will include a personal reminiscence by Gerry Adams and contributions from the McGuinness family.
There will also be an exclusive interview with our new Uachtarán Mary Lou McDonald.
test