31 August 2006 Edition
The Matt Treacy Column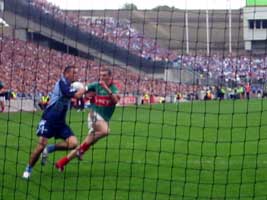 'Try Again. Fail Again. Fail Better'
On a dark Dublin morning on a bus enveloped in my gloom - and silent but for one chap telling someone on the phone that he is too depressed to go to work and is heading instead for the 'early house' - the words of another Dub are apt.
In 'Worstward Ho' Samuel Beckett dispensed advice invaluable to anyone involved with football or hurling in Dublin, or I suppose any sport in any place. "Ever tried. Ever failed. No Matter. Try again. Fail again. Fail better."
Dublin do failure well. Spectacularly well even. Not for us the dull grinding slog or even the one-sided rout. Oh God no. That would be too easy. Every defeat is a Greek tragedy. A Cecil B DeMille epic.
Someone said to me on Monday morning, as I emanated depression like the sun does its golden rays, that I should "cheer up." That it was only a game. I tried to smile and I had no words.
It may be "only a game" but to me it is as important as almost any other thing. And more so than most things. To Dublin and Mayo people who were there our despair and their joy is as real as anything else in this life. Serious minded people will argue that work or politics or 'art' are more important than sport. But as Johan Huizanga said: "All are rooted in the primeval soil of play."
For us, our attachment to our counties is also primeval. Academics have argued that the GAA is based on English administrative creations but in most cases they conform to earlier units and in any case they evoke a powerful sense of place. And despite what some Leinster Council seat warmer said last week, that is as true for the Cabra Dub as it is for the Castlebar Mayo person.
Castlebar will be the happier this week. A team that had its integrity and appetite for the big day questioned responded in style. When Dublin went seven points ahead during a blistering start to the second half, few would have given Mayo any hope of avoiding humiliation never mind defeat. The script cast Mayo to drop their heads and give up. They tore up the script.
Dublin did not surrender but they did panic. It is a phenomenon that many of us are well used to but which we thought may have been banished from the current set-up. But even with that, the game was still there to be won, never mind saved, right down to the last. Panic and stress generated the wrong options and Mayo held on.
It is impossible to be objective when emotionally involved in something like that but I am reliably informed that it was one of the best games of football ever seen in Croke Park. That is as may be. When I bring myself to look at it again - maybe around Christmas - I will form an opinion. Perhaps it will become one of those classics like the 1977 semi-final or the 1991 series against Meath that are better remembered for their quality than for who won.
Small consolation to Dublin. And Mayo will have to beat Kerry if last Sunday is to mean anything more than it was on the day.
The ongoing saga of Cork and Kilkenny continues this Sunday. There is a poetic twist as they meet on reversed terms to those that pertained for the 2004 final. Then it was Kilkenny who were striving for three-in-a-row and were thwarted by John Allen's men. Now Kilkenny will be hoping to prevent Cork claiming the same distinction.
The last time any team accomplished this was when Cork won in 1976, '77 and '78. Allen came on as a sub for the last of these when beating Kilkenny. To complete the symmetry, Kilkenny manager Brian Cody was the Cat's full forward. Allen will be motivated by the desire to join the elite band who have won the treble. Cody will move heaven and earth to stop them.
Kilkenny's preparations have been hampered by an injury that will prevent J.J Delaney taking his place. They are a much changed side from that defeated by Cork in 2004 with only eight of that team likely to start on Sunday. Gone are the likes of Peter Barry and D.J. They have not looked as settled or formidable since.
Cork, on the other hand, have retained remarkable consistency over the course of their quest. Thirteen of the 2004 team are almost certain to be selected and if so will have started in all three finals. The 1976 - 78 team was similarly noted for such stability and it is a factor that may well give Cork a crucial advantage.
A key battle will be that between Henry Shefflin and probably Pat Mulcahy although it is by no means certain that Henry will line out in his usual spot in the left corner. Kilkenny are more liable to move players about than Cork and may indeed be hoping that an unexpected change might force Allen and his selectors to disturb their defence.
Shefflin, who blossomed under the benign shade of Deejayus Careyus, now has the main responsibility for leading the attack. If Cork can contain him then you just get the impression that their options might be more limited than in previous years. Of Kilkenny's 6 - 83 so far, Shefflin has scored 2 - 38 and it was notable that the Clare backs had considerable success in curbing the other forwards in the semi-final.
Cork have the players, the experience and the burning hunger to win. That may see them prevail although given the fate of my last few predictions you ought all be plunging your life's savings on the Cats.
An Phoblacht Magazine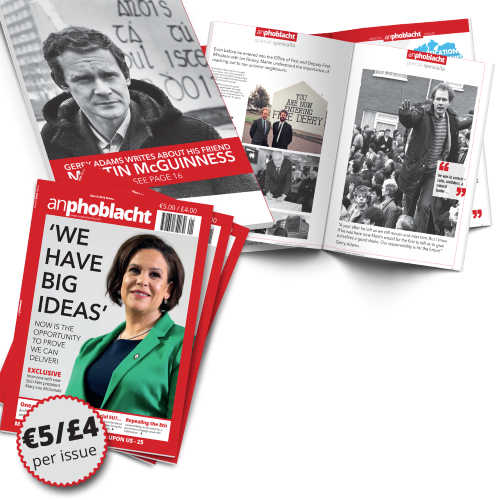 AN PHOBLACHT MAGAZINE:
The first edition of this new magazine will feature a 10 page special on the life and legacy of our leader Martin McGuinness to mark the first anniversary of his untimely passing.
It will include a personal reminiscence by Gerry Adams and contributions from the McGuinness family.
There will also be an exclusive interview with our new Uachtarán Mary Lou McDonald.
test