31 August 2006 Edition
Remembering 1981: Cavan/Monaghan Commemoration a huge success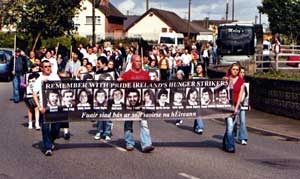 Hundreds remember Kieran Doherty TD in Ballyconnell
'A Huge Success' - That was the verdict of Cllr. Brian McKenna, the cathaoirleach of the Cavan/ Monaghan Kieran Doherty commemoration committee following the march and rally held in Ballyconnell on Sunday last.
The Ballyconnell event was the culmination of events held throughout both counties in memory of the Hunger Strike TD in this, the 25th anniversary of his death.
Approximately 700 republicans from across the constituency gathered in Ballyconnell for the annual parade through the Co. Cavan town to the Kieran Doherty Memorial. They were led by the Louis Leonard/ Jim Murphy Memorial Flute Band from Donagh in Co. Fermanagh and were joined by three other marching bands. Among those in attendance were several elected representatives from Counties Cavan and Monaghan including local Dáil Deputy Caoimhghín Ó Caoláin. Many others there were involved in the campaign to elect Kieran Doherty to Leinster House 25 years ago while a large number of young people were present despite the fact that they hold no personal recollection of the Hunger Strike period.
Kieran Doherty was originally from West Belfast where he was active in the IRA from a very young age. He served the latter years of his young life 'on the blanket' in Long Kesh prison fighting the British governments attempts to criminalise the Irish Freedom struggle. He eventually went on Hunger Strike and, along with nine other republican prisoners, died as a result of British instransigence. Weeks prior to his death the people of Cavan/ Monaghan elected him as their TD. This historic election result was a further strenghtening of a strong bond between republicans in Cavan/ Monaghan and their counterparts in West Belfast. The Kieran Doherty march through Ballyconnell each year is an annual reminder of that close relationship.
When the march reached the impressive 'Kieran Doherty Memorial Monument' proceedings were chaired by Councillor Brian McKenna from County Monaghan. He thanked and welcomed all those in attendance especially the family members of Kieran Doherty. Kieran's brother's Terence and Michael, and his sisters Roisín and Mairéad were in attendance. Apologies were noted from Kieran's parents Margaret and Alfie who were unable to attend due to ill health.
Coucillor Rose McMahon read aloud the Roll of Honour of all those Irish Republicans who died on Hunger Strike over the course of the last century.
Oration
West Tyrone MLA Barry McElduff gave the main address. Mr. McElduff explained that the single purpose of the commemoration was for those present to rededicate themselves to the ideals for which Kieran Doherty gave his life. He stated that it was a great privilege for him to be asked to address the gathering.
He said: "Kieran Doherty was a Blanket Man, a Hunger Striker and a TD for this constituency. The people of Cavan and Monaghan can be very proud of the fact that when people are becoming increasingly disillusioned with the tired and stale politics of Fianna Fáil and Fine Gael they elected someone who not only had principles but who was willing to die for them.
"You can also be proud of your current republican TD, Caoimhghín Ó Caoláin, and of yourselves for ensuring that the legacy of Kieran Doherty lives on in this constituency".
Barry McElduff continued by stating that thus far 2006 has been 'a massive year'. Not only are we marking the 25th anniversary of the 1981 Hunger Strike but republicans have also been commemorating the 90th anniversary of the 1916 Easter Rising. Both events are inextricably linked. They were each about Irish people asserting their right to freedom and refusing to be criminalised by British Governments or their lackies on this island" he said.
"I am proud that the Irish republican community has risen to the occasions of these anniversaries. They accepted the challenge of remembering the Easter 1916 leaders and the Hunger Strikers of 1981 and they did so with energy and dignity".
Mr. McElduff commended the organisers of the Ballyconnell event including the Cavan/ Monaghan committee under the stewardship of Brian McKenna and also those local republicans in Ballyconnell who had put so much effort into making the event a success.
He said: "Republicans in Cavan and Monaghan set the standard in 1981 when fighting the election campaign for Kieran Doherty. No stone was left unturned and that is a tradition that has continued ever since and has been rewarded with the support of a growing section of the population in both counties". He urged republicans to remain steadfast and united and to ensure that the hard work continues.
Mr. McElduff informed the assembled crowd that he visited the family home of Kieran Doherty last week where he spoke at length to Kieran's parents Alfie and Margaret. They had asked that he extend their apologies that they were unable to attend but also their thanks to the people of Cavan and Monaghan for continuing to commemorate their son. They told him many stories of Kieran and it was clear that in his short life Kieran had dedicated himself entirely to the cause of Irish Freedom. He had remained determined to the last and he set an example for others to follow.
The West Tyrone MLA recalled the historic commemoration in Casement Park a number of weeks ago when over 30,000 people participated in the main national Hunger Strike Commemoration. He criticised those who questioned the right of organisers to use Casement Park pointing out that each of the Hunger Strikers were active in their local GAA clubs prior to their imprisonment. "Casement was a gunrunner and the Hunger Strikers were simply involved in fulfilling his legacy" he said.
Barry McElduff concluded by stating that Kieran Doherty continues to inspire young and old alike. "He was brutalised, beaten and demonised but Kieran Doherty, like so many Irish Republicans before and since refused to be defeated. That is his legacy and we, here today in Ballyconnell, rededicate ourselves to achieving the aims of Freedom, Justice and Peace for which the great Cavan/ Monaghan TD gave his life".