31 August 2006 Edition
OPINION: Political opportunities
Attracting attention, airing the alternative
BY
VINCENT WOOD
Sinn Féin attracts attention. Both our detractors in the media (of which there are many) and those who are at least neutral (of which there are fewer!) continue to fill column inches with real or perceived views on our policies and personalities. It is a rare enough phenomenon for a socialist party to attract the coverage we do and it presents both an opportunity to us - and, it has to be said, a responsibility on us - to lead the way in changing the political complexion of this island.
We have already shifted the body politic in terms of the national question.
Fianna Fáil's Easter commemoration and Fine Gael's and Labour's nods towards 1916 reflect the impact we have had. The public has demanded inclusion in the celebration of republicanism and these parties' rekindled interest in 1916 after years of turning their backs on it is based on the demand of the public (or the voters, as they would see it) demand that this should be so.
But there is another task ahead of us.
Both the Fianna Fáil/PD and Fine Gael/Labour blocs are firmly wedded to what has become the political consensus in the 26 Counties, Britain, the US and elsewhere.
For the past 15 years or so, the people of Ireland have had their choices narrowed in terms of the type of society we live in. Whichever bloc has been in government in Ireland or Britain during this period, has propagated economic policies that reflect degrees of neo-liberalism.
In the 26 Counties, this has led to the contradiction of being a leading wealthy country at the same time as being amongst the most unequal. Wages have risen (as has the cost of living) but at the expense of the basic public services which must be the mark of any civilised society.
Mary Harney and the PDs are the most honest of the establishment parties in their open preference for Boston over Berlin; but Fianna Fáil and Fine Gael are very comfortable on this territory.
The Boston model (the USA) currently has among the highest rates of violent crime, economic inequality, functional illiteracy, incarceration and drug use in the developed world.
Many Europeans tend to regard free national health services, unemployment benefits, social housing and so on as pretty good models of human progress. We think it's important (civilised, in fact) to help people who fall through society's cracks. This isn't just altruism but an understanding that having a section of your people who lose out in society hurts everyone.
And, of course, Europe is certainly not the be all and end all of politics! Cuban healthcare and education programmes and the Venezuelan approach to the use of its natural resources would be as popular here as they are there.
We have had an interesting theoretical debate in the pages of An Phoblacht and elsewhere in regards to the position Sinn Féin should take on the issue of coalition in the 26 Counties.
Broadly speaking, it is acknowledged that neither Fianna Fáil nor Fine Gael are anywhere near ready to implement a programme of government that delivers equality, that moves us away from a 'survival of the fittest' economy to a 21st century civic society.
Of course, it is possible to move them. It is always possible to shift people onto different territory. But let's not be naive. There will always be resistance from the vested interests who will be challenged by socialism and equality.
The leaderships of the establishment parties will have to change and there will be divisions and splits as positions shift. Just as political unionism in the Six Counties rendered under the torrent of the Peace Process, establishment parties and other conservative forces in the 26 Counties will also have to be divided and conquered.
By ensuring that the integrity of our stated policy positions remains intact, we are putting socialist republican ideas centre-stage in any post-election deliberations. Failure to reach the bar set by republicans will expose the tired old politics of the establishment and, more importantly, will illustrate to the people that there is, and has to be, another type of politics: one that is society-centred in nature; one that is not enslaved or beholden to multinational or imperialist interests.
There is little doubt that all of this is a step too far for the leaderships of the establishment parties at this time. The net effect of this approach may well be that Sinn Féin will not be in government in the 26 Counties after the next general election. Who knows? The electorate could well dictate otherwise.
However, we would have put changing the political paradigm as a necessary prerequisite to creating the Ireland of Equals - the 32-county democratic socialist republic - and that would have a profound effect in the time ahead.
Elections or not, republicans should explore all avenues to allow for the big debate on the shape of politics on this island.
We need to reach out to those who have an interest in building a just and equal Ireland; to those who hold progressive political, social and economic views; to those who may hold different views but with which single-issue goals or common ground can be made.
Our experience with the rolling out of our health policy campaign with people who have an interest in that field has, for sure, had an impact on those individuals and to many others with whom they will come into contact.
We have many more tools with which to engage with people: well-thought-out policy positions on workers' rights, housing and natural resources. Then there is the range of material coming from the all-Ireland agenda such as the Charter for Human Rights and the Consultative Civic Forum. We have only begun the process of engagement on this basis and it is a massive programme of work. But it is a project that will expose an increasing number of people to our ideas. It is also a process in which we will learn a great deal from community and voluntary activists who have a wealth of experience in building in and with communities.
Irish people, from wherever in the 32 counties, need exposure to a different kind of political discourse than the one they have become used to in recent years. The more the alternative is aired the better conditioned people will become and the better the chances of implementing the type of radical social and economic agenda necessary.
An Phoblacht Magazine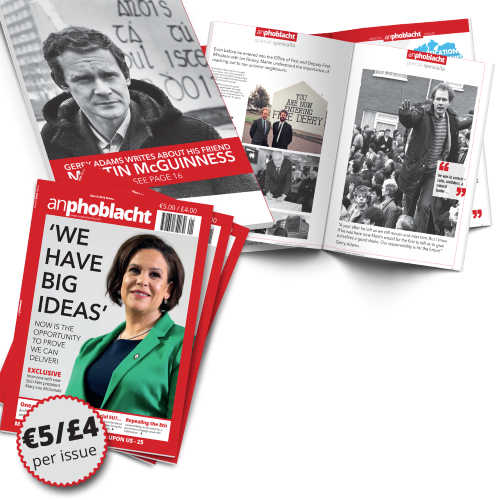 AN PHOBLACHT MAGAZINE:
The first edition of this new magazine will feature a 10 page special on the life and legacy of our leader Martin McGuinness to mark the first anniversary of his untimely passing.
It will include a personal reminiscence by Gerry Adams and contributions from the McGuinness family.
There will also be an exclusive interview with our new Uachtarán Mary Lou McDonald.
test