31 August 2006 Edition
Doolan selected for Dublin South East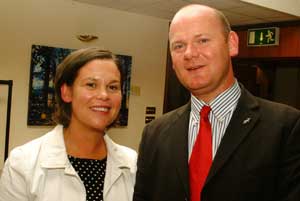 Sinn Féin has selected Dublin City Councillor Daithí Doolan to contest the forthcoming 26 County General Election for the party in Dublin South East following a unanimous vote at electoral convention on 24 August.
Doolan could make history by being the first republican to take a seat in Dublin South East since Countess Markiewicz in 1918. Speaking after the vote in the Holiday Inn Daithí Doolan said:
"I have every confidence that we will make history and win the seat. We have continued to grow and develop since our last victory in the local election in 2004 and I firmly believe this will be reflected in the support we will get at the next general election.
"Our campaign will be positive and it will be about offering real and relevant solutions to the problems that face people here in Dublin South East."