24 August 2006 Edition
OPINION: Journey from resistance to liberation and state power
It's our political strength, stupid!
The hope and potential generated by republican initiatives last year has been frustrated by vested interests who feel threatened by the prospect of Sinn Féin in power. Here, DECLAN KEARNEY argues that republicans need to counter this by internalising our strategy, refusing to be fixated on diversionary political tactics, increasing our support and maximising the impact of republican politics.
As the end of summer approaches, all the political indicators point towards a collapse of the Assembly and the setting into long-term suspension of all the Good Friday Agreement (GFA) political institutions at the end of November.
Ian Paisley's DUP continues to frustrate the limited potential of the Preparation for Government Committee to facilitate the emergence of substantive negotiations. And, bereft of an alternative political strategy, Reg Empey's Ulster Unionist Party appears consigned to acting out the role of unionist poor second cousin. Apart from certain notable exceptions within the wider Orange and unionist tradition, no evidence has emerged during this marching season of a critical mass of opinion inclined towards meaningful dialogue, even on the limited subject of resolving the parades issue.
Meanwhile, the two governments have contributed to creating a massive political vacuum. This has been caused by a number of factors:
Their failure to provide decisive management in the peace process;
Dublin Government (and specifically Fianna Fáil) tactical planning for the period between now and the next general election;
The British Government's distraction with the interlocking nature of geo-politics and future of the Labour Party leadership.
That these conditions now characterise the peace process is self-evident. What is less clear are the motives at work beneath the surface.
To paraphrase US Democratic Party strategist James Carville's slogan for Bill Clinton, one could be forgiven for saying: "It's Sinn Féin's political strength, stupid!"
From this emerges a strategic paradigm, or a 'big board' scenario.
Consider it thus, all of those opposed to Sinn Féin - whether conservative nationalist or unionist, British or Dublin governments - agree on one thing: they don't want Sinn Féin to become politically stronger.
In turn, each operates to their own strategy and objectives, best characterised by the notion of a 'big board' upon which they each calculate their own moves, seek to position themselves and their tactical allies in the short- and long-term, and design counter strategies to reduce the influence of republicanism.
The function of all the combined unionist, Dublin and NIO strategies in the last 12 months has been to surgically remove the political process from the peace process. The objective is to normalise popular opinion, North and South, to a situation in which the GFA no longer functions.
We need to calmly evaluate all as a counter manoeuvre against the strategic initiatives undertaken by Óglaigh na hÉireann in July and September 2005. Then, the IRA's actions were designed to give impetus both to the wider peace process and to republican activists across Ireland in pursuit of independence.
Now our opponents and the enemies of the peace process have acted with stealth to frustrate the burgeoning momentum of last autumn.
Their actions are not designed to destabilise the peace itself, or the potential to consolidate this further, but their strategic focus does seek to minimise and disable the political dynamics for change, best exemplified by the GFA, which are inherent to the peace process. They judge that too many sectional political interests have been, and remain, threatened by the process.
Who would have predicted 10 years ago the seismic political challenge which a peace process embracing an all-Ireland agenda, equality, democratic accountability and power sharing has posed to the status quo North and South? But that status quo has been challenged and it feels threatened.
So, the latest moves on our opponents' 'big boards' are an attempt to check-mate political momentum, stalling progress and conditioning popular opinion supportive of the peace process to an acceptance of a "this is as good as it gets political process" mentality. They hope that the outworking of this for republicans will be manifold, including:
Demoralisation at the lack of progress;
A sense of betrayal at initiatives taken and not seen reciprocated; and
Fostering an impulse among activists to switch off and settle for less than our primary and ultimate aims.
It is no accident that our opponents' latest focus upon policing and the renewed difficulties around parades have both emerged simultaneously in recent weeks. The emphasis on each is intended by proxy to put pressure on Sinn Féin and specifically to provoke emotional reactions from within the activist base. They seek to maximise doubt and disagreement among republicans over our approach to managing the parades issue, on the one hand, and disrupt our process of internalising a strategic analysis of policing on the other.
Against this backdrop, the terminology of Plan A (the formation of an Executive by 24 November and the full implementation of the GFA) and Plan B (joint governmental implementation of all other aspects of the GFA in the event of a failure to restore the Executive by 24 November) needs to be read as British and Dublin code for conditioning popular opinion to acquiesce to a limited delivery of the peace process without the politics of change and momentum.
There is a danger of republicans sleep-walking into the notion that somehow Plan B is a safety net for Plan A and that this might even be preferable because of its supposed emphasis upon additional all-Ireland co-operation.
A fixation upon Plan B subsuming Plan A is diversionary. It clouds our strategic project. It surrenders the political initiative to our opponents while giving primacy to the counter-strategy of the two governments.
All of this is happening with the strategic aim of denying Sinn Féin the opportunity to maximise its role in political power within a Northern Executive and the North-South Ministerial Council. Simultaneously, it also attempts to damage our longer-term prospects as a government party in the 26 Counties. Notwithstanding these 'big board' counter-manoeuvres, the over-riding positive for republicans is that Sinn Féin is presently in an extremely strong political position.
We would be wise to take stock of two vulnerabilities which determine the tactical application of our opponents' counter strategies. First, and despite many years on, our political strategy has yet to be fully internalised within the wider activist base. The second is the concentrated effort to pacify popular opinion and attempt to disengage it from the political process.
Until we all fully internalise the strategic and tactical implications of building political strength, vigorously engage in the battle for hearts and minds on a national scale, and consciously and confidently assert ourselves as a party of government, republicans remain susceptible to diversions.
The evidence of these shortcomings reveals itself at times when comrades dispute our approach to managing the marching season, or when they fear that tactical expediency might affect decisions on policing or coalition, or even question the importance of stretching ourselves to restore the Northern institutions.
It is obvious that our opponents and enemies seek to deliberately capitalise on these issues and will continue to do so.
In 2005, we embarked on an entirely new phase of struggle. Pivotal to its success is the correct application of our strategy and building of a mass republican party fit for government. Accordingly, new challenges arise for us in the next six months and beyond.
The first of these is to recognise that the leadership-led phase of our struggle is over. Leadership-led initiatives were necessary to drive forward the struggle at a time when our collective republican instinct resisted the forensic application of strategy and preferred the traditional comfort zones. Now the onus is upon grassroots activists to provide leadership and devise initiatives which provide Sinn Féin with the ability to engage and excite popular opinion.
The second is to facilitate the internalising of our strategy within the widest possible spectrum of republican and nationalist opinion. Our opponents' efforts to turn popular opinion off from the peace process and to isolate Sinn Féin, North and South, represent a modern-day variation on the doctrines of the British Army's most famous counter-insurgency strategist, Brigadier Frank Kitson. We must roll back this strategy by scientifically mobilising increasing layers of popular opinion in support of republican aims. This means recognising that new political circumstances create new potential sites of struggle.
Republicans should strive to make political struggle, whatever the terrain. If others choose to call a period after 24 November their Plan B we should approach it with the objective of continuing to build political strength for the next negotiation, whenever that occurs. Republicans need to leave every site or terrain of struggle stronger than when we entered.
Thirdly, Sinn Féin must use the political power we possess now to maximise the change to citizens' lives, regardless of whether or not we are in government. As activists we need to become much more strategic in our use of the political power which our political strength produces. We should create popular, national advertisements that Sinn Féin is ready for government across Ireland.
Our next and biggest challenge is to take ourselves seriously as a government in waiting. Our opponents certainly do so and increasing sections of opinion, especially in the 26 Counties, are looking to Sinn Féin as the alternative political option.
Be sure of this: present-day republican activists are pioneering a cultural and intellectual journey out of the traditional mode of resistance into a new liberation phase, and thence to state power. Mastering this transition will require that we all adopt increasingly scientific methods of planning and organisation. This will bring increased workloads in the time ahead.
The vista of today's generations of Sinn Féin activists preparing for power hugely threatens our opponents and our enemies. Hence their efforts to neuter the political dynamics of the peace process and promote a phoney discourse to conceal the developing crisis.
Ultimately, all of this boils down to who is winning the battle for hearts and minds. At present, Sinn Féin is well ahead on points - so let's keep it that way. But, in the time ahead, we all need to keep internalising our strategy, absorbing the challenges, increasing support for independence, and maximising the impact of republican politics where our opponents least want or expect it - before and after 24 November!
An Phoblacht Magazine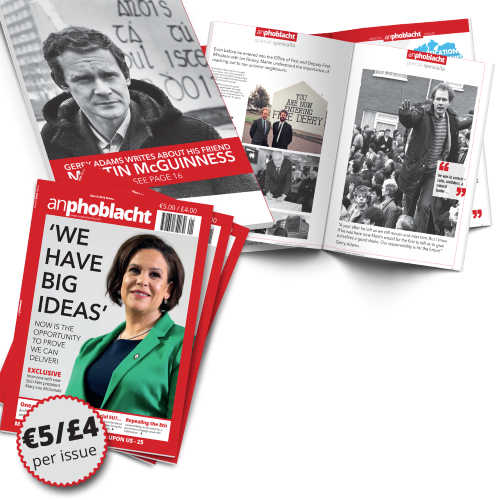 AN PHOBLACHT MAGAZINE:
The first edition of this new magazine will feature a 10 page special on the life and legacy of our leader Martin McGuinness to mark the first anniversary of his untimely passing.
It will include a personal reminiscence by Gerry Adams and contributions from the McGuinness family.
There will also be an exclusive interview with our new Uachtarán Mary Lou McDonald.
test