17 August 2006 Edition
The Matt Treacy Column
New approach by Dublin and Kerry
The best way to assess matches, especially at this time of the year, is to watch the full thing again on tape with the sound turned down. In fact with the advent of a certain TV channel you don't even have to tackle the intricacies of VCRs because they will show it up to five or six times the following week.
This method allows the objective observer - just bear with me on this! - to analyse what took place in the cold light of day without the influence of the occasion generated by the crowds and the heat and the 13 large bottles of cider and the sweaty bookie's docket that carries the child's birthday money.
By this measure Dublin's first half performance against Westmeath last week was pleasing to the eye but the attention began to wander in the second half. While Dublin's 10 wides of the first half mainly came at the end of brilliant forward movements, at least three of which could just as easily have ended in goals, there was a certain weary inevitability about the last half hour.
Indeed it was more like the end of a training match except that training matches in Parnell Park are more intense and the Dublin subs would arguably provide sterner opposition. Nothing much more to be said about it really. Dublin did what they had to do, and did it with a precision that augurs well for the semi-final.
They must await the outcome of the replay between Mayo and Laois to see who their opponents will be. I predicted Mayo last week and will stick to that choice on the basis that they look like they could improve more. Last Sunday's match also had elements of the training ground about it. Although exciting because of the closeness of the teams on the scoreboard there was little of the intensity that teams must have if they are going to win the All Ireland.
Mayo, in particular, often appear almost casual in their approach up front. There is a certain style about them but one wonders how they will stand up to the severe examination they will be subject to if they meet any of the other three teams left in the championship. Their backs are tenacious and clever but their forwards often appear to occupy a different time zone and they are still obsessed with a game plan that relies on most ball being processed through Ciaran McDonald. Surely the lesson of this year's championship has been that the best ball is the ball that is sent quickly into the inside forwards.
That is a class that Jack O'Connor and Paul Caffrey will be excused from. If Kerry and Dublin have learned to adopt and perhaps even surpass the fitness regime and defensive aggression of Armagh and Tyrone, they have also learned that the optimum strategy against the so-called 'blanket defence' is to send the ball in quickly and accurately and to have forwards who can win and use that ball.
It is not good to get too obsessed with styles and the contrast between 'Ulster football' - seemingly invincible according to certain pundits with bad trousers and dodgy jumpers - and the rest, but there is a different approach being adopted by Kerry and Dublin this year. And without getting too carried away, or falling into the trap of anticipating a possible final pairing, there are resemblances between that style and the way in which Dublin and Kerry played in the 1970s and early 1980s. Naturally many people are awaiting such a clash with eager anticipation. Although we Dubs really should know better if most past history is anything to go by.
Cork, as they were for eight long years between 1975 and 1982, are again cast in the unenviable role of attempting to derail the Kerry juggernaut. They were depressing days and every last one of them is remembered in painful detail by Billy Morgan. You can almost see it in his face. In 10 Munster finals, including two drawn matches, Kerry beat Cork by an average margin of eleven points.
Last year Cork, following a respectable showing in the Munster final, were taken apart in Croke Park in the All Ireland semi-final, losing to the Kingdom by 13 points. This year things are different. Cork won Munster after the first match was drawn and are a better team than they were last year despite the absence of Graham Canty who played a key role in Cork's victory in the replay. Canty will be missed as Cork plan how to cope with a revitalised Kerry attack.
As in their quarter-final against Armagh, the main focus is on Kerry's use of Kieran Donaghy who will once again line out at full forward. We assume. Given the success of that tactic in Kerry's quarter-final defeat of Armagh it is a logical assumption that the Austin Stacks man will occupy the edge of the square.
It is not yet certain who Cork will put on Donaghy although the selectors will probably stick with Derek Kavanagh who filled the full-back position against Donegal. Kavanagh is normally a midfielder but was put into the defence in place of Canty. That may be an advantage given Donaghy's own experience in that position, and the fact that the Cork midfield came out on top against Kerry in the Munster final.
Cork are strong up the centre and the bookmakers' odds, with Kerry as short as 1/5, do not properly reflect their chances nor the fact that they have already beaten Kerry handsomely. Against that, Cork won a poor enough game against Donegal while Kerry were superb against Armagh.
On the evidence of those matches Kerry would have to be favoured to advance but Billy Morgan is not a man who will want either to surrender the moral advantage gained in the Munster final, nor suffer the indignity of a repeat of last year's rout. If he can transfer even a small part of his own passion to his improving team they will at least make a contest of it.
An Phoblacht Magazine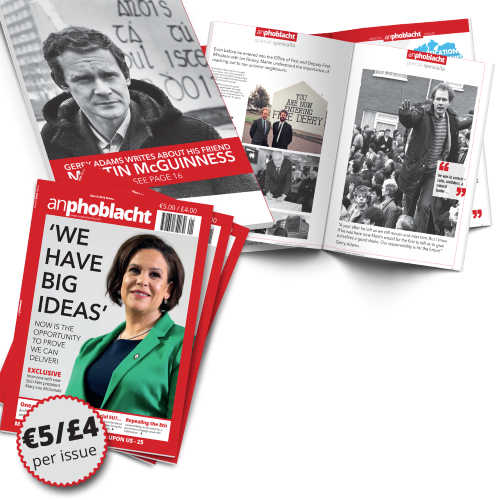 AN PHOBLACHT MAGAZINE:
The first edition of this new magazine will feature a 10 page special on the life and legacy of our leader Martin McGuinness to mark the first anniversary of his untimely passing.
It will include a personal reminiscence by Gerry Adams and contributions from the McGuinness family.
There will also be an exclusive interview with our new Uachtarán Mary Lou McDonald.
test