17 August 2006 Edition
The Fifth Column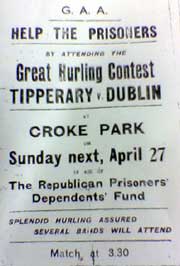 Bringing politics into Gaelic games
DUP complaints that the weekend's Hunger Strike commemoration at Casement Park GAA ground in Belfast sought to make sport political are, if you pardon our sporty vernacular, a load of balls.
The News Letter carped about the event being co-hosted by "the republican mayor of Kerry, Toiréasa Ferris, the daughter of convicted IRA gun-runner Martin Ferris".
What's their problem?
Casement Park itself is named after a gun-runner: Sir Roger Casement.
Doh!
Gunning for the GAA
The GAA's Sam Maguire Cup is named after Michael Collins's director of intelligence in Britain in the 1920s, targeting British military and government officers for assassination by the IRB.
Sam Maguire was also a gun-runner.
And what about those loyal sons of the DUP's antecedents in the British Army who drove into Croke Park on Bloody Sunday, way back in 1921, and opened fire on players and fans in retaliation for Michael Collins's massacre of 12 British spies in their homes and hotels?
Fourteen civilians - including a Tipperary footballer, Michael Hogan - were gunned down by British crown forces at Croke Park.
Wasn't that bringing politics into sport?
McDonnell v McDonald
The Hunger Strike rally revealed a bizarre attitude by the SDLP leadership to political events.
The SDLP deputy leader and MP, Dr Alasdair McDonnell, fulminated, "This is absolutely a Sinn Féin event," while omitting to mention how many events the SDLP was organising (in round figures: 0).
Dr Al blustered:
"Mary Lou McDonald is even addressing the event. She has everything to do with Sinn Féin and nothing to do with the Hunger Strikes."
So the SDLP's reasoning is that to qualify in their eyes as being worthy of commemorating historical events you actually had to be there at the time. Which probably explains why the SDLP doesn't mark the 1916 Easter Rising, internment or the 1981 Hunger Strike. The SDLP leadership wasn't to be seen at those either.
Unsporting behaviour
Will the SDLP and the DUP now be asking sports bodies to bar the bands of the Parachute Regiment and other British Army regiments from performing at horse shows, athletics days, boat races and matches in soccer grounds throughout Britain, including at England internationals, as they have done at Wembley and the Millennium Stadium in the past?
Crack pot idea
A Labour Party councillor in Dublin wants September's gun and knife amnesty to include illegal drugs.
Councillor Aodhán Ó Riordáin said:
"If a person wishes to voluntarily take drugs out of the system and off the streets they should be encouraged and the Minister for Justice should give them the opportunity to do so."
The main flaw in Councillor Ó Riordáin's idea is that the people most likely to have access to illegal drugs are (a) the addicts who need their fixes to get through every day, and (b) the parasitic drugs barons making millions.
And yet Ó Riordáin expects the crack addicts and the coke dealers to just hand over their stash?
Is he really a teacher? Is he for real?
Nut uses sledgehammer
This one comes under the heading: 'Don't try this at home.'
Police were called to a scrap metal workshop outside Rio de Janeiro to investigate an explosion.
They arrived to find one man dead, another critically injured and several cars in the area blazing fiercely.
It seems that the man who died had been trying to open an RPG (rocket-propelled grenade) with a sledgehammer.
Putting the squeeze on Chavez
Those of you old enough to remember British Labour Party direct ruler Roy Mason's foolhardy boast in 1978 that he was going to "squeeze the IRA like a tube of toothpaste" might smile at this one.
Venezuela's electoral commission is investigating a complaint that a local toothpaste maker is using a marketing campaign in government-supported stores to boost President Hugo Chavez's re-election.
The smiles have been wiped off the opposition's faces by a co-operative's production of a toothpaste called '10 Million Smiles', a take-off of Chavez's election slogan, '10 Million Votes'.
Tubes of the stuff were even given out on the floor of the National Assembly, prompting more gnashing of teeth on the right-wing opposition benches.
An Phoblacht Magazine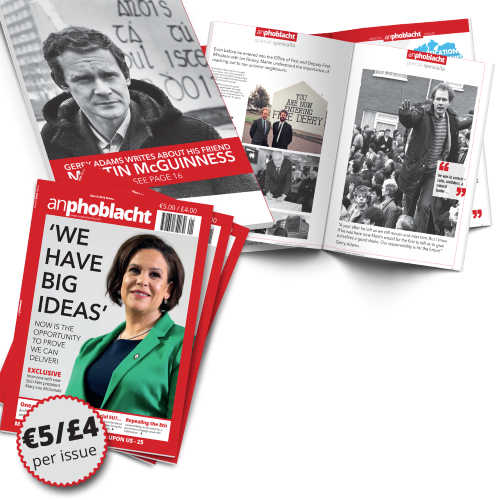 AN PHOBLACHT MAGAZINE:
The first edition of this new magazine will feature a 10 page special on the life and legacy of our leader Martin McGuinness to mark the first anniversary of his untimely passing.
It will include a personal reminiscence by Gerry Adams and contributions from the McGuinness family.
There will also be an exclusive interview with our new Uachtarán Mary Lou McDonald.
test