17 August 2006 Edition
Rembering 1981 Falls witnesses another remarkable event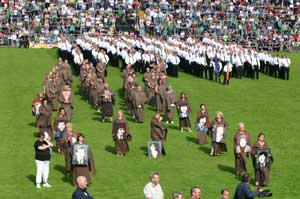 A generation remembers
BY 
JIM GIBNEY
Belfast's Falls Road has been at the centre of the political and military struggle for independence since the mid '60s.
This Road and the districts adjacent to it produced some of the most memorable events in this phase of the freedom struggle.
For almost 30 years the Road echoed to the sounds of the armed and political struggle.
Many times the republican people of Ireland journeyed to it to express their opposition to Britain's occupation and repression.
It was the source of protests for thousands of people: Bombay Street burnt out in '69, Falls curfew '70, internment '71-'75, political status and hunger strike protests '76-'81, many funerals of IRA volunteers including the Gibraltar funerals of '88 - to name but a few landmarks over 30 years.
It has also been the location where republicans celebrated their victories such as when Gerry Adams won West Belfast for the first time.
Last Sunday it was the scene of yet another remarkable occasion when thousands of people proudly marched to mark the 25th anniversary of the 1981 Hunger Strike and pay tribute to Michael Gaughan and Frank Stagg.
Today it is a different Road to the well-traversed Road at the centre of the conflict. Today its people and the people who turned out on Sunday are marching in a new time, a new era.
Gone the British Army bases dotted across West Belfast and on top of Divis Tower, gone too the checkpoints, intrusive displays of military paraphernalia often used to corral and intimidate marchers, gone the foreboding atmosphere created by hovering helicopters.
Twenty-five years ago we marched in similar numbers dressed in black, drenched with the sorrow and burden of carrying the coffins of Bobby Sands, Joe Mc Donnell, Kieran Doherty along this Road to their resting place in Milltown cemetery.
Last Sunday behind a banner 'A Generation Remembers' we marched carrying those and many other memories.
The sun kindly shone down on us and helped lift our mood as we marvelled at the turnout and had flashbacks to those dark and difficult days.
I met Benny Mc Elwee. As we marched he told me the harrowing tale of his attempts to get a visit with his brother Tom. He was on the blanket protest in another H-Block when Tom was on hunger strike. He requested a visit with Tom twice over his 62 days on hunger strike.
He was a few hundred yards away from Tom as he lay dying in the prison hospital. The prison authorities refused to let Benny see him unless he wore a prison uniform.
On the 62nd day of Tom's hunger strike Benny was brought to the prison hospital. Minutes before he arrived Tom died. It was left to Benny to formally identify his brother.
This story sums up the callousness of Thatcher's regime.
So to the scenes dotted along the route of the march: an interrogation, a Diplock judge, a prisoner being strip-searched, a death-bed image of a Hunger Striker.
Periodically the crowd on the footpath, as big as that on the march, would chant, 'Victory to the blanket men and Armagh women'. A regular refrain from 25 years ago carried far in the stillness of last Sunday afternoon.
The largest cheers of all accompanied those hundred or so men and women who walked the route wearing a blanket. Many of them were former blanket men and women on protest in Armagh prison.
Others were prisoners in Portlaoise and England at the time and others were in exile, on the run.
This was their very personal tribute as comrades to those they could not be with back then in their titanic struggle. They were proud to be part of them, the same army, the IRA.
Between 1976 and 1981 the blanket was worn as a badge of honour, a symbol of republican pride and principle. It was again last Sunday as those doing so held high their clenched fists in defiant salute.
A similar cheer greeted the hundreds of former political prisoners from across the Six Counties, smartly dressed in white shirt and black tie, marching in uniform procession.
For me there were particularly sad moments along the way. I noticed Terry Enright dressed in black, standing where Andersonstown RUC barracks once stood, now demolished and used as a site for political graffiti.
Terry was a leading figure in mobilising trade unionists to back the Hunger Strikers. I was regularly in his company and that of his partner Mary who led the Relatives Action Committee.
I frequented their house and watched their children grow up. Terry, their son, was shot dead by loyalists.
We passed another house I spent many hours in, belonging to Miriam and Jim Daly, facing Casement Park. Miriam was a member of the National H-Block/Armagh Committee and the Ard Chomhairle of the IRSP. She was a close friend and mentor. She was shot dead by loyalists in the hallway of her home.
So much pain, so much suffering. We could easily have been crushed under the weight of it all.
We might have but for the IRA's strength, the bravery of the prisoners and Hunger Strikers, the support of the people and the strength and confidence we got from them all.
In the words of Gerry Adams last Sunday, the prisoners had the confidence to take on Thatcher and defeat her.
We need to have the same confidence to take power and use it to bring freedom to our country and people.
An Phoblacht Magazine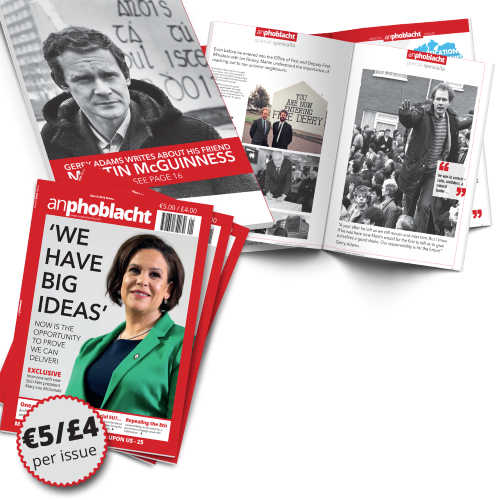 AN PHOBLACHT MAGAZINE:
The first edition of this new magazine will feature a 10 page special on the life and legacy of our leader Martin McGuinness to mark the first anniversary of his untimely passing.
It will include a personal reminiscence by Gerry Adams and contributions from the McGuinness family.
There will also be an exclusive interview with our new Uachtarán Mary Lou McDonald.
test