17 August 2006 Edition
Hunger Strikers set heroic example for all republicans
During those long, agonising months in the H-Blocks of Long Kesh in 1981, the Hunger Strikers knew that the epic struggle they were waging was not merely about prison conditions. They were very conscious that theirs was part of a much wider battle for hearts and minds in Ireland and internationally. In full knowledge of the awesome power ranged against them, they went on a political offensive. As Gerry Adams told thousands of people gathered in their memory at Casement Park last Sunday: "The Hunger Strikers knew exactly what they were doing, why they did it and the effect their actions would have."
Republicans in 2006 also know exactly what we are doing, why we are doing it and the effect our actions will have. The Hunger Strikers are our role models. They continue to guide us on the way forward in our struggle.
While we do not have to do what they did, all republicans should take the example set by the Hunger Strikers. These heroic revolutionaries refused to allow their struggle to be contained by their immediate material conditions. In prison cells, naked and with only their own bodies as weapons, they faced down the most reactionary government in western Europe at that time and they won.
The Hunger Strikers helped forge a mighty movement which has defied all attempts to confine it. We have learned from the Hunger Strikers not to limit ourselves. Republicans think big and we are determined to see Irish freedom in our lifetime.
The task ahead is to build Sinn Féin, to maintain our cohesion, to think strategically and to take risks.
Above all republicans must have the self-confidence to take political power. Our struggle is now in a transitional phase on the road to the Republic. A key task in this phase of struggle is to reach out to unionists. The Ireland we seek to build involves the coming together, in peace, of Orange and Green. This is essential.
The goals of Irish republicanism are ambitious. We seek to transform our country and build a new, egalitarian society which will be a fitting monument to those who have struggled and sacrificed so much for their country. Republicans face the future confident in ourselves and in our ability to achieve these goals. As we forge ahead, the memory of the Hunger Strikers shines like a beacon lighting the way forward.
An Phoblacht Magazine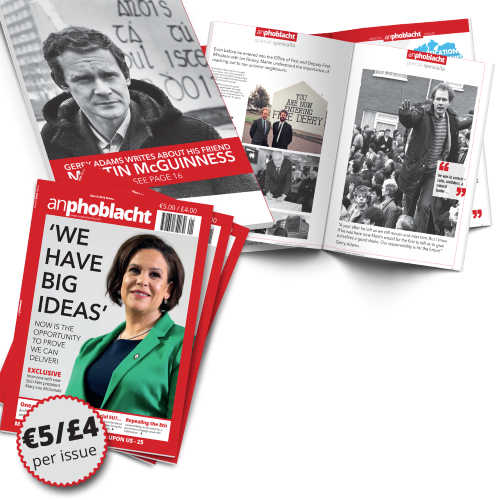 AN PHOBLACHT MAGAZINE:
The first edition of this new magazine will feature a 10 page special on the life and legacy of our leader Martin McGuinness to mark the first anniversary of his untimely passing.
It will include a personal reminiscence by Gerry Adams and contributions from the McGuinness family.
There will also be an exclusive interview with our new Uachtarán Mary Lou McDonald.
test