10 August 2006 Edition
Book Review
BY Mícheál MacDonncha
Review: Remarkable book, beautifully produced.
Tragic story of MacSwiney family
History's Daughter by Máire MacSwiney Brugha. Published by O'Brien Press.
Terence MacSwiney and Bobby Sands, at either end of the 20th century, became household names around the world and were synonymous with the struggle for Irish freedom. MacSwiney's fast to the death had a major impact on domestic opinion in Britain. His widow Muriel toured the United States with Terence's sister Máire, raising awareness of the Irish cause. Muriel was left with an only child, also Máire.
While Máire MacSwiney remained active in politics, Muriel and her daughter faded into obscurity. In this unusual and remarkable book Máire tells her own story and in doing so sheds revealing light on her father Terence, her mother Muriel and her aunt Máire. In many ways it is a tragic story. Máire was taken to Germany by her mother and moved from school to school and from home to home. Muriel suffered from mental illness, undoubtedly exacerbated by Terence's death, and was unable to give fulltime care to her daughter. At the age of 13 Máire broke off her relationship with her mother entirely and they never spoke again. While Máire endeavours to be fair to her mother the book makes the reader want to find out more about Muriel MacSwiney, a beautiful daughter of the wealthy Murphy brewing family in Cork, intelligent, well-educated, committed to the Irish republican cause in her own right. In Paris, where she spent much of her life, her circle of friends were mainly left-wing writers and artists. Máire says Muriel never forgave her for breaking with her. It would be fascinating to hear Muriel's side of the story.
Máire returned to Ireland in 1934 to live with her aunts Máire and Annie. These aunts ran Scoil Íte, an innovative school in Cork city. Máire was a leader of Sinn Féin in that phase of its existence when it followed a strictly legalistic adherence to the surviving members of the Second Dáil as the legitimate government of the Republic. The book makes clear what a determined woman she was, sacrificing much for her principles. It is all the harder to accept, therefore, the author's claim that her aunt was 'used' by republicans in her later years as a speaker at meetings when she was in failing health. Similiarly it is a little difficult to accept the author's minimising of the role of her late husband, Ruairi Brugha, during his time in the IRA in the '30s and '40s. He later joined Fianna Fáil, with which party Ruairi and the author have been long associated.
At times the author seems politically naïve; perhaps she is one of those people who is civic-minded and patriotic but not really political. She frankly admits that it was not until she saw the burned out nationalist st81 (Beyond the Pale Publications, 1994) which tells the story in the words of the prisoners themselves. This has been reprinted and is a fascinating read. Brian's comrade and former Hunger Striker Laurence McKeown is the author of Out of Time (Beyond the Pale, 2001) which tells the story of Long Kesh from 1972 to 2000, bringing the story beyond the Hunger Strike, again in the words of those who lived through it. The time after the Hunger Strike, when the prisoners won their demands, is a very interesting subject.
Not yet on An Phoblacht's reviewers' desk is the new book on Kevin Lynch which will be covered in these pages shortly.
The above are the essential texts for an understanding of the H-Block struggle and all are currently in print. Of course there are many other books of varying quality, some of them downright bad and best avoided.
Long out of print but one of the best books on prison struggle in Irish history is Internment by the late John McGuffin (Anvil 1973). It can still be found in second-hand bookshops. The internment without trial of hundreds of Irish people beginning 35 years ago this week has been somewhat eclipsed by the H-Block struggle but is essential to an understanding of the conflict. Gerry Adams's Cage Eleven (Brandon) is also very good for the internment period, while Danny Morrison's Then the Walls Came Down (Mercier Press) is a very personal account from inside Crumlin Road Prison in the early '90s.
There are many books yet to be written about prison struggle. Justice has not yet been done to women republican prisoners and a major work is needed. Similarly the experience of republican prisoners in the 26 Counties and in England requires much more work, although a good start has been made with Man of Kerry, J.J. Barrett's biography of Martin Ferris (Brandon, 2005). It is hoped to produce a book of 'comms' from the H-Blocks later this year
An Phoblacht Magazine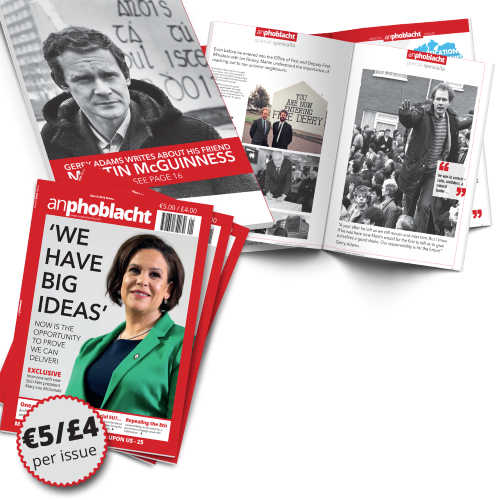 AN PHOBLACHT MAGAZINE:
The first edition of this new magazine will feature a 10 page special on the life and legacy of our leader Martin McGuinness to mark the first anniversary of his untimely passing.
It will include a personal reminiscence by Gerry Adams and contributions from the McGuinness family.
There will also be an exclusive interview with our new Uachtarán Mary Lou McDonald.
test