3 August 2006 Edition
RUC PERJURY Seven years 'on the blanket' on the basis of a false conviction
BY LAURA FRIEL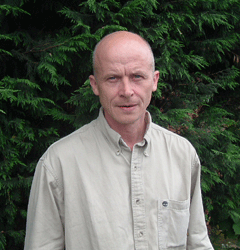 John Boyle is a quiet man with a wry smile and a generous handshake. He tells his story with humour and modesty. "It's not just about me, my case is not unique," he insists. But this, he believes, is also the very reason it's proving to be so difficult to secure justice.
In 1977 John Boyle was charged with possession of weapons and IRA membership. The prosecution's case rested solely on the word of two RUC interrogators who claimed that while being questioned Boyle made a verbal admission. John has consistently disputed this claim. He spent seven years in the H-Blocks 'on the blanket' on the basis of this false conviction.
"There were no eye witnesses, no weapons, no forensics and no signed statements. During the initial trial, the RUC witnesses, Briggs and Logan claimed I had asked 'Is my brother here' and on being told he was, made a verbal admission to protect him," says John.
"I told the court my brother Tommy and I had been arrested together, brought to the Castlereagh together, were in the holding cells together and had been talking to each other. There was no reason to ask if my brother was there, I knew he was, I'd been with him only a short time before."
At the original trial the two RUC officers insisted their notes claiming a verbal admission were authentic and original notes taken during the interrogation. On the basis of this Boyle was convicted and sentenced to 12 years imprisonment. "I immediately lodged an appeal and asked the DDP to release the notes to be tested by a handwriting expert. The request was refused and I lost the appeal."
In 1999 Boyle petitioned the (Criminal Cases Review Commission) to look into his case. A handwriting expert carried out ESDA tests on the RUC officers' notes and found they had been rewritten. The case was referred back to the Court of Appeal and Boyle's conviction was quashed.
During the appeal the presiding judge admitted there was a prima face case of perjury against the two RUC officers involved. The then RUC Chief Ronnie Flanagan referred the case to the Ombudsman's office.
Investigators from the Ombudsman's office questioned one of the two RUC officers. One claimed to be medically unfit to be questioned but the other was still a serving officer.
"He admitted destroying evidence, keeping a pocket notebook and re-writing his notes at a later date. He described this as routine practice at the time and admitted doing this in most if not all cases in which he was involved."
The Ombudsman recommended perjury charges be brought against both RUC officers but the DPP has refused to charge either of them.
"They have refused to tell me why there will be no charges brought against the two officers and they have refused to release the Ombudsman's report."
John subsequently learnt both men were now claiming to be medically unfit.
In 2005 John Boyle was refused compensation by the British Secretary of State.
"It added insult to injury. I believe they are too afraid to admit I suffered a miscarriage of justice. They are refusing to prosecute the two officers for perjury because of their involvement in dozens, perhaps hundreds of other cases. All those convictions would be brought into question.
"I was only 17 years of age when I was arrested and charge in 1976. At the time there were hundreds of us. Remand prisoners were four to a cell in Crumlin Road and most of us were little more than children.
"Dozens of us were later convicted on the basis of 'verbal admissions' claimed by the RUC. The two officers who made claims against me were part of a team of interrogators who travelled throughout the North, they had a reputation for getting convictions, it seems by whatever means necessary."