3 August 2006 Edition
Can neurotic unionism evolve?
In a week that showed signs of unionist nervousness, Laura Friel asks if the DUP confound its critics and reach some kind of accommodation with its nationalist neighbours by November.
In an open letter in the Belfast Newsletter in the past week the British Secretary of State, Peter Hain urged unionists to "seize the initiative", while identifying the "real danger" of "paralysing refusal". Hain called on unionists "to accept that their opponents are capable of change and are part of the body politic". Concern and suspicion belong to the past, unionists have "every right to be confident" but they must also "recognise political reality".
Unionism will "get so much more by engaging" rather than "staying on the sidelines denying itself its rightful role in the government," warned Hain.
But if the British Secretary of State was urging political movement within unionism many media commentators could not see it happening. Writing in the Sunday Business Post, Tom McGurk argued accommodation in the North stood in "direct contradiction to the internal logic of Partition".
"The likely political reality staring us all in the face is that Paisley's unionism is incapable of doing any deal that would cement nationalists to any form of equal civic and political relationship" argued McGurk.
For many the DUP remains the archetypical political dinosaur caught in a sudden climate change and unable to adapt. And there was plenty of evidence of unionist flailing against a new environment in the media last week.
A close friend of Ian Paisley, Free Presbyterian Minister Reverend David McIlveen declared himself "revolted" and threatened to picket the opening of a Gay photographic exhibition in Belfast City bar. McIlveen labelled the exhibition "degenerate and perverse", while referring to the annual Gay Pride march as "the parade of sodomites".
A wrathful god was also at the heart of Cecil Calvert's analysis of the current slaughter in the Lebanon. Israelis are the Chosen People, the DUP councillor told his Lisburn Borough colleagues. "Israelis are God's Chosen People, let's not forget that"; said Calvert. "I fully support what Israel has done." A wistful Calvert declared Israel was "not prepared to sit back".
Meanwhile UUP MLA Dr. Esmond Birnie came out against human rights. The pursuit of human rights is a new religion which challenges the Christian belief in God-given right and wrong, argued Birnie.
"Not everyone agrees that more human rights are necessarily a good thing. The current emphasis on human rights is an attempt to replace the influence which Christianity had in our societies for most of the last 2,000 years," said Birnie.
The centuries old pursuit of human rights, through a myriad of declarations, charters, bills and conventions, is a failed project because "without a Christian basis it will not work". Birnie refuses to recognise the multicultural, multi faith and no faith society from which the struggle for inclusive human-based rights emerged.
The South Belfast MLA was not only worried about the advance of universal human rights, he was also concerned about 'Plan B'. If unionists scupper the Assembly in November, they still may be unable to stem the flow of history.
Plan B amounts to a route map for the aspirations of republicans, warned Birnie, and even if all North/South bodies were axed post November 24, the overall agenda is one of increasing Irish unity.
"The opportunities for me to pursue my aspirations are finite", complained Birnie, while "opportunities for republicans to pursue their aspirations are open ended"; he said.
The Newsletter's political column, editorial and the DUP's Irish Robinson and Nigel Dodds joined forces to deride the joint assertion by British Secretary of State Peter Hain and Irish Justice Minister Michael McDowell that the IRA had fulfilled its commitments and was no longer active.
"Hain assertion put to the test", declared the Newsletter's political editor, Stephen Dempster, focusing on a spurious allegation emerging from Special Branch and endorsed by a British agent that his family had been threatened.
The story emerged after the PSNI informed Martin McGartland's sister that her address had been obtained by unspecified paramilitaries and suggested she might be in danger.
The allegations "showed the true nature of the IRA" said DUP MP Iris Robinson, Its members were "still involved in crime, intimidation and paramilitary activity", she said. Hain was "foolish" to "declare his belief that the IRA was no longer involved in terror".
DUP MP Nigel Dodds described himself as "deeply concerned" and cutting swiftly to the chase, insisted there were "wider implications for the political process and in relation to the integrity of the Secretary of State".
The editorial focused on Hain's integrity. Hain was not only ruling the north like "a colonial-style British viceroy"; the British Minister had cost the taxpayer £11,000 on "chartered plane jaunts to motor racing and rugby events in Sligo and Dublin", while "the bill for 10 official trips outside the United Kingdom totalled £55,000".
Stung by the vilification, Hain told his critics to "get a life" and asked if he was expected "to go by ferry". It would take days, weeks, complained the exasperated British Secretary of State. At last unionism had found a sure way to slow down political progress.
An Phoblacht Magazine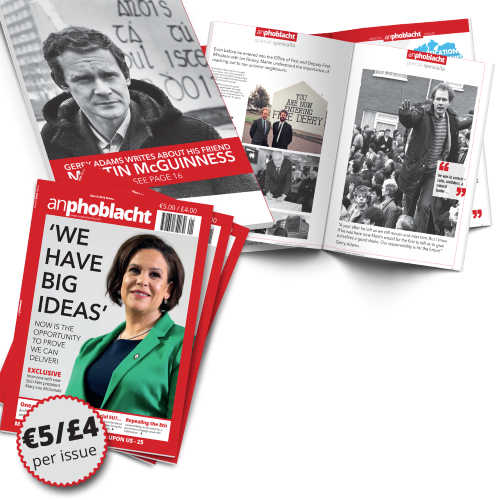 AN PHOBLACHT MAGAZINE:
The first edition of this new magazine will feature a 10 page special on the life and legacy of our leader Martin McGuinness to mark the first anniversary of his untimely passing.
It will include a personal reminiscence by Gerry Adams and contributions from the McGuinness family.
There will also be an exclusive interview with our new Uachtarán Mary Lou McDonald.
test