27 July 2006 Edition
Review
Custer was a Black and Tan
BOOK REVIEW: Crazy Horse and Custer
By Stephen E. Ambrose.
Pocket Books
ISBN 0 7434 6864 3
Price £8.99Stg
Since I was a small boy the celluloid images of the Battle of the Little Big Horn was my default setting for heroism. Custer and his 7th Cavalry hopelessly outnumbered as they tried to halt the marauding Indians under Crazy Horse attacking helpless homesteaders.
What I didn't, of course, know was that I was witnessing the entirely justified extermination of a unit of Black & Tans. History is written, or in this case, filmed by the victors.
Ambrose, who is also author of Band of Brothers, knows his stuff when it comes to the guerrilla war that the US found itself in with Native Americans who did not want to be swallowed up by the huge country growing on the eastern seaboard of North America at the time of the Irish Famine.
Ambrose marshals an impressive amount of data on the two men and attempts throughout the book to portray both men with moral equivalence. But Crazy Horse was a guerrilla chieftain attempting to stem the invasion of his ancestral lands, the destruction of a way of life and the genocide of his people. Custer and the rest of the US army were the agents of that genocide. Ambrose is found out when he smoothes over the massacre of women and children as well as fighting men at the "battle" of Washita in November 1868.
Unlike the heroic portrayals of Custer by Hollywood, the Battle of the Little Big Horn was an attempt by the politically ambitious officer to replicate the "success" of the Washita massacre. Custer underestimated the size of the Indian camp he was about to attack and his 211 troopers found themselves facing 2,500 angry men who were defending their wives and children a short distance from the battle field.
Ultimately of course the United States destroyed the Native Americans as a people.
At least Ambrose acknowledges that today the descendants of the warrior tribes that annihilated Custer "live under conditions of dire rural poverty."
The destruction of the Native American way of life by the USA is a reminder of what the people of Iraq are up against. Both conflicts revolve around the need for a rapacious economic system to acquire more and more resources no matter the human cost.
For students of military history Ambrose will not disappoint, for those wishing a wider political and social analysis he doesn't hit the target.
By Mick Derrig

An Phoblacht Magazine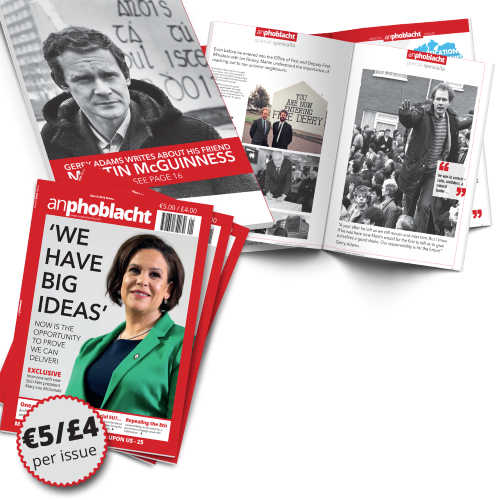 AN PHOBLACHT MAGAZINE:
The first edition of this new magazine will feature a 10 page special on the life and legacy of our leader Martin McGuinness to mark the first anniversary of his untimely passing.
It will include a personal reminiscence by Gerry Adams and contributions from the McGuinness family.
There will also be an exclusive interview with our new Uachtarán Mary Lou McDonald.
test