27 July 2006 Edition
Following in the path of Tone and McCracken
ing on and unsure as to whether it was the right time to give up the war. But I think the leadership have played a blinder. The longer the process goes on the more obvious it is that it was the right direction to take, in reality there was no other alternative in the long run.
"I think we are heading in the right direction and I am happy with that. Certainly I believe in my life time we will see a united Ireland, free from British rule, it's increasingly obvious that it is only a matter of time.
Following in the path of Tone and McCracken
People from a Protestant background have been to the fore in the struggle for Irish freedom throughout the last couple of centuries. Two republicans who had a Protestant upbringing recently explained how they got involved in the republican struggle despite the establishment and media portrayal of that struggle as sectarian. These interviews are from the current issue of the Sinn Féin newspaper distributed to hundreds of homes in North Belfast.
Sean Oliver's involvement in Irish republicanism stems from his youthful interest in Irish history and politics. Born in East Belfast, Sean was reared and has spent most of his life in the north of the city. His father served in the British army and his grandfather was in the RIC.
Sean attended Cavehill Primary School, then the BRA and finally Coleraine University. His late father Joe, had a great interest in politics and S
An Phoblacht Magazine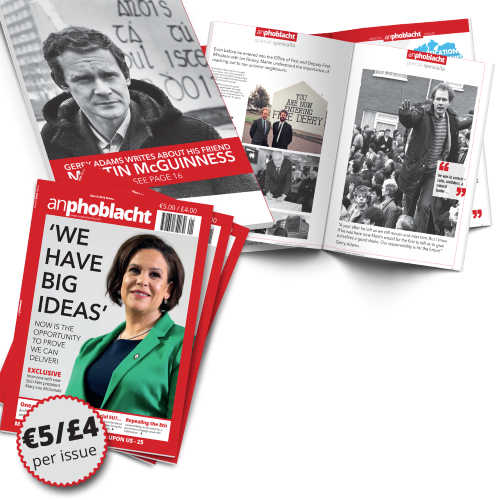 AN PHOBLACHT MAGAZINE:
The first edition of this new magazine will feature a 10 page special on the life and legacy of our leader Martin McGuinness to mark the first anniversary of his untimely passing.
It will include a personal reminiscence by Gerry Adams and contributions from the McGuinness family.
There will also be an exclusive interview with our new Uachtarán Mary Lou McDonald.
test