20 July 2006 Edition
The Matt Treacy Column
BY Matt Treacy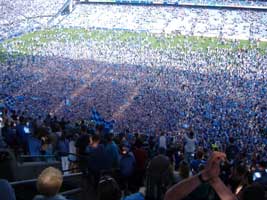 The Matt Treacy Column
World's biggest sporting crowd so far this summer see Dubs triumph
aWhen people you don't know ring you at unsociable hours the night before a match looking for tickets you know that there is something going on. In clubs around the city many times the allocation could have been dispensed. Not a one was to be had on Sunday and there were as many people in the pubs and on the streets around Croke Park who were not going as were.
At times like this of course there is the temptation to feel the same as Nick Hornby in Fever Pitch who finds himself resenting the fact that his girlfriend - an Arsenal fan of merely one season - should be enjoying the fact that his team have just won the title. Do I feel the same about the neophyte Dubs? Do I wonder where they all were when I was suffering the effects of the thermo frost in O'Tooles the week after Christmas? That I can name the 1974 team. Backwards. When some of them only vaguely know of 'Jayo' and 'Whelo'?
No. I don't. I would if I hadn't got a ticket of course! But no, it is fantastic that Dublin have such massive support. While there are dark mutterings about 'sunshine supporters' and the annoyance caused by a small number of drunken fools, the heart of the Dublin support is the bedrock of the clubs that are often the soul of local communities. Indeed in a city that can be a nasty, dangerous place in which all of the problems of the country are distilled into an unpleasant brew, the Boys in Blue are the best thing about us. And when the biggest sporting crowd in the world this Summer - bigger than the World Cup final apart from all its other comparative merits - is to watch two teams of lads who are doing it for nothing more than their pride in their jersey and their club and their mates, then we can all be proud. Even when it is "those arrogant bastards" who win the day.
Speaking of which, the rhetorical question regarding the prospects of Dublin winning the All Ireland can be addressed with a bit more clarity this week. It is a long time since any team won Leinster with such ease and generally when that happens, the team that does so gets to the final and often wins. Last Sunday was not as impressive shorn of the magnificent stage scenery but it was competent and sometimes stylish. It is also clear that Leinster teams are going well this year. Longford and Laois, both beaten by Dublin, are still live contenders and both have accounted for strong opposition. If one was to employ the horse racing technique of collateral form - comparing how well teams have done against one another - Dublin are clearly ahead of most contenders. If it was a handicap, Dublin would be given an extra stone to carry.
The next round of qualifiers will also shed more light on the comparative merits of the four provincial champions. If, for example and it is not beyond the bounds of possibility, that Longford beat Kerry and Westmeath beat Galway, Dublin will become the shortest priced favourites for years. If Fermanagh overcome Donegal that would reflect not so well on Armagh's Ulster final victory.
But all of that is speculation. The draws for the qualifiers, however, make the predictions a bit easier. The venues were decided by a toss of a coin and this will have a major bearing on the outcome. Kerry will have Longford in Killarney and that greatly reduces the chance that Longford will add another scalp to their collection. Kerry were once again exposed last Sunday against Cork but we must assume that there is better to come. Or is it the case that they are a team whose best days are behind them? The Longford match may not tell us any more but if Kerry do win then they face Armagh in the quarter final. No more needs to be said about that for the moment.
Galway were disappointing against Mayo but again the fact that they will have home advantage against Westmeath should see them through to meet the Dubs. Westmeath were fortunate enough to beat Sligo last week and are really too dependent on Dessie Dolan to pose a threat at this stage to any of the bigger teams.
Fermanagh have proven to be a bogey team for Donegal over the last few years and their encounter at Enniskillen is possibly the hardest of all the qualifiers to call. Donegal were impressive against Armagh and will limit the opportunities for Fermanagh's quicksilver forwards. Fermanagh, on the other hand, may not have the resources to curb Donegal who for that reason must be slightly favoured to advance.
Laois and Offaly is the most fascinating of the next round. In common with Meath/Louth, Cavan/Monaghan, Sligo/ Leitrim it is one of those intense local rivalries that rarely jumps to the notice of the rest of us.
Historically Offaly have had the upper hand in both football and hurling and that will count for something, but one suspects not enough to prevent the further progress of a team that has been psychologically reborn since its hammering by Dublin.
In Navan it looked in the second half as though Meath were about to overwhelm O'Dwyer's men. Then, what is possibly the weakest Meath defence that I can recall, lapsed twice to allow Ross Munnelly in for goals. For the second of these Munnelly must have broken the Irish sprint record to get himself into position for the vital pass. They are the team that Dublin do not want to meet again.
The hurling quarter finals are on this weekend. Space precludes a detailed analysis but Cork and Clare look certain to advance. Kilkenny and Galway is more difficult to call and much will depend on how the younger players on both teams rise to their biggest challenge. Tipperary and Waterford is another interesting match whose unpredictability is reflected in the bookies odds. One of those occasions when the best response to the query "Any tips?" is "Yes. Don't bet".
An Phoblacht Magazine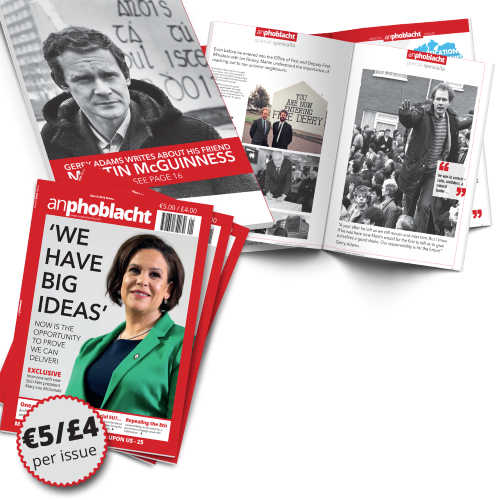 AN PHOBLACHT MAGAZINE:
The first edition of this new magazine will feature a 10 page special on the life and legacy of our leader Martin McGuinness to mark the first anniversary of his untimely passing.
It will include a personal reminiscence by Gerry Adams and contributions from the McGuinness family.
There will also be an exclusive interview with our new Uachtarán Mary Lou McDonald.
test